En ole kummoinen urheiluihminen, enkä edes penkkiurheilija, mutta yhdestä lajista jaksan silti vielä innostua. Edellinen viikonloppu menikin vapaaehtoishommissa muodostelmaluistelun SM-kisoissa. Itse kisoja en ihan hirveästi ehtinyt seuraamaan, mutta sentään ne tärkeimmät, eli seniorijoukkueet näin molempina päivinä. Ja voi sitä riemua, kun suosikkijoukkue veti nappisuorituksillaan kultaiset mitalit kotiin!
Tuon viikonlopun kynnet saivat inspiraation suosikkijoukkueeni - Rockettesin vapaaohjelmapuvusta. Ihan huippulaatua tämä lakkaus ei ollut, koska kaikki lakat ja tarvikkeet olivat sekaisin useammassa eri kassissa, ja sain aika puskista idean koko lakkauksen toteuttamiseen, mutta aika tyytyväinen olin kuitenkin lopputulokseen. Ja kuten kuvasta näkyy, kynnet eivät kovin kamalasti innostuneet pakkaamisesta ja muuttamisesta, ja loppujen lopuksi neljän katkenneen kynnen jälkeen jouduinkin viilaamaan koko kaluston ihan lyhyeksi, sniff. Mutta josko nää tästä taas innostuisi kasvamaan!
Lakkoina Wild & Crazyn Montana, Orlyn Lunar Eclipse, MNY 445 ja Art Club liner sävyssä Titania Gold.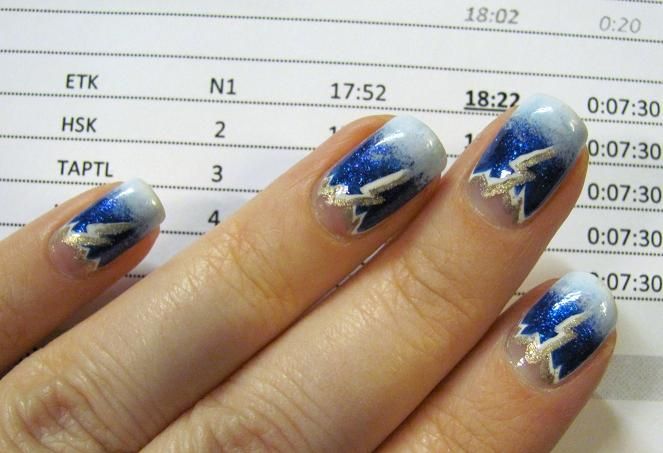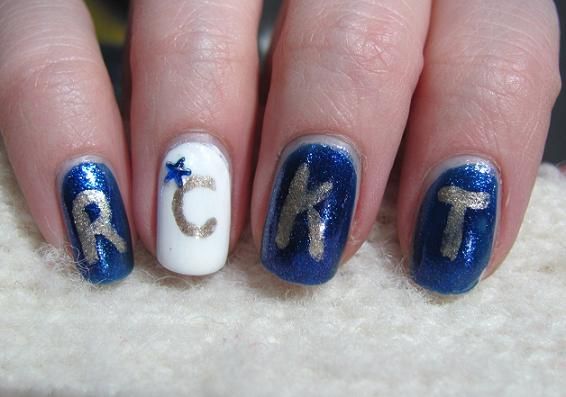 I spent the previous weekend working at a skating competition - synchronized skating finnish championship was on the board and I got inspired by my favourite teams outfit for their free skating program. The quality of this mani is not super awesome since all my polishes and tools were all over my bags in a one big mess but I think the thought mattered more in this case, and I really liked this one anyway! As you can see from the pictures, I also had to file my nails very short again since 4 of them broke when I was packing and moving :( Let's hope they'll grow back fast!
For this mani I used Wild & Crazy's Montana, Orly's Lunar Eclipse, MNY's 445 and Art Club liner in Titania Gold.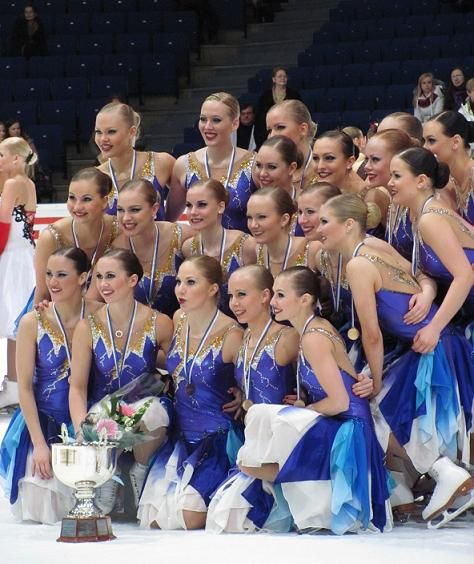 On ne nättejä <3