Suomen reissun viimeisenä päivänä oli hurjan kuuma päivä ja mun vaatevarasto alkoi vetää viimeisiään. Löysin laukusta vielä puhtaan hameen ja paidan, ja molemmat sattuivat olemaan valkoiset. Edelliseltä päivältä kynsissä oli kirkasta oranssia, mikä ei tietysti millään sopinut valkoisten vaatteiden kaveriksi, eli pikaista lakan vaihtoa kaivattiin.
Tilannetta pääsivät pelastamaan Wild and Crazyn Montana ja reissusta matkaan tarttunut ihanuus Ticklish Toes.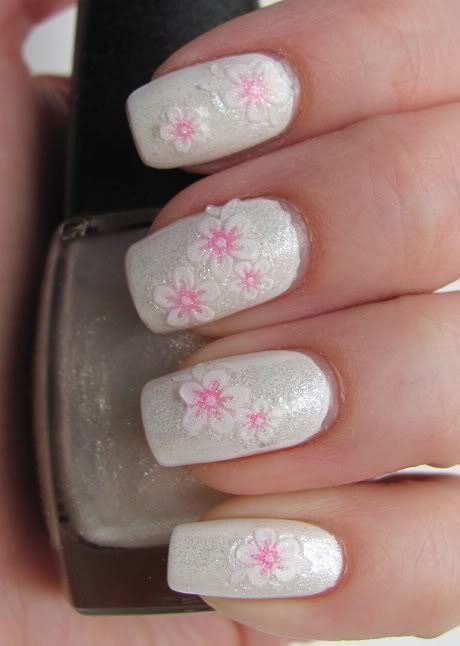 Wild and Crazy Montana + Ticklish Toes
Alla siis pari kerrosta Montanaa ja päällä kimallusta antamassa TT. Koristuksen päätin kiireen vuoksi hoitaa kynsitarroilla, mutta eihän se sitten taas mennyt ihan niinkuin elokuvissa.. Nämä tarrat olivat kai joku maanantaikappale, eli liimaa oli vain pieni läntti tarran keskellä, ja reunat eivät tietenkään halunneet pysyä alhaalla edes lukuisista päällyslakkakerroksista huolimatta (ja tämä näkyy kauniisti kuvassakin). Yleensä Seppälän tarrat ovat olleet tosi hyvää laatua - pehmeitä ja kynnelle taipuvia, mutta tämän näköisistä kukkasista neuvoisin pysymään kaukana.
I had to do something super quick to my nails on the last day of my Finland -trip. Because my outfit was full white I went with the same "theme" on my nails too with Wild and Crazy's Montana and Ticklish Toes. Didn't have time to do any fancy decorations so I just used nail stickers. Unfortunately these stickers weren't the most amazing quality - the glue was only a small spot at the middle and the edges didn't want to stay down even after applying top coat several times.