Kynsien koristelu leimaamalla on taas jotenkin vähän jäänyt unohduksiin. Nyt olikin pakko ottaa itseään niskasta kiinni ja kaivaa laatat taas laatikosta.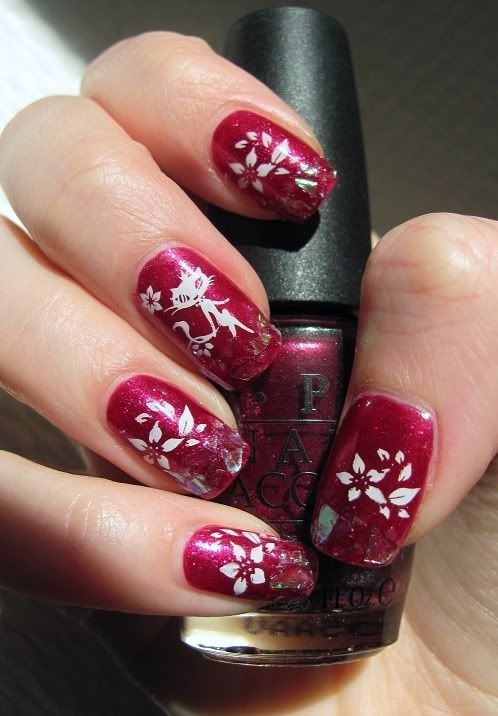 Suomessa käydessä Stockmannilla tuli vastaan ihana OPI:n The One That Got Away ja en minä sitä vain pystynyt vastustamaan (hurjasta hinnasta huolimatta). TOTGA pääsikin nyt kynsille leimailuiden alle.
Leimailut on tehty Konadin valkoisella erikoislakalla. Kuviot ovat Konadin uudesta m83 -laatasta (keskisormi) ja Born Pretty Storen M71 -laatasta (myös Hello Kitty -laattana tunnettu). Tuon BPS -laatan kanssa olin hieman yllättynyt, kun tämä kukkakuvio toimikin ihan täydellisesti, sillä aikoinaan laatan Hello Kittyn leimaamisesta ei meinannut tulla yhtään mitään.. Pitänee kokeilla kisua uudemman kerran, ja jos ei sittenkään toimi, niin täytyy todeta tuon yhden kuvion olevan huonosti tehty tässä laatassa.
Leimauksien lisäksi koristelin kärjet vielä Color Clubin White Ice Sprinkleseillä, eli noilla eri väreissä hohtavilla muovin (?) palasilla. Osaako joku kertoa, onko näille joku hieno ja virallinen nimi olemassa?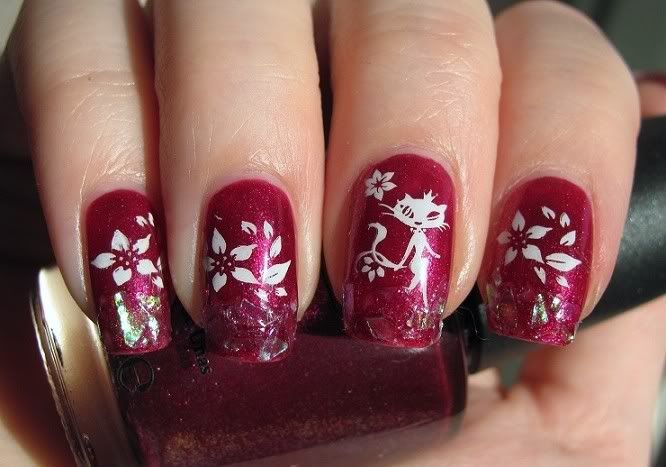 I felt like I hadn't done any stamping on my nails for a long time so I decided it was time to get my stamping plates out of the box and see if I still can do something with them! The base is OPI's The One That Got Away and the stamping is done with Konad's Special White polish.