Tämä lakkaus on pikainen tekele Suomen -reissun ajalta. Eli heti ekana iltana jouduin toteamaan, että kynsillä oleva lakkaus oli päässyt vähän rähjääntymään, ja kun seuraavana päivänä oli ohjelmassa shoppailua ja muuta "ihmisten ilmoilla pyörimistä", niin piti sitten alkaa pikaisesti laittamaan jotain kivaa kynsille, vaikka päivän lentokoneessa ja junassa istumisen jälkeen olinkin ihan puoliunessa.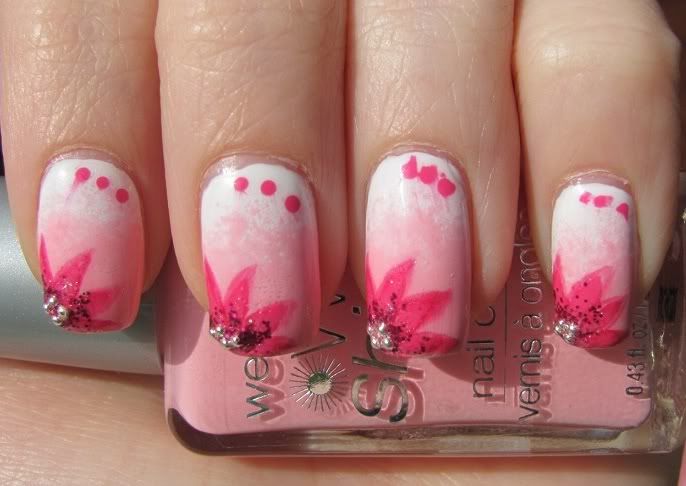 Pohjana jälleen Wild and Crazyn Montana, jonka päälle töpöttelin Wet n Wildin Tickled Pinkia. Kukkasissa käytin Sally Hansenin Flashy Fuchsiaa, Color Club Malmsya (Art Club -lakka), Models Ownin Magenta Divinea sekä La Femme Beautyn vaaleanpunaista glitterlakkaa. Koristeena vielä hopeisia microhelmiä. Vähän sotkuksi meinasi mennä (esimerkiksi vaikka nuo joka suuntaan levinneet pisteet), mutta sitten loppujen lopuksi kuitenkin ihan tykkäsin tästä lakkauksesta. Mukavan kesäinen ja tyttömäinen.
Ja kampaajani ei millään meinannut uskoa, että nämä ovat a) ihan omat ja aidot kynned sekä b) itse koristeltu.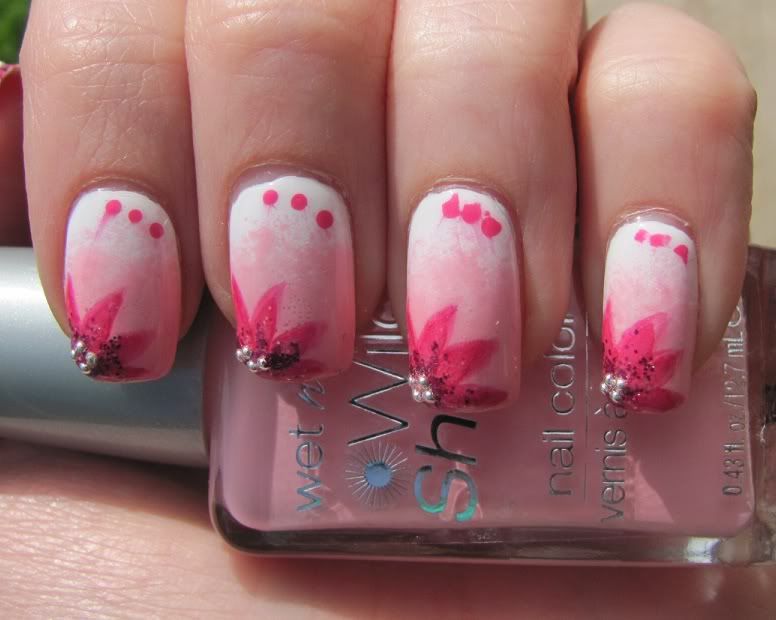 For this little, simple summer mani I used quite a few polishes! The base is (once again) Wild and Crazy's Montana. I sponged Wet n Wild's Tickled Pink on top and painted the flowers with Sally Hansen's Flashy Fuchsia, Color Club's Malmsy (Art Club -polish), Models Own's Magenta Divine and La Femme Beauty's light pink glitter polish
I did this mani in a big hurry and I was super tired and that shows a bit, but after all I kinda liked it - it's so nice for the summertime!