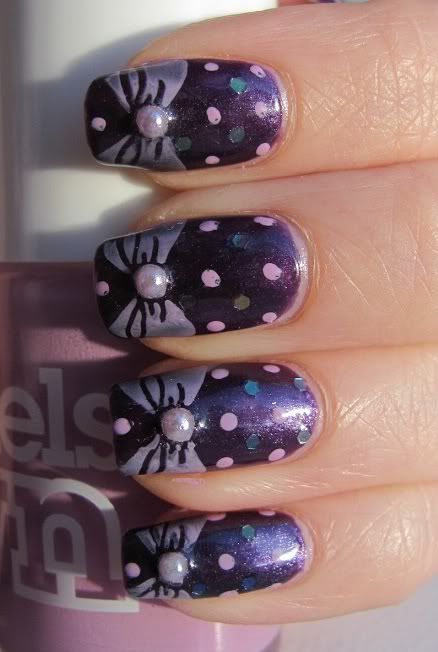 MNY 557 + Models Own Lilac Dream
Eilen oli hurjan hyvä ilma, aurinko paistoi täydeltä taivaalta.. Ja tällainen tumma violetti tuntui kynsillä vähän vieraalta. Tänään tulee kaatamalla vettä, ja tämä lakkaus tuntuukin ihan kivalta, ei yhtään niin tummalta kuin eilen!
Halusin siis kokeilla noiden rusettien leimaamista (Born Pretty Storen laatta m59), ja päivän väriksi pääsi violetti. Pohjana MNY 557, rusetit ja pisteet Models Ownin Lilac Dreamilla. Lisänä pieniä kahdeksankulmaisia glitterhippusia ja vaaleanvioletteja helmenpuolikkaita.

Jouduin viilaamaan kynsiä pyöreämpään muotoon, kun jostain syystä kulmikas malli ei tykkää kestää mun kynsissä :( Tällä hetkellä tykkään ehdottomasti eniten siitä, että kärki olisi kulmikas, mutta kolmessa isoimmassa sormessa ne kulmat lähtevät lohkeilemaan ihan joka kerta, enkä tiedä millä sen voisi estää.. Pitää nyt katsoa jonkun aikaa tällä hieman pyöristetyllä mallilla, ja ehkä sitten jossain vaiheessa taas kokeilla palata edelliseen malliin.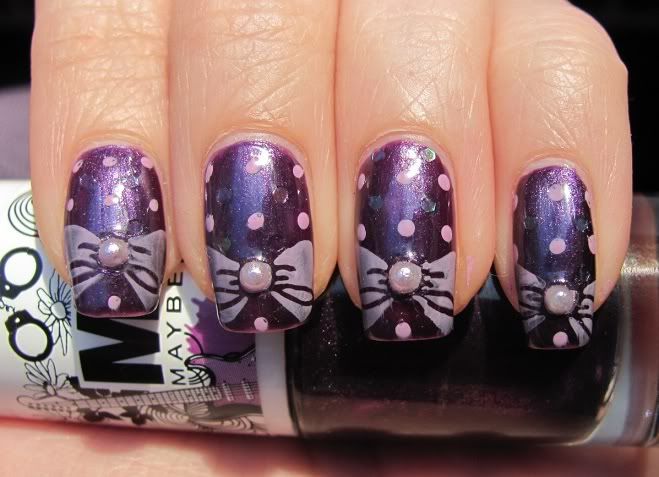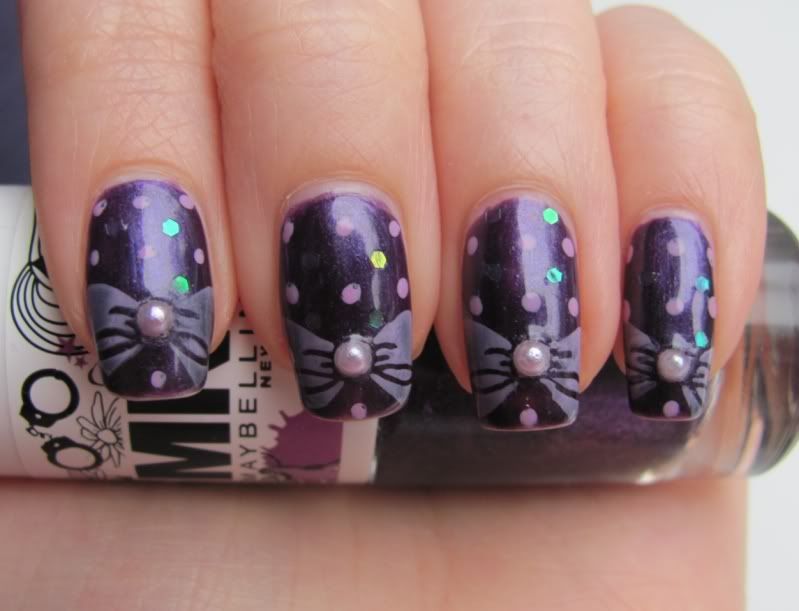 I think I can go back to the bright and light, summer colours after having two fairly dark based manis now! Though the pastel purple makes this one look somewhat lighter and cute.
The base is MNY 557 and the dots and bows are done with Models Own's Lilac Dream (bows from Born Pretty Store's plate m59). Added pearl-halfs and some small glitter hexagons and done! :)
I had to file my nails to a more round shape since the edges on the three biggest fingers kept breaking. :( I like the angular shape a lot more and I'm definitely going to go back to that at some point but for now it's easier for me to keep the tips rounded (don't neet to file my nails so much every time because of the broken edges..).