Lakkalaatikostani löytyi lakka, jota en edes muistanut omistavani. Eikä sillä, että se olisi ollut mikään hurjan vanha - yksi viimeisimmistä lakkaostoksistani itse asiassa, mutta jostain syystä vain olin unohtanut tämän pienen ihan täysin. Kyseessä Suomesta matkaan tarttunut SnowCrystalin Spring Lilac (jee, SC lakoilla on nykyään nimet!). Pullossa tämä lakka näyttää hurjan kauniilta, mutta enpä taas osannut arvata, miten paljon saisin tämän kanssa hermojani kiristellä..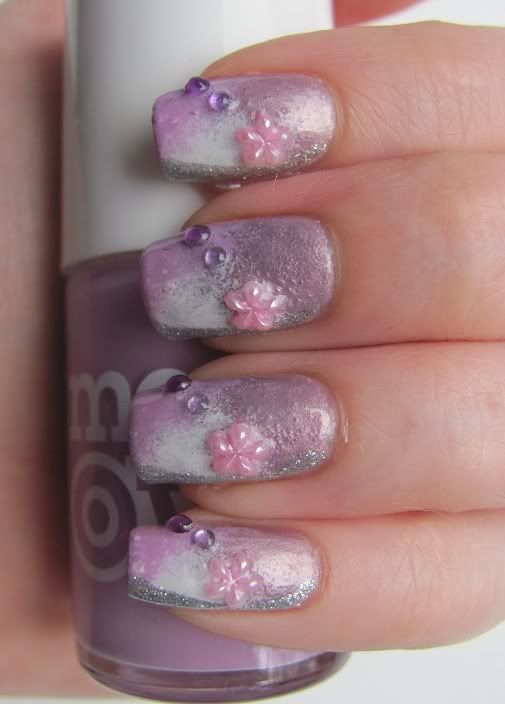 Jos klikkaatte tuota kuvaa suurempana tarkasteltavaksi, niin joku tarkka ainakin voi jo huomata, että vähän tökkii (Spring Lilac siis tuo "pohjalla" oleva vaalea violetti). Minkään lakan kanssa ei ole aiemmin ollut näin pahoja levittyvyysongelmia. Kamalan paksua jankkia koko lakka, ei halunnut levittyä kynnelle alkuunkaan. Ja sitten kun sen sain suunnilleen jotenkuten koko kynnelle ja lisäsin päällyslakan tasoittamaan pahimpia röpöjä.. KUPLIA! Lopputuloksena näyttää lähinnä siltä, kuin lakan seassa olisi kokkareita :( Ohentamista kyllä kaipaa, jos tällä meinaa lakkailla tulevaisuudessa. Pitänee kokeilla, toimisiko tämä paksuutensa vuoksi vaikka leimaamisessa.. Ei se epätasaisuus ONNEKSI livenä näkynyt koristuksien alta ihan niin pahasti, kuin mitä kuvissa, mutta kyllä se itseä vähän häiritsi.
Mutta niin, kun pohja näytti niin kamalalta, piti keksiä koristeluun jotain, millä sitä saisi peitettyä. Päädyin töpöttelemään sienellä
(..oli muuten huonoin sieni, mitä olen ikinä käyttänyt kynsien koristelussa, joku kummallinen keittiösieni)
vaaleaa violettia (Models Own Lilac Dream) ja valkoista (Diorin valkoinen ranskislakka) noin puolelle kynttä. Reunaan laitoin Kissin Silver Glitter nail art -lakkaa ja tietysti parit strassit
(kun piti päästä testaamaan juuri saapuneita, eBaysta tilattuja kukkastrasseja)
.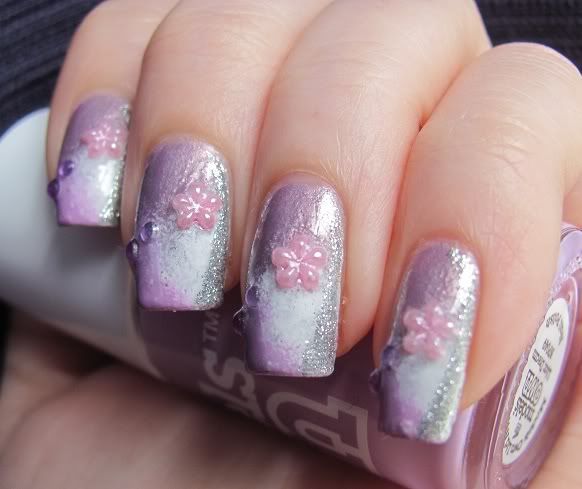 I was really disappointed with my new Spring Lilac nailpolish (SnowCrystal) - I started applying it to my nails and it was sooooo thick and even kinda clumpy. Was impossible to get it look even. Still, I tried my best and after 2 coats applied top coat to even it out a bit.. and just saw tons of bubbles forming! *sigh* It's still a very pretty colour so I think I need to try thinner next. Or just test how it'd work on stamping.
I didn't have time to start my mani all over again so I decided to do some decorating that would hide the worst uneven parts of the base. So I sponged Models Own Lilac Dream and Dior White on the tip-half, used Kiss Silver Glitter -nail art polish to the side and added some matching colour rhinestones. Didn't look too bad at the end, though the visible bubbles bothered me a bit..