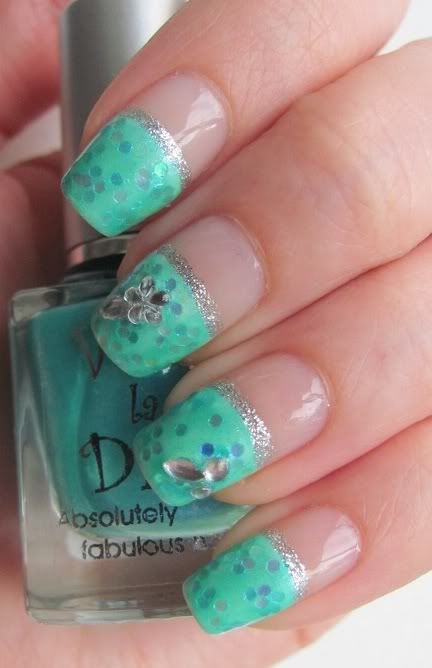 Viva la Diva Amnesia + Kiss Nail Art Silver Glitter
Sormia on poltellut siitä lähtien, kun eBaysta tilattu paketti glitterhippusia saapui - niitä olisi niin kiva tunkea vähän jokaiseen lakkaukseen, vaikka aina tietääkin, kuinka rasittavaa se poisto sitten taas on.. Nyt kuitenkin laitoin jotain kevyttä ja simppeliä ja revin hermojani glittereitä yksitellen kynsille asetellessani.
Pääosassa Viva la Divan Amnesia, joka on hurjan sievä sinertävän vihertävä.. tai jotain. Vedenvihreä olisi ehkä se termi, jolla tätä kuvailisin. Itsellä ainakin tulee ensimmäisenä aina mieleen merenneidot ja akvaariokalat ja keijukaiset tästä lakasta. Amnesia on ikävä kyllä varsin ohutta ja läpikuultavaa, joten laitoin tällä kertaa alle valkoisen lakan (enkä muista enää yhtään, että mitä valkoista käytin). Amnesiaa kaksi kerrosta, rajaus Kiss Nail Art Silver Glitterillä. Sitten leikin noiden kivojen glittereiden kanssa, eli käytin kolmea eri väristä glitteriä (vaikkei sitä värieroa sitten huomaa ollenkaan kynsillä..) ja asettelin jokaisen yksitellen paikoilleen, jee. Lopuksi vielä eri muotoisia hopeisia strasseja.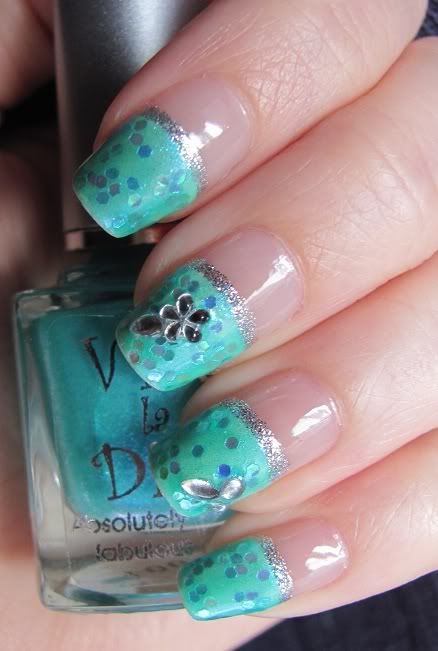 Viva la Diva's Amnesia is such a pretty polish but unfortunately quite sheer. This time I used white polish under it to save myself from some crazy layering.
2 coats of Amnesia, lining with Kiss Nail Art Silver Glitter. And then the glitters.. there's actually 2 different colour glitter pieces (but you can barely see the colour difference on the nails, boo :( ) and I placed them all one by one, great fun (..or not..)! A few different shaped silver rhinestones gave this mani that "little something" that made it look more finished.