Näin kesäaikaan huomaan taas jämähtäneeni hieman samaan kaavaan lakkausten kanssa, varsinkin värien suhteen. Värit ovat lähes aina vaaleita pastelleita tai kirkkaita kesävärejä. Ajattelinkin sitten hakea vähän uutta näkemystä kynsieni värimaailmaan ja käskeä jotakuta muuta valokoimaan värit. Eli uhriksi joutui eräs (miespuolinen) ystäväni, jonka ilman suurempia selityksiä määräsin nimeämään kansi väriä. Paniikki meinasi iskeä jo ensimmäisen kohdalla - punainen (ei, en oikein osaa käyttää punaista omilla kynsilläni). Eikä se ainakaan paremmaksi muuttunut, kun toinen väri oli violetti. Siis oikeasti - miten violetin ja punaisen voi yhdistää ilman, että lopputulos on jotain ihan kamalaa?!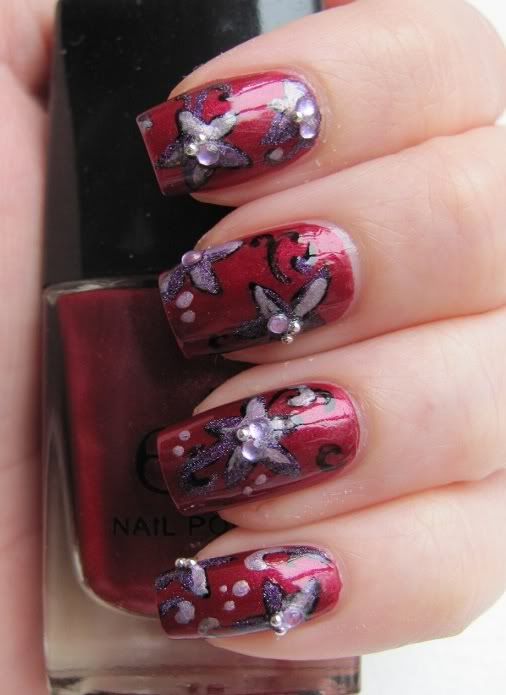 Värien käyttötarkoituksen selitettyäni sain "onneksi" vielä tarkennusta kaverilta. Tumma punainen (jes, ei sentään kirkkaanpunainen!) ja "jotain goottimaista ja kukkia siinä". OK, ei muuta kuin summamutikassa sotkemaan!
Aluksi ehdin jo ihmetellä, että en taida edes omistaa tummanpunaista kynsilakkaa, mutta sitten mieleen pomppasi laatikossa jo jokusen aikaa pyörinyt elfin Cranberry. Omilla kynsillä Cranberry ei ole tainnut olla kertaakaan, joskin tuttavan kynnet olen sillä kertaalleen laittanut. Hurjan kivan sävyinen punainen tämä kyllä on, mutta en tosiaan vaan osaa käyttää punaista kynsilakkaa..
Kaksi kerrosta Cranberrya riitti peittämään täydellisesti. Seuraavaksi maalailin mustalla pohjat kukille ja suhrasin muutamat kiemurat kukkien ympärille. Mustan päälle aloin sitten testailemaan aika sokkona eri violetteja, joita laatikosta sattui käteen osumaan. Ja vielä tässä vaiheessa olin muuten ihan varma, että ei tästä väriyhdistelmä vaan voi tulla mitään.. Violeteista eniten näkyvissä on Color clubin Wild at Heart, sekä vaaleanlila, joka on ilmeisestikin SnowCrystalin Spring Lilac
(en muista ollenkaan käyttäneeni tätä, mutta en mä tietääkseni muutakaan helmiäistä vaaleanlilaa lakkaa omistava)
. Lisukkeena hopeisia microhelmiä ja vaaleanvioletteja strasseja.
..Ja sitten loppujen lopuksi jouduin myöntämään, että tämä lakkaus näytti ihan hurjan hienolta. Mutta en minä olisi ikinä lähtenyt itse yhdistämään punaista ja violettia, enkä ihan heti osaa tätä yhdistelmää kuvitella käyttäväni uudestaan.
Postauksen lopusta löytyy vielä kuvakollaasi siitä, miltä tuo Cranberry näyttää eri valo-olosuhteissa.
I could've never imagined combining red and purple on one mani since that colour combination just can't work. But I wanted to get some "out of box" -thinking since I've been stuck with my summer colours for quite a while now.. so I asked a friend of mine (male) to pick 2 colours and I would use those colours on my next mani. And of course he had to pick red and purple!
I was pretty sure I can't get anything good looking out of this.
The red is elf's Cranberry (2 coats) and the purples are picked quite randomly ("let's just test all my purples since nothing will look nice anyway.."). The ones that ended up being the visible ones are Color Club's Wild at Heart and SnowCrystal's Spring Lilac

(or atleast I think so, don't remember using SL but I don't own any other light lilac polishes with shimmer/pearl finishes)

.
..And I have to admit that this actually looks really cool, even though I don't think I will be using this colour combination again any time soon!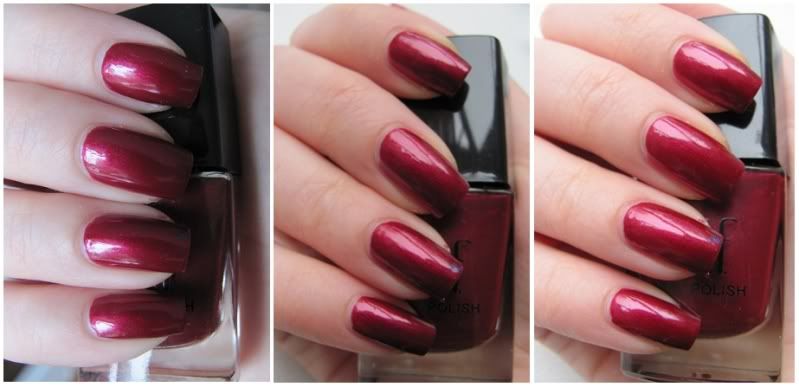 e.l.f. Cranberry on different lights