Pahoittelen kovasti, että tuli tällainen pikku tauko blogaamiseen, mutta en sitten Suomessa ollessa pystynytkään blogin kanssa sitten mitään puuhaamaan. Vanhempien luona nettiyhteys on ihan tuhottoman hidas, joten kuvien lataamisessa olisi mennyt kamalan kauan. Lisäksi olin joka päivä "kotiin" päästessä ihan puolikuollut, ja nukahdin sitten hyvinkin aikaisin.
Kuitenkin! Nyt olen taas turvallisesti oman koneen äärellä ja Suomen reissulta olisi muutamat kynsikuvatkin odottamassa postaamista. Aika monta uutta lakkaakin tarttui matkaan, joten nyt on taas uutta inspiraatiota taiteilla kynsiä! Ja kunnolliset akryylivärit sain myös hankittua! Odottakaa vaan, kunhan pääsen niiden kanssa vauhtiin... ;) Eilen illalla itse asiassa jo maalailin ihan innoissani, mutta ne kynnet ovat näillä näkymin menossa yhteen lakkauskisaan, eli niitä en ihan vielä omaan blogiin postaa.
Models Own - Orangeade
Suomeen lähtiessä mulla oli yksi lakka, jonka halusin kovasti löytää. Ja sen ihanan onneksi löysinkin heti ekana shoppailupäivänä Seppälästä! Kyseessä siis mahtavan kesäinen Models Ownin Orangeade. Tälle lakalle oli ollut mielessä varsin selvä visio jo pidemmän aikaa, ja heti kun sain lakan hankittua, piti se päästä toteuttamaan. Ja olin ihan rakastunut tähän lakkaukseen koko sen lyhyen aikaa kun se kynsillä oli (eli lakkausta seuraavana päivänä olin mummolassa pesemässä ikkunoita, ei kynnet ja lakkaukset ihan kamalasti juhlinut sen jälkeen). Tämä lakka on tähän mennessä ensimmäinen, josta voin sanoa, että ei sopinut mun ihonsävyyn alkuunkaan, mutta eipä sen niin väliä - se on vaan niin ihana!
Orangeade ei ole se kaikkein peittävin lakka, enkä halunnut ihan hullua glitterkerrostustakaan laittaa, kun kynnet olivat muutenkin kamalan kuivat ja kärsineet. Kokeilinkin siis aluksi kirkkaalle muoville eri yhdistelmiä tämän lakan alle. Valkoisen olisi luullut olevan se paras vaihtoehto, mutta sattuikin sitten niin, että keltainen toi tämän oranssisuuden ihan parhaiten esiin. Eli pohjaksi päätyi Sally Hansenin ihana Lightening. Orangeadea kaksi kerrosta ja appelsiinifimot joka kynteen. Halusin vielä saada sellaisen appelsiinilimpparia muistuttavan lopputuloksen, joten lisäsin dotting toolilla pisteitä Wet n Wildin Hush Hush:lla ja laitoin valkoiset helmenpuolikkaat lisukkeeksi. Melkoisen kuplivaa!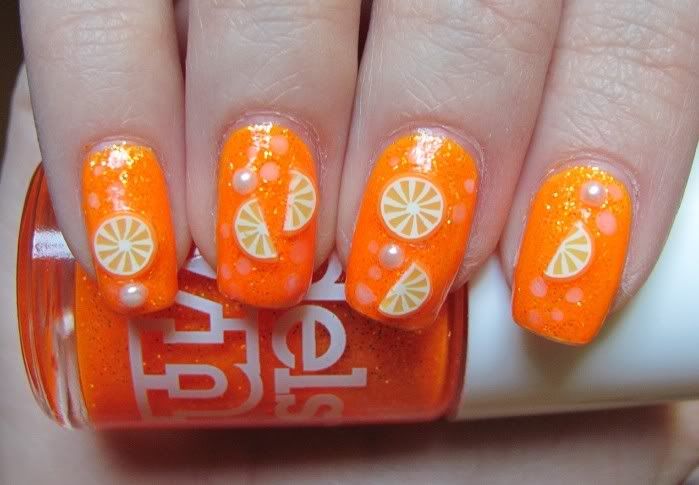 I'm really sorry about the "blog break" I had - I just wasn't able to do anything blogging wise while I was visiting my parents in Finland. But now I'm back and I have a few manis to post! I'll start with my super orange mani :) When I went to Finland I had this one polish I hoped I could find from the stores. And I did find it! That beauty is Models Own's Orangeade - super bright orange glitter polish! I have to admit that this polish didn't fit my skin tone at all but I still love it - perfect for the summertime!
Before I started this mani I did some testing to see which colour would make the brightness of this polish show the best (since I didn't want to go with several coats of glitter polish and Orangeade is not the most opaque polish around). I thought white would have been the best bet but at the end I noticed that yellow made the orange shade look really great. So I used Sally Hansen's Lightening to get some coverage and added 2 coats of Orangeade on top. For decorations I used orange fimos and half pearls. And to get the lemonade -look I added some dots with Wet n Wild's Hush Hush.