Uusien lakkojen testauksessa vuorossa Miss Julien vaaleanpunainen 50.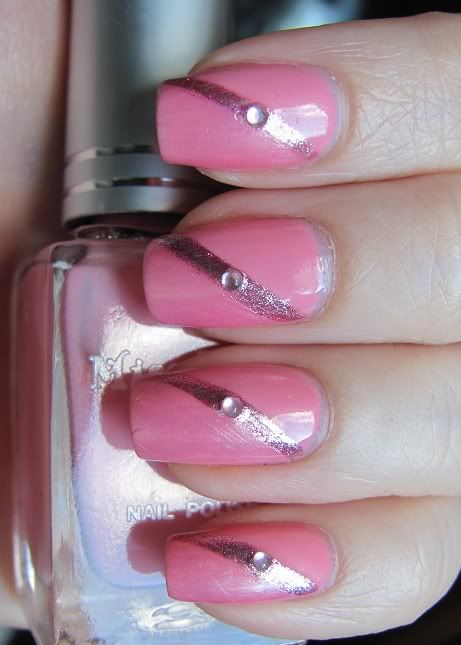 Miss Julie 50 + China Glaze Exceptionally Gifted + Lumene Eternity
Väriltään kiva, perus vaaleanpunainen, mutta voi elämä että otti hermoon tällä lakkaaminen. Ensinnäkin levittyvyyt on aika kehnoa - pintaan jää koko ajan näkyviin siveltimen jäljet. Toinen juttu oli kuivumisen kanssa, eli se kestää ja kestää.. Pikakuivattava päällyslakka kyllä auttaa, mutta silti. Päällyslakka onneksi tasoitti epätasaisen pinnan aika kivasti, ja lopputulos oli varsin sievä.
Vinosti puolelle kynnelle lisäsin kerroksen China Glazen Exceptionally Giftedia ja rajaus Lumenen Eternitylla. Koristeena vaaleanpunaiset strassit.
Huomenna tähän aikaan minä olenkin jo Suomessa, junassa matkalla Kuopioon! Lakkoja tulee ehkä jokunen ostettua reissun aikana (varsinkin sitten, kun "paluumatkalla" pääsen viettämään pari päivää Helsingissä) - toivotaan, että Seppälän valikoimat ovat suosiolliset! Jos kameran patterit suostuvat toimimaan, yritän jonkun postauksen saada aikaiseksi tämänkin viikon aikana. Kynsiä kun todennäköisesti tulee kuitenkin laitettua ihan normaalii tapaan :)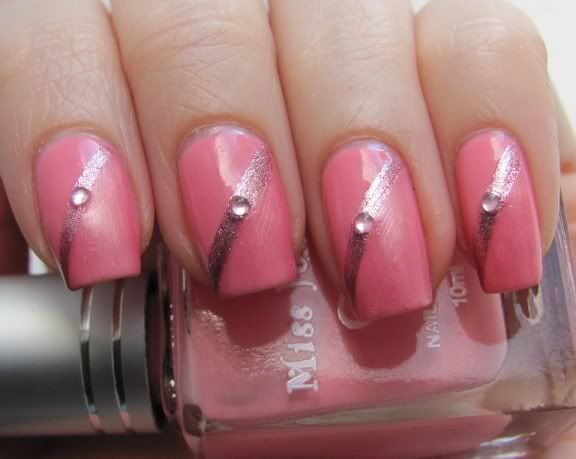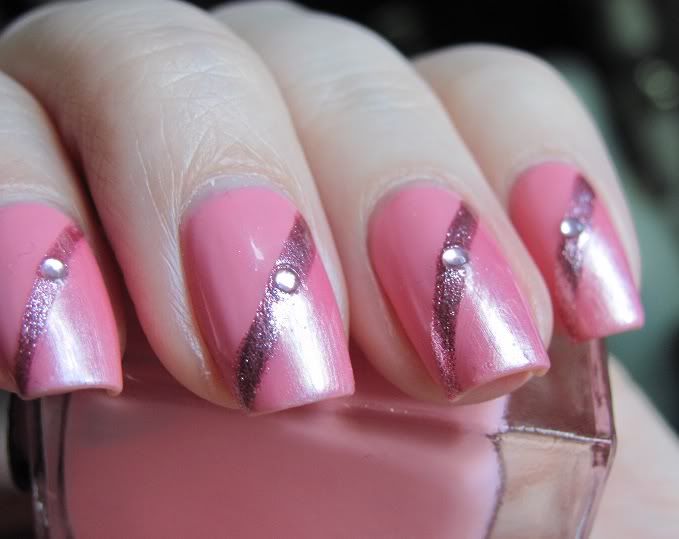 A little something I did with Miss Julie 50 and China Glaze Exceptionally Gifted. Even though I love the colour of this Miss Julie polish I have to say that it was quite bad to use - it's very streaky and dries super slow. Atleast top coat helped a lot with both of these problems!
The lines are made with Lumene Eternity and - as always - I had to add some rhinestones!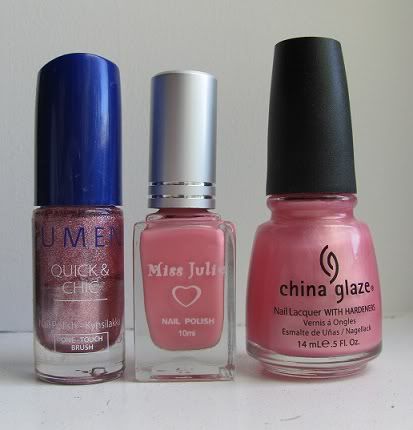 Lumene - Eternity / Miss Julie - 50 / China Glaze - Exceptionally Gifted