Tämä postaushan oli tarkoitus tehdä jo kaksi päivää sitten, mutta tietysti ensin kameran akut alkoivat osoittaa mieltään (= täysin tyhjät) ja eilen PhotoBucket ei halunnut toimia laisinkaan. Mutta anyways - nyt tuntuisi (ainakin toistaiseksi) taas kaikki toimivan.. paitsi oma pää, joka on hieman väsynyt (ja ei, takana ei ole railakasta vappujuhlintaa), eli toivottavasti tekstistä ei kamalaa häsellystä tule!
Ensimmäinen tilaukseni
Born Pretty Storelta
saapui vihdoinkin! Paketissa tuli pääasiassa fimoja ja pari feikki Konad -laattaa. Koko tilauksen hintahan oli parinkympin tienoilla, postitus ilmainen.
Fimot oli ihan hurjan ihania, vaikka niiden kanssa ei ihan putkeen mennytkään. Eli BPS:lla luvataan kuvan mukaiset fimot, mutta ikävä kyllä vähän sen jälkeen, kun jätin tilauksen, vaihtui siellä fimovalikoima, ja sainkin sitten tietämättäni sen uuden valikoiman mukaiset fimot tilaushetkisten sijaan. Mutta ei siinä - olin jo vähän ehtinyt miettiä uuden fimotilauksen tekemistä tuonne, koska uusissa fimoissa oli paljon ihan hurjan söpöjä ja ihania yksilöitä! Eli kivoja fimoja sain silti.
I finally received my first order from Born Pretty Store! This order contained mostly fimos and fake Konad -stamping plates.
Tässä omat suosikkini! // These were my favourites!
Fimot olivat siis "pakettina" (joskin samaiset fimoja saa myös ilman noita muita lisiä, löytyy
täältä
) - 100 fimopötköä, 10 leikkuuterää, liima ja 2 koristehyrrää. Kiinnostuneet löytyvät tuon paketin
täältä
. Jotain eroa muistaakseni oli tuossa paketin kokonaisuudessa silloin tilaushetkellä (fimovalikoiman lisäksi), mutta en sitä nyt enää tarkasti muista. Kuitenkin saamani paketti on tuon uuden listan mukainen (kävin jopa kaikki fimot läpi, erona vain se, että sain yhden ylimääräisen pötkön, joka oli tupla toisesta pötköstä), että periaatteessa sieltä kyllä saa mitä tilaa. Voin siis ihan suositella sellaisille, jotka haluavat tietää millaisia fimoja tulevat saamaan - eBayn halvat fimothan tuppaa tulemaan täysin randomisti valikoituna.
So. These fimos were a part of a "packade" which contained 100 fimo canes, glue, 10 cutters and 2 empty decoration wheels. You can find this package from
here
. BPS promises that you should get the fimos as show in the picture on their webpage - so I went through all 100 canes and checked them! And yes, they were exactly the same than in the picture! I can really recommend these to those who are not too fancied about the randomness of eBay's cheap fimos!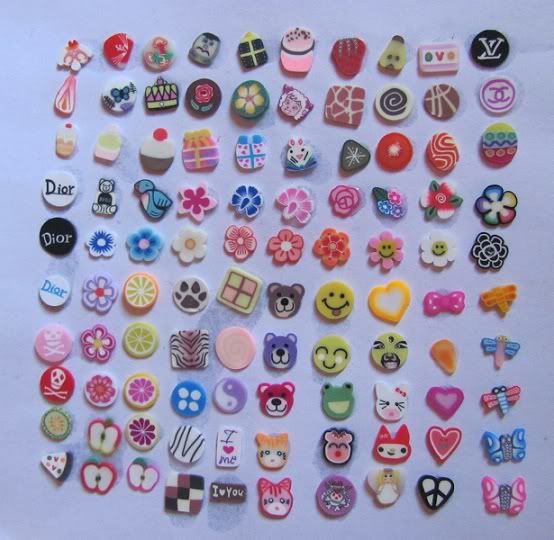 Askartelin tällaisen "leikkaa ja liimaa" version, jossa näkyy kaikki fimokuviot vähän paremmin, kuin tuossa BPS:n sivujen kuvassa. Muutaman kohdalla en kyllä osaa yhtään sanoa, mitä ne esittävät (eli ylärivin kolme reunimmaista vasemmalta), mutta niitä ja selkeitä inhokkeja ei onneksi kovin montaa tuohon sadan pötkylän joukkoon mahtunut.
Since I didn't have anything better to do I glued a slice of every cane on a piece of paper - you can see all the fimos a bit easier than from the picture on BPS's website :) A few of them are mysteries for me - I have no idea what they are trying to be (like the 3 first on left of the top row) but luckily there wasn't very many of those or images I didn't like at all.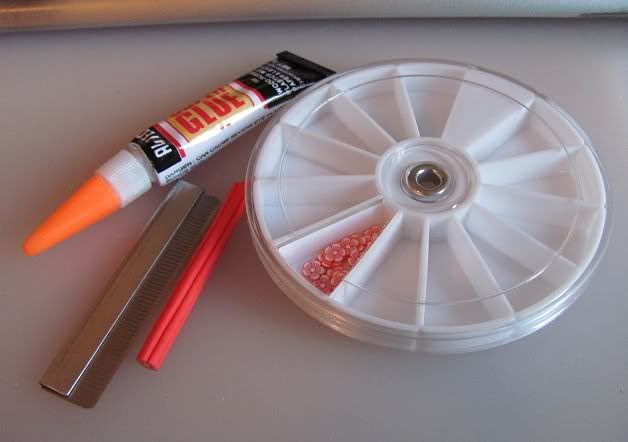 Liima, leikkuri, yksi fimopötkö ja hyrrä. // Glue, cutter, one fimo cane and a decoration wheel.
Koristehyrriä tilauksessa saapui kaikkiaan 12. Nuo ovat mukavasti hitusen reilumman kokoisia, eli halkaisijaa on noin 8cm. Ainakin näin fimojen säilytyksessä ajavat asiansa varsin hyvin. Kymmenen kappaleen paketti tyhjiä hyrriä löytyy
täältä
.
My order contained the total of 12 empty wheels. They are nice and big, the diameter being around 8cm. Works fine for the fimos atleast. You can find a packade of 10 empty wheels from here.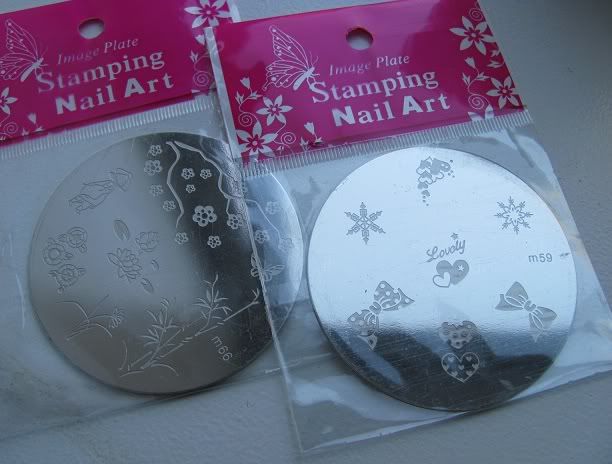 Viimeisenä muttei vähäisimpänä - feikkikonadeita! Tilasin siis kaksi laattaa (m59 ja m66) hurjan halvan hinnan vuoksi testiin. Näitä laattoja olen muutamaan kertaan katsellut ihan aitoina, mutta kun en ihan tiedä tykkäänkö vai enkö, ja tuleeko laattoja käytettyä sitten kuitenkaan, en ole niitä viitsinyt aitoina ostaa. Mieluummin ostan aitoina niitä varmasti mieleisiä laattoja.
The last but not least - fake Konads! I ordered two plates (m59 and m66) because they were so cheap. I wanted to test the quality. I've been thinking about buying the real versions of these plates for a few times but since I wasn't sure if I like all of the images and if I'd find use for these after all I didn't want to pay the somewhat high price of the real Konads. I rather buy real versions of the ones I really like!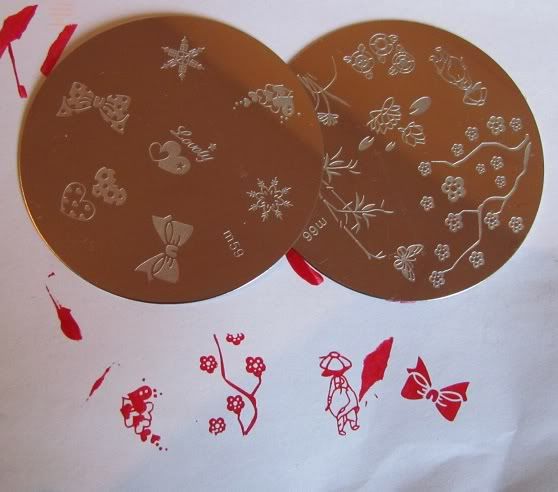 Näiden suhteen ei odotukset olleet kamalan korkealla, koska BPS:n Hello Kitty -laata kanssa sain kiristellä hermojani jokusen hetken verran. En siis odottanut laatoilta kovin kummoista laatua ja toimivuutta. Mutta kuinkas kävikään. Tässä pikaiset paperitestauksen tulokset. Lakkana Konadin Special Red. Ja molemmat laatat toimivat ilman mitään ongelmia. Ja mainittakoon tähän, että mulla on ollut ongelmia leimailussa parin ihan aitodon Konad laattan kanssa. Mutta nämä toimivat kyllä kuin unelma.
BPS:lta löytyviä laattoja pääset selaamaan
täällä
. Ja nämä laatat ovat tällä hetkellä tarjouksessakin!
Kynsillekin olen tuolla m66:lla jo testannut, mutta jätän sen toiseen postaukseen, ettei tästä postauksesta nyt ihan tappopitkä tulisi... :3
To be honest I wasn't expecting much from these. I had some problems with BPS's Hello Kitty -plate so I wasn't really expecting these to work very well. Oh how wrong I was proven! Here's the results of the quick tests I did for a paper. The polish is Konad's Special Red. Both of the plates worked without any problems! I've had problems with some real Konad plates and I have to say that these ones worked even better than those!
You can browse the selection of the BPS's fake Konad plates here. And they are even on sale now!

I have already stamped my nails with the m66 too but I'll leave that to another post to keep this one from getting suuuuuuper looooong.
Onko muilla kokemuksia Born Pretty Storen tuotteista? Innostavatko fimot? Mikä on mielipiteenne feikkikonadeista?
Does anyone have experiences of Born Pretty Store's products? How do you like fimos? What do you think about fake Konad plates?