Nämä kynnet olivat myöskin Cesarsin vappukisan ideoinnin tuotosta. Perusajatuksen pohjana oli Wild and Crazyn Purple Glitter -lakka. Siitä ideaksi muodostui pieni "karnevaalitunnelma" glitterpainotuksella, käyttämättä kuitenkaan liian silmiinpistäviä värejä.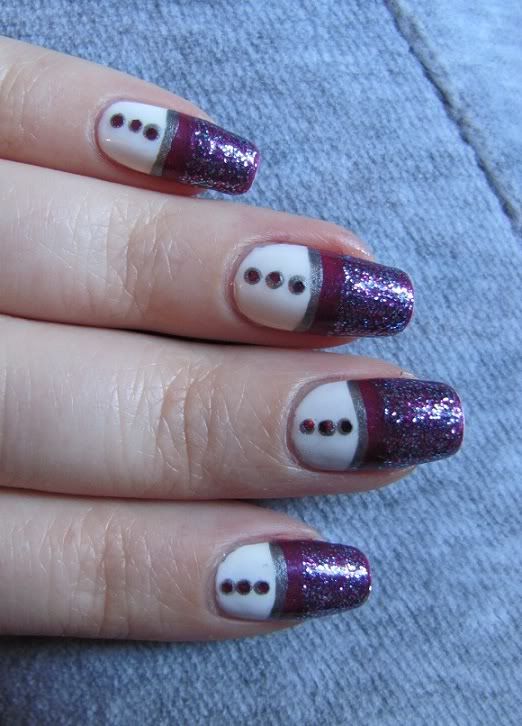 W&C Montana + Purple Glitter + MNY 553 + Depend Art Liner
Purple Glitterin kaveriksi löytyi MNY 553, jonka käyttöä tulee jotenkin aina välteltyä. Jostain syystä se väri ei vaan enää miellytä, mutta tässä lakkauksessa se kyllä toimi. Pohjana Wild and Crazyn Montana, jonka päälle vedin hieman yli puolen kynnen 553:ta. Lopuksi vielä kärkiin muutaman lakkakerroksen vahvuinen glitterkuorrutus, rajaus ja täplitys hopeisella Dependin Art Linerilla (nr. 1060) sekä glitterhippuset! Väriyhdistelmä toimi ainakin omaan silmään, vaikka ei tämä ihan täysillä iskenytkään. Näin jälkeenpäin kuvista katseltuna näyttää kyllä kivemmalta, kuin mitä oma muisti väittää tämän olleen! ;3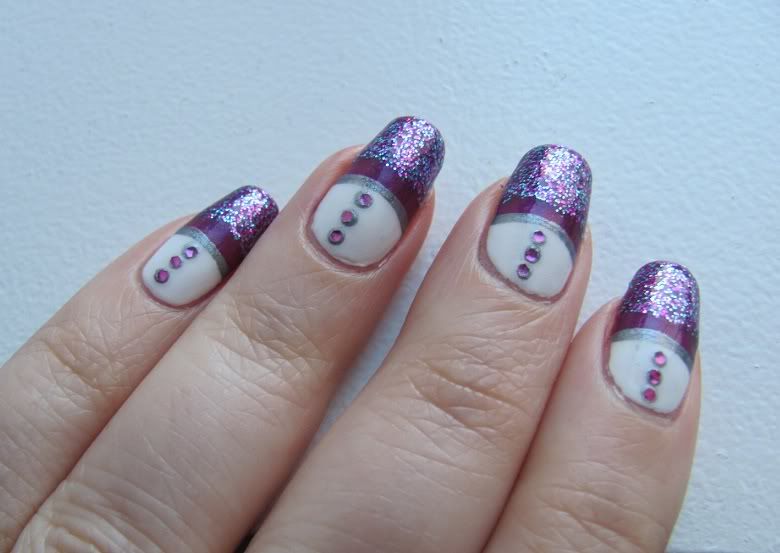 Myöhemmin päätin vielä kokeilla koko komeuden mattaamista Mavalan mattapäällyslakalla. Ihan kivasti toimi niinkin, joskin kyllä tähän glittersotkuun sopi omasta mielestä kiiltävä pinta paremmin.
Mattapäällyslakan kanssa. // With matte top coat.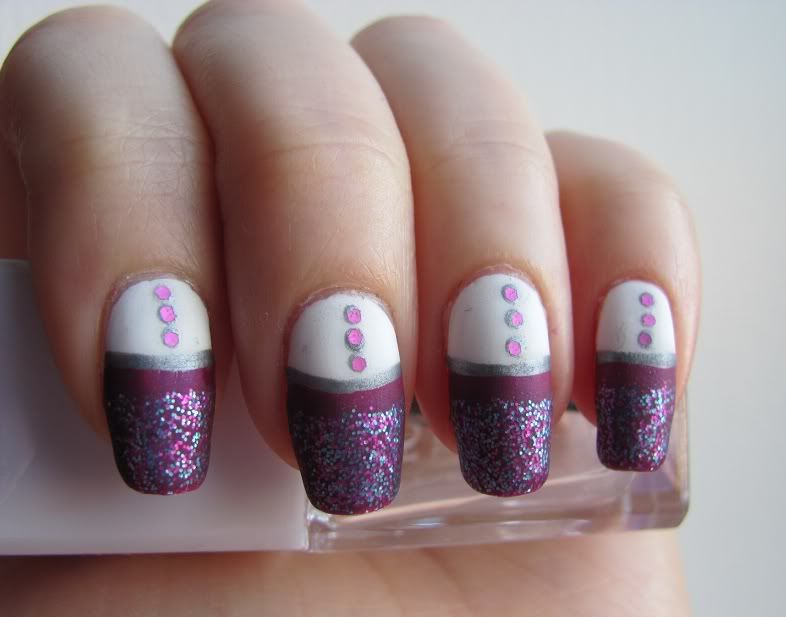 The idea for these nails is based on Wild and Crazy's Purple Glitter nail polish. I use this funky glitterpolish very rarely but this time I knew I wanted to use it without knowing what I actually want to do with it! I ended up combining it with MNY's 553, a white base (Wild and Crazy - Montana) and some silver (Depend - Art Liner 1060). This mani reminds me a bit of some clown outfit without the bright colours.
Later I wanted to try how this mani would work with matte top coat - so I added Mavala's Matt Top Coat over everything. It looks quite nice as matte too but I think the shiny finish fits this one better :3
..and I have to admit that for my own eye this mani looks better on the pictures than how I remember it!