Glee + Teenage Dream = <3
Lähdin testailemaan Hello Kittyn leimailemista, ja hermothan siinä meinasi mennä. Mun kynnet on tällä hetkellä vaan niin kaarevat, että kissan naama venyi ja vääristyi oikeastaan joka yrityksellä. Jotain sain toki aikaiseksi, mutta ei nyt ihan parasta osaamista näillä kynsillä esitellä.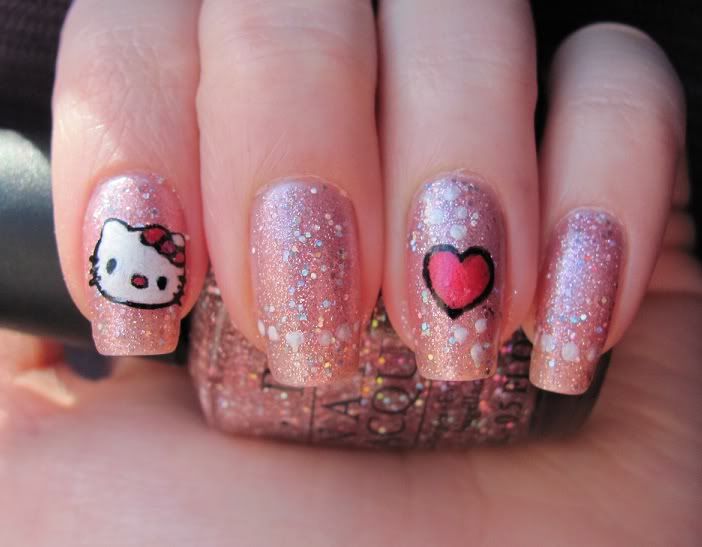 Hello Kittyn kaveriksi pääsi OPIn Teenage Dream. Ihan vain siksi, että Hello Kittyä ajatellessa mieleen tulee hyvin helposti vaaleanpunainen väri ja glitteri-ihanuudet - ja tämä lakkahan on juuri niitä. Aika moneen kertaan tuli Kitty leimattua ja pyyhittyä pois, mutta lopulta sain "ihan ok" version kynnelle ja päätin värittää sen akryylimaaleilla. Nimettömään maalasin sydämen mustalla lakalla ja "väritin" senkin punaisella akryylimaalilla. Ympärille muutamat valkoiset pisteet dotting toolilla. Nuo pisteet jättäisin ehkä pois, jos tämän lakkauksen tekisin uudestaan. En ole ihan varma. Toisaalta ne juuri yhdistävät tuon Kittyn valkoisen värin muihinkin kynsiin.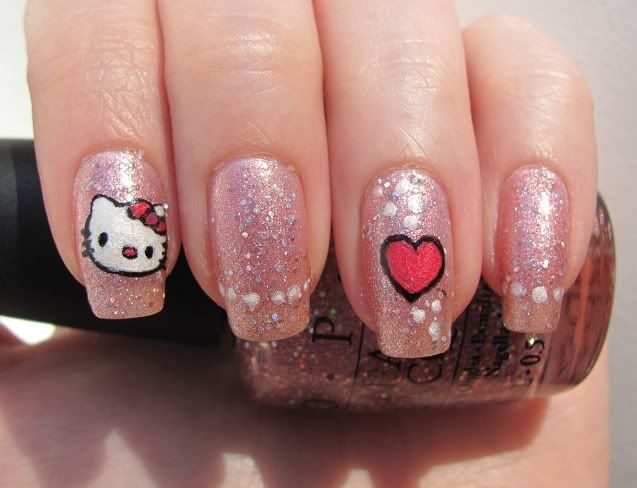 A little something I did when I was testing my new Hello Kitty -stamping plate. It was really hard for me to get the Kitty -face right because my nails are so curved at the moment - the Kitty got all stretched and weird and I had to re-stamp it several times before I managed to get a somewhat ok looking face. The base is OPI's Teenage Dream - what would fit Hello Kitty better than light pink and glitters?! I coloured the Kitty's face and the heart (which was lined with black nailpolish) with acrylic paints.