Onpas taas väsyttänyt ihan hurjasti. Huomenna (eli tänään eli perjantaina) olisi tarkoitus lähteä vähän shoppailemaan ja katsomaan, mitä kivaa Kicksistä tällä kertaa löytyisi.Nyt kuitenkin parin päivän takaiset kynsiunelmat!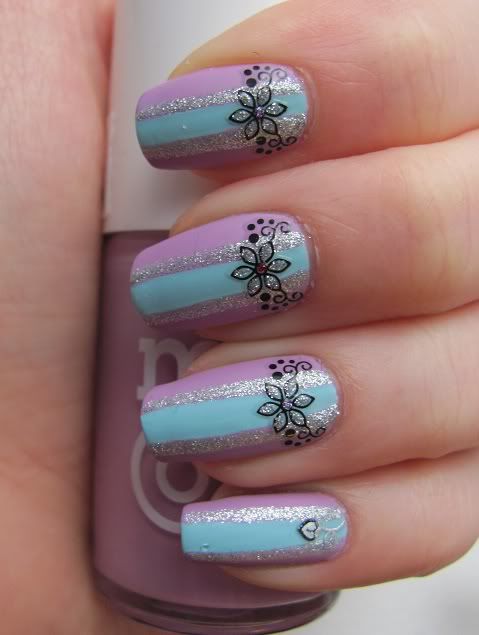 Models Own Lilac Dream + Baby Blues + Kiss Nail Art Silver Glitter
Sallan ihanista karkkikynsistä
sain idean pastelli-matta -yhdistelmään. Matta antaa kivan huurteisen pinnan tähän lakkaukseen. Koristeena hurjan kivoja kynsitarroja - nämä tarrat ovat ohuita ja taipuisia, joten ne mukautuvat hyvin kynnen pintaan. Tarrojen päällä ei ole päällyslakkaa, ja silti ne pysyivät paikallaan pari päivää. Ikävä kyllä en muista yhtään, mistä nämä tarrat ovat peräisin.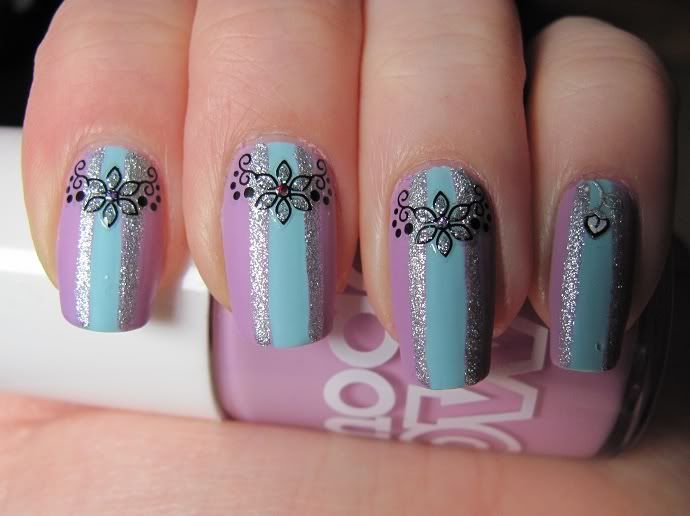 I got the idea for matt-pastel -combination from Salla's candynails The matt top coat gives a nice, frosty looking finish for this mani. The decorations are nailstickers. These stickers were really nice - they are soft and they bend easily so they are easy to apply and easy to get to stay on the nail. I didn't use any top coat after I applied the stickers cause I didn't want them to look shiny on the matt base - and still the stickers stayed on well for those 2 days I had this mani!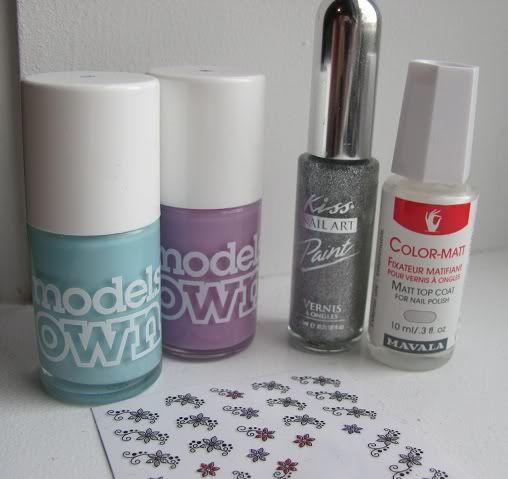 Käytetyt lakat /

/ Used nail polishes

:
Kiss Nail Art - Silver Glitter