Sain vihdoinkin aikaiseksi testata toista uusista MNY:n lakoistani, ihanan pinkkiä 808A:ta.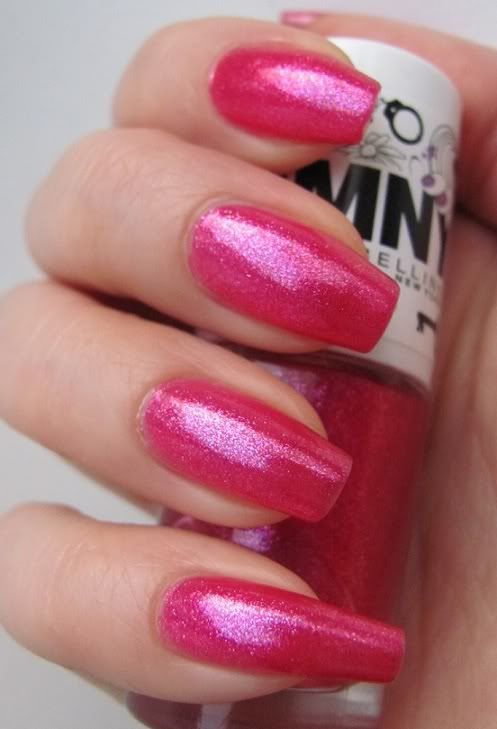 MNY 808A
Lakka on hieman läpikuultavaa, mutta tällainen lopputulos saatiin aikaan kolmella kerroksella. En ihan kamalan hyvä ole lakkasanaston kanssa, mutta uskaltaisin sanoa tämän lakan olevan glassflecked- pohjaväri on pinkki, ja lakassa olevat hippuset taittavat väreissä pinkki-sinertävä-kulta valosta riippuen. Hieman hämärässä sisävalossa lakka näyttää "ihan vaan" pinkiltä. Kirkkaassa luonnonvalossa sinisyys tulee esiin, ja lakka saa kylmähkön sävyn. Pehmeämmässä/lämpimämmässä valossa taas kultaisuus tulee esiin, ja omasta mielestäni lakka on silloin kauneimmillaan. Kuvattavuudeltaan lakka on luonnollisesti ihan kamala päänvaiva, ja varsinkin se kultaisuus oli hankala saada kuvaan. Vähän sitä näkyy viimeisessä pikkukuvassa, mutta ehdottomasti kauniimpi tämä lakka on luonnossa.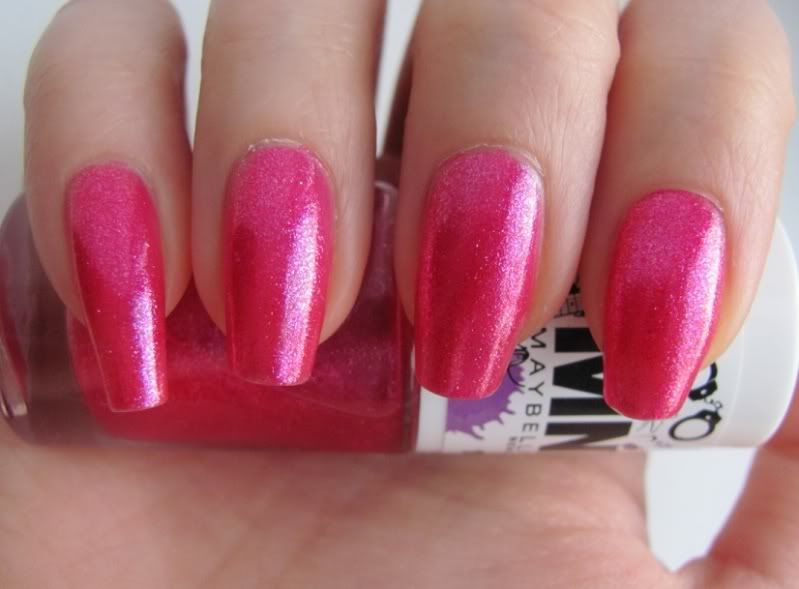 Some swatches of one of my newest MNY polishes - 808A. It's really pretty pink glassflecked polish. The shimmer in this polish shifts from pink to blue and gold depending of the light. Indoors (with a bit dim light) it looks "just" pink. On bright sunlight it gets colder tone because of the blue. I think the best shade of this polish is shown on warm light when the gold comes the dominant colour of the shimmer - it looks absolutely stunning then! And I'm wearing 3 coats, no top coat on these pictures. The polish is a bit sheer so 4th coat wouldn't hurt but I think this beauty is worth it! Unfortunately it's very hard to try to get "real" looking pictures of this polish but these pictures give a hint atleast!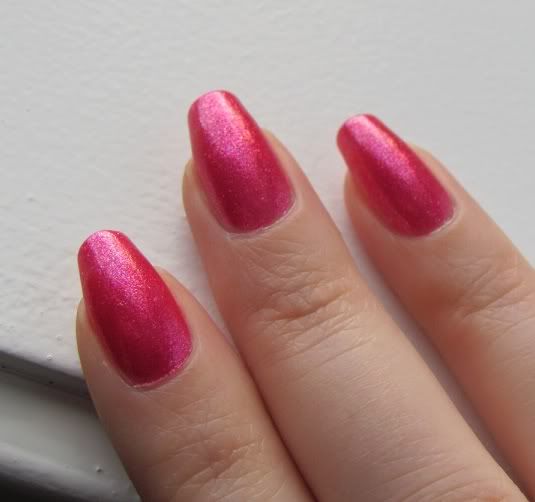 The only picture that shows a tiny bit of the gold~