Ulkona on ollut tänään sumuista ja harmaata, eli se siitä uusien lakkojen swatchaamisesta.. Eilen illalla tuli kuitenkin taiteiltua uudet kynnet (..jotka ironisesti kyllä vastaavat tietyssä valossa hyvinkin tuota tämän päivän harmahtavaa säätilaa..), joiden kuvaaminen olikin sitten ratkiriemukasta hieman tehottoman valaistuksen vuoksi. Meillä on siis kämpässä ihan tajuttoman huono valaistus, ja olen lähes täysin riippuvainen luonnonvalosta, mitä kynsien kuvaamiseen tulee. Muutaman varsin hyvän otoksen sain kuitenkin aikaiseksi, ja sehän riittää!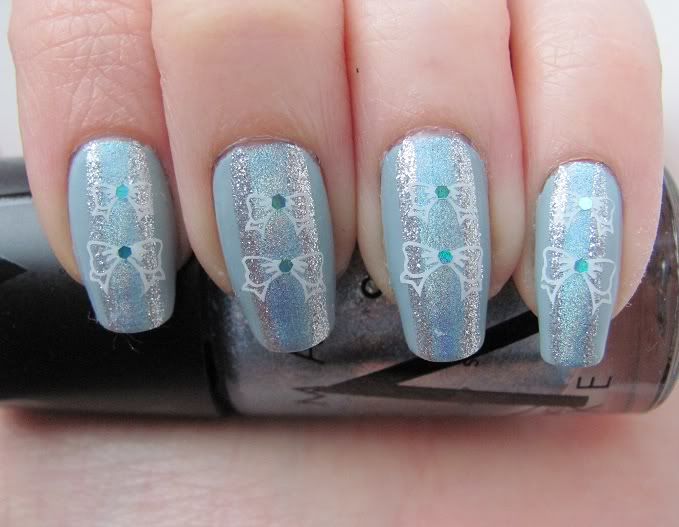 MUS Siw + CG Sea Spray + KNA Silver Glitter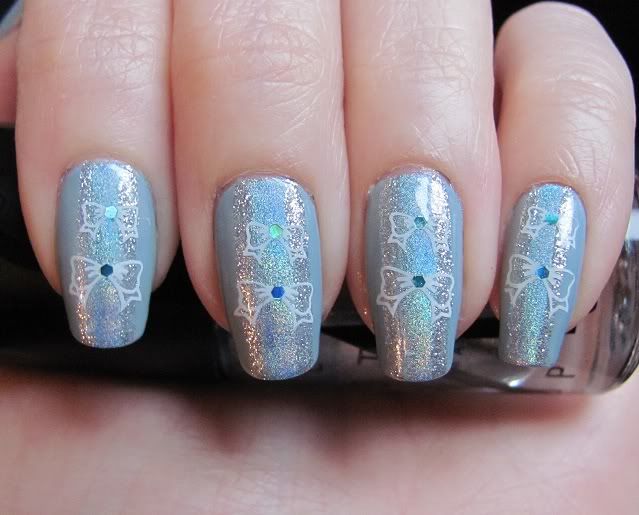 Halusin kovasti päästä testaamaan jotakin uusista lakoistani, ja päädyin sitten Sea Sprayhin. Käänsin taas lakkalaatikkoni ympäri, kun yritin löytää parhaiten sen kanssa yhteen sopivaa lakaa. Jotenkin kummasti päädyin taas tuohon suuresti rakastamaani Make Up Storen Siwiin :3
Perusidea - eli tuo pohjan holoraita + glitter raidat - näihin kynsiin on joskus "kauan" sitten jäänyt takaraivoon
näistä kynsistä
. En alkuunsa ollut ihan varma, millä minä tämän lakkauksen koristelisin, mutta päädyin sitten Konadeihin - jokunen hetki onkin jo edellisistä Konadoinneista! Kuviona rusetit Konadin m3 laatasta (hurjan söpö pikkukuvio!) ja lakkana Konadin valkoinen. Rusettien keskelle laitoin turkoosit glitterhippuset.
Valmiina tämä lakkaus toi mieleen ihanat, röyhelöiset mekot renessanssiajalta! Löysin vielä melko hyvin väreiltään sopivan mekon kuvan
täältä
.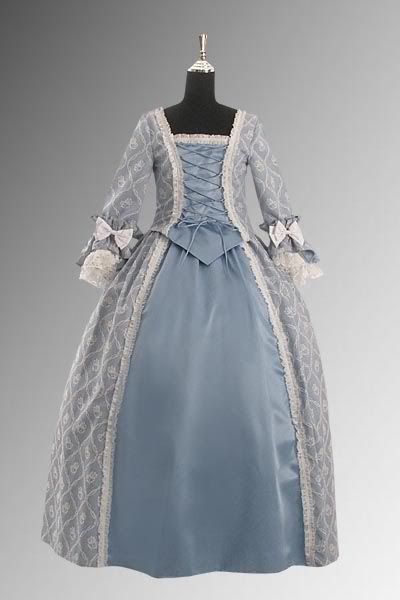 It has been very gray and foggy outside today so I had to forget swatching my new polishes ._. I had done new mani last night so I needed to get pictures of that - and it was super annoying with the bad light. Our apartment doesn't have very good lightning so I'm very dependent on the light outside when it comes to taking pictures of my manis. Anyways - I managed to get some good pictures and that's all I need!
I really wanted to get to try even one of my new nailpolishes so I picked Sea Spray and went searching my nailpolish box to find the "perfect match" for it. Make Up Store's Siw was exactly that!
The idea for the base (holo+glitter stripes) has been stuck in my head for a while already - I saw it first time on these nails. For decorations I used the image of 2 cute little bows from Konad plate m3 and Konad's white special polish and some glitter pieces.
When I was all done my nails reminded me of those amazing, frilled dresses from renaissance times. I found the picture with colours that match my mani quite nicely from
here
.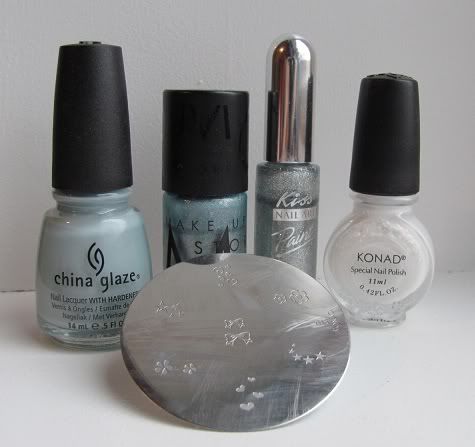 Make Up Store - Siw
Kiss Nail Art - Silver Glitter
Konad - Special White
Konad Plate m3