Nämä kynnet tein Cesarsin vappukisaan, mutta ei tällä kertaa siellä lykästänyt. Itse kuitenkin tykkäsin kynsistä kovasti - mukavan pirteä väri ja onnistunut kokonaisuus. Vappuun sopivaksi perustelen nämä sillä, että mielestäni vappuna pitää olla kirkasta väriä ja glitteriä!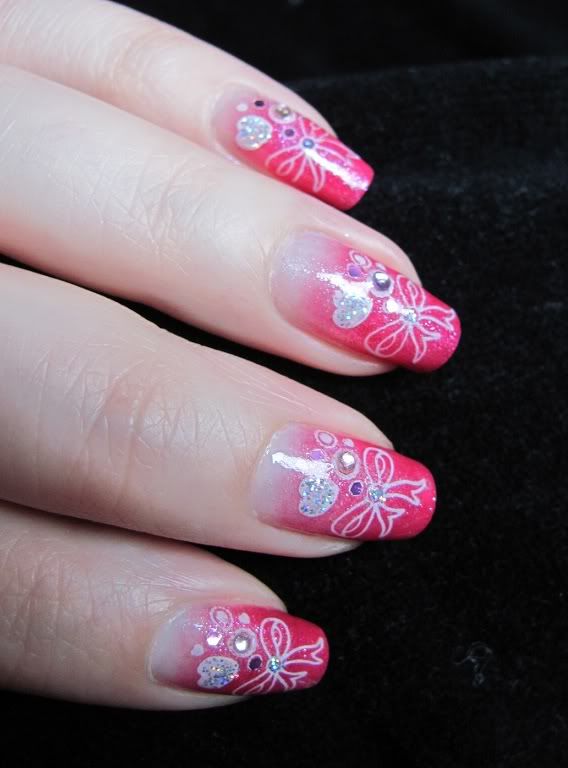 Pohjalla on kolmella eri pinkillä tehty liukuvärjäys - Sally Hansen Flashy Fuchsia, China Glaze Ahoy! ja MNY 808A. Leimaus Konadin m76 -laatasta Konadin White Pearl lakalla ja lisukkeeksi vähän hologlitteriä Viva la Diva 72:sta, vaaleanpunaisia strasseja ja isompia pinkkejä glitterhippusia.
For this mani I sponged 3 different pink polishes to get the gradient base - Sally Hansen's Flashy Fuchsia, China Glaze's Ahoy! and MNY's 808A. Stamping is from Konad's m76 -plate with Konad's White Pearl special polish. I added some big glitterpieces, light pink rhinestones and hologlitter nailpolish (Viva la Diva's 72) to get "a little something" to finish the mani.