Tämä on oikeastaan jo jokunen aika sitten tehty lakkaus, mutta se on jäänyt esittelemättä. Nyt se kuitenkin sopii hyvin ajankohtaan, eli tässäpä pastellinväriset pääsiäiskynnet!
Right hand // Oikea käsi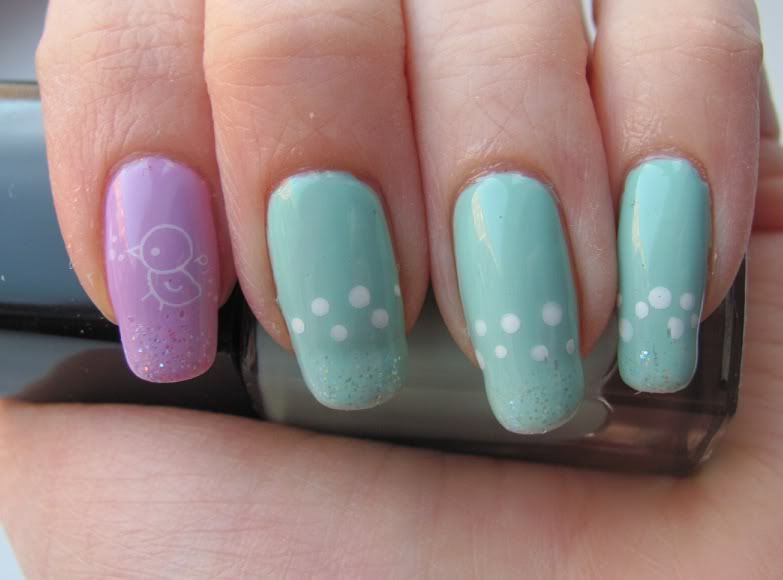 Left hand // Vasen käsi
Tämä lakkaus toimi hyvin kaikessa yksinkertaisuudessaan. Lakkoina oli kolmea eri pastellinväristä cremelakkaa - vihreänä ELF Mint Cream ja sinisenä Models Own Baby Blues. Violetin muistelisin olevan ELF Lilac, mutta en ole ihan varma, koska Models Ownin Lilac Dream on melkein saman värinen, enkä muista varmaksi kumpaako juuri näissä käytin. Tipeissä on vähän ELFin Twinkleä. Tipu löytyy Konadin S10 laatasta ja sydämet ja pisteet taiteiltu dotting toolilla.
En halunnut molemmista käsistä täysin samanlaisia, mutta kuitenkin "samaa sarjaa".
Left hand before the decorations - just love these pretty pastel cremes!
This mani was actually made a while ago but I kinda forgot to blog it. Now it fits well for the easter time so here's my pastel coloured easter mani!
I used three different pastel creme polishes - ELF Mint Cream and Models Own Baby Blues and I think the purple one was ELF Lilac (could've been MO Lilac Dream too but don't remember for sure, sorry!!). I added some ELF Twinkle to the tips and used Konad's S10 plate to stamp the little chicks. The hearts and dots are done with a dotting tool.