Ajattelin nyt vihdoin yrittää saada aikaiseksi postauksen kynsilakkakokoelmastani. Yritin lajitella lakkoja kuviin vähän merkin mukaan, ja kuvia on kohtalaisen monta, eli ainakin kahdessa osassa teen tämän esittelyn. Ja kaikki kuvat on otettu kohtalaisen kirkkaassa aamuauringossa.
Ihan kamalan isosta valikoimastahan ei ole kyse, eli jossain sadan paikkeilla taitaa lukema mennä tällä hetkellä. Lisäksi suurin osa lakoistani on "halpis- tai markettilakkoja". Jos jotakuta kiinnostaisi nähdä kuvia jostakin lakasta ihan kynsillä - lakka paljaaltaan tai koristeluiden kanssa / leimauskäytössä niin jättäkää kommenttia! Mielelläni toteutan toivomuksia! :)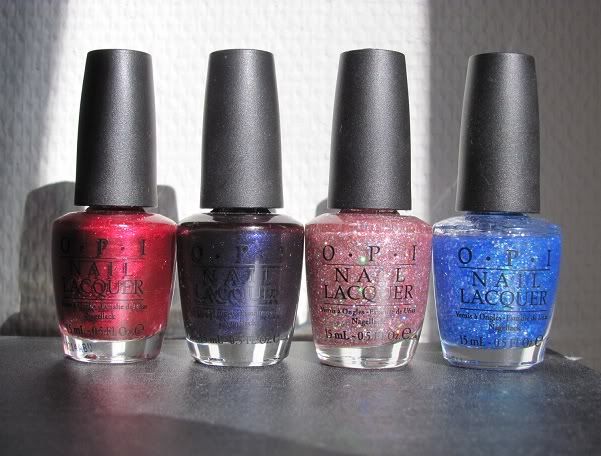 O.P.I - The Show Must Go On, Ink, Teenage Dream, Last Friday Night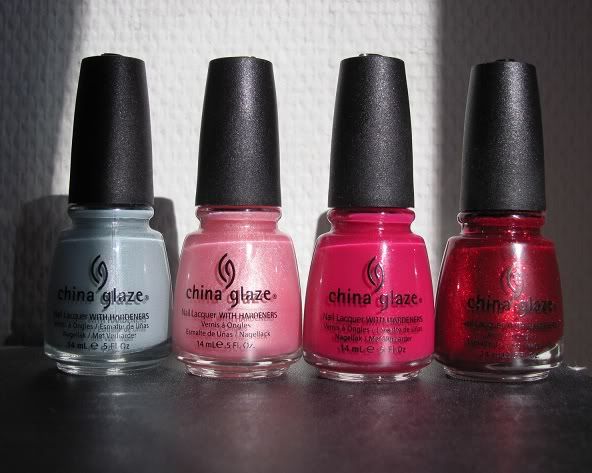 China Glaze - Sea Spray, Exceptionally Gifted, Ahoy!, Ruby Pumps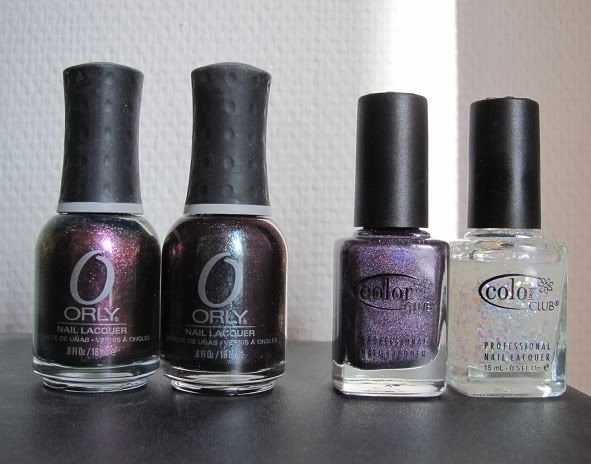 Orly - Space Cadet, Galaxy Girl / Color Club - Wild At Heart, Covered In Diamonds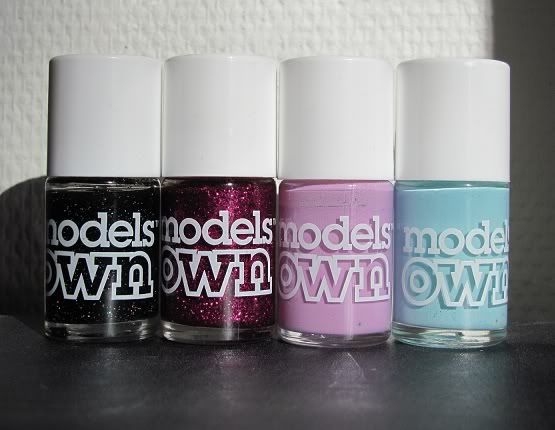 Models Own - Mixed Up, Magenta Divine, Lilac Dream, Baby Blues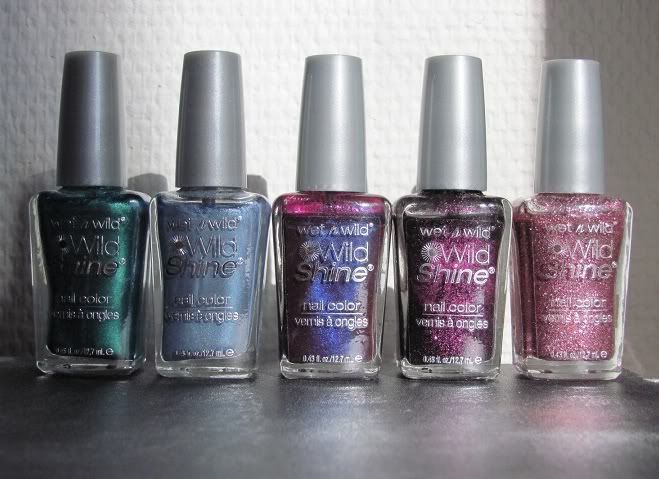 Wet n Wild - Carribean Frost, Rain Check, Eggplant Frost, Night Prowl, Sparked
Wild and Crazy - Lollipop, Montana, Pink Bikini, Fancy Dream, Purple Glitter, Wild & Desperate
MNY - 749, 761, 445, 557, 553, 808A, 145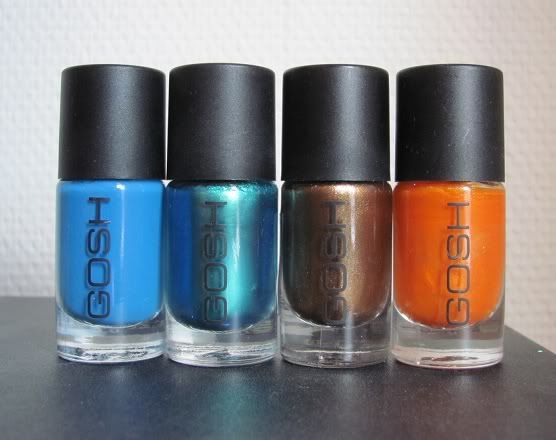 GOSH - Gypsy blue, Ocean, Golden Brown, Orange Drops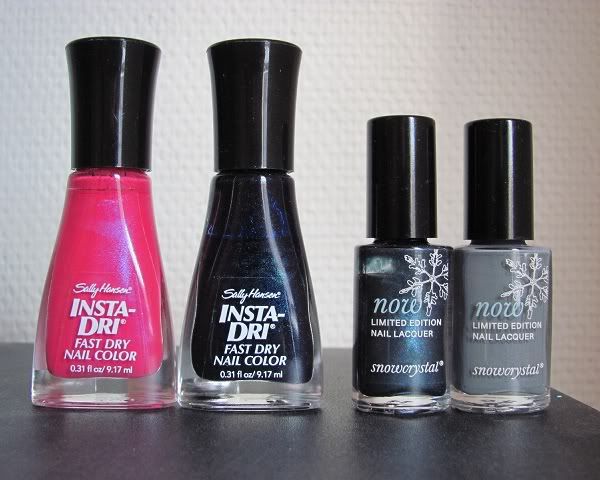 Sally Hansen - Flashy Fuchsia, Blazing Blue / SnowCrystal - 441, 448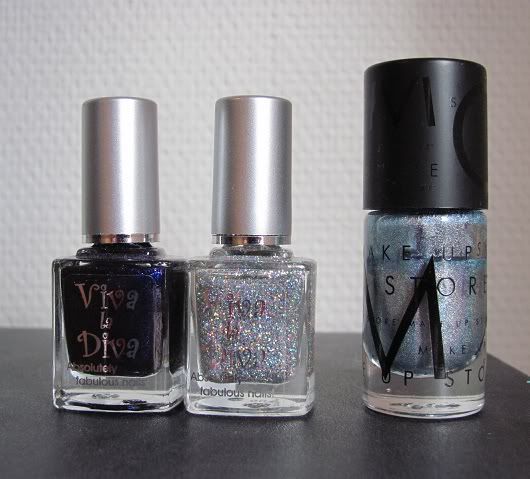 Viva la Diva - 121, 72 / Make Up Store - Siw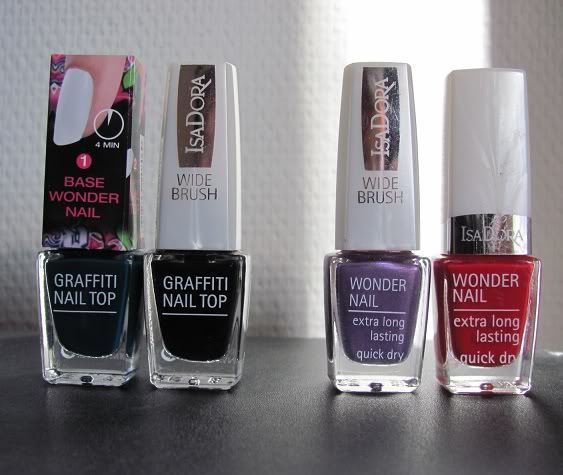 Isadora - Graffiti Subway Green, Black Tag / Sweet Violet, Summer Red
I'm finally trying to get my nail polish collection introduced! For the pictures I tried to sort them a bit by brands and there's quite a lot of pictures so I will cut this to atleast two parts. All of the pictures have been taken on a very bright morning sun.
My collection isn't super big - around 100 polishes at the moment, and most of them are "cheap / market brands", as you could call them here (since O.P.I/CG etc are quite expensive on the stores here :( ). If you'd want to see swatches / nail art / stamping done with some specific polish leave me a comment and I'll do my best to make a post about that! :)