Päätin taas taiteilla kynsille "vähän jotain suuritöisempää" ja niin sitä meni mukavasti hetki jos toinenkin omaa tumpelointia kiroten. Vaikka tässä lakkauksessa onkin aika paljon kaikkea, olisi tämän varmasti saanut tehtyä huomattavasti nopeamminkin, jos vaan en olisi mokannut ja maalannut kissoja valkoisella ennen mustaa pohjaa ääriviivoja varten.. Lopputulos oli kuitenkin tosi kiva, mutta sääolot eivät oikein suosineet, ja ennen kuin tarjolla oli minkäänlaista kuvauksen sallivaa valoilmiötä, pääsivät lakat ihan kunnolla lohkeilemaan. Että voi hyvää päivää - tahtoo edes jonkun kunnolla kirkkaan pöytälampun! Tarjoilen teille nyt ihan luvattoman huonolaatuisia kuvia. Hiphei sateisille ja pilvisille päiville!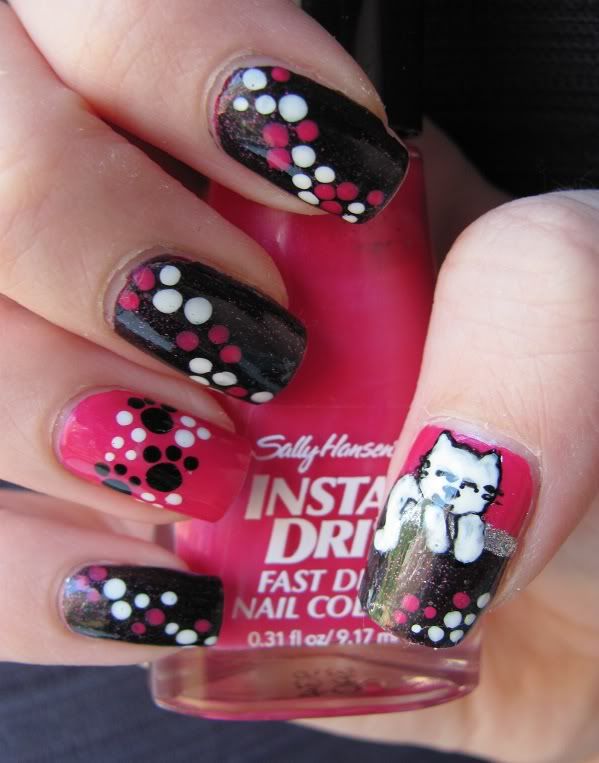 Wet n Wild Night Prowl + Sally Hansen Flashy Fuchsia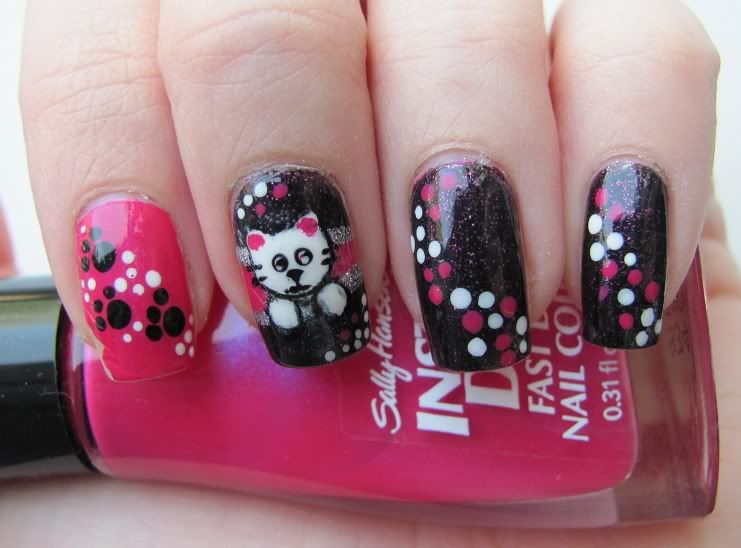 Musta, pinkki ja valkoinen on mun mielestä ihan mahtava väriyhdistelmä, eikä se pettänyt tälläkään kertaa. Pohjalla lakkoina Sally Hansenin Flashy Fuchsia ja Wet n Wildin Night Prowl ja koristelussa lisäksi elfin musta ja Wild and valkoinen Crazyn Montana, ja kissakynsissä myös vähän Kiss Nail Art silver Glitter näkyvissä. Jälleen kerran tuli vähän innostuttua dotting toolin kanssa!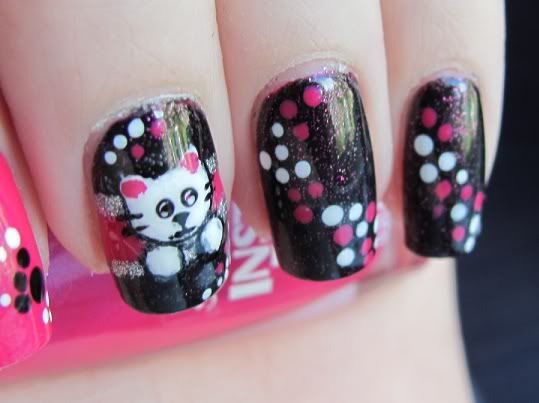 I decided to do a bit more complicated mani again and ended up spending a lot of time doing extra painting because I messed up with a few things while doing this! The result was still really nice and worth the effort, even though my eyes catch some mistakes and things that could've looked better... Unfortunately the weather here has been very cloudy and rainy so taking pictures of my nails has been almost impossible (we really don't have any good and bright lamps in this apartment >.<). Once I finally had even some kind of light the polish had already started chipping on two nails! So I'm really sorry about the bad quality of these pictures!
I really like the combination of black, pink and white and it worked well this time too. The base is Sally Hansen's Flashy Fuchsia and Wet n Wild's Night Prowl. I also used Wild and Crazy's Montana, elf's Black and Kiss Nail Art Silver Glitter for the decorations.