Nyt kun Blogger toimii vaihteeksi silloin, kun itseltäkin löytyy aikaa, olisi esittelyssä elfin Berry Pink lakka. Tämä siis saapui viimeisimmässä tilauksessani, ja vaikka sävy ei ihan osu yksiin juuri tämän hetkisten värimieltymyksien kanssa, piti uusi lakka testata!
Kyseessä siis kaunis marjanpunainen lakka hopeisella shimmerillä. Tämä kuuluu elfin lakkojen osalta siihen positiiviset yllättäjät -kerhoon, eli tosi hyvälaatuinen lakka pieneen hintaan. Levittyvyys on hyvä ja väri tasainen, eikä siveltimessäkään ollut mitään valittamista. Peittävyyttä on kivasti, ja kahdella kerroksella saa ihan ok peiton. Suosittelisin kuitenkin kolmea kerrosta tasaiseen ja varmasti peittävään lopputulokseen.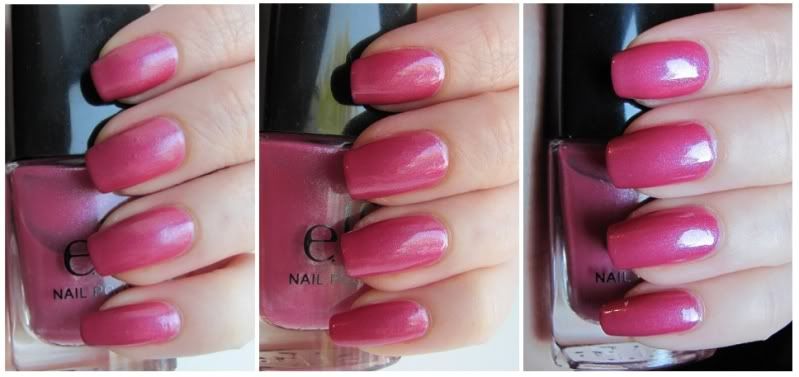 Klikkaamalla näet kuvan isompana. // Click to see the picture bigger.
Kuvassa kynsillä kolme kerrosta Berry Pinkiä - vasemmalta oikealle, ensimmäinen ilman päällyslakkaa, toinen päällyslakalla himmeämässä valossa ja kolmas päällyslakalla suorassa auringonvalossa (käytössä Dior Top Coat). Ilman päällyslakkaa lopputulos on hieman himmeä ja huurteinen. Itse tykkään enemmän päällyslakan kanssa, kunnolla kiiltävänä pintana, sillä silloin tuo väri pääsee enemmän oikeuksiinsa ja hopeinen shimmeri näkyy paremmin.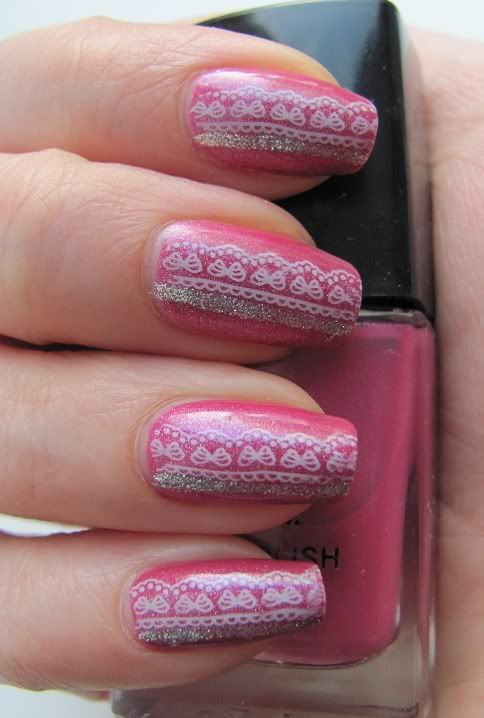 Lakan testaamisen päälle piti luonnollisestikin tehdä vielä koristelut, ja tällaista sain tällä kertaa aikaiseksi Konadeilla ja nail art -lakalla. Levitin pitkittäissuunnassa puolelle kynnelle kerroksen Lumenen Make Impactia ja leimasin rajalle Konadin helmiäisvalkoisella pitsikuviot laatasta m71. Lopuksi pitsin reunaan vielä rajaus Kiss Nail Art Silver Glitterillä.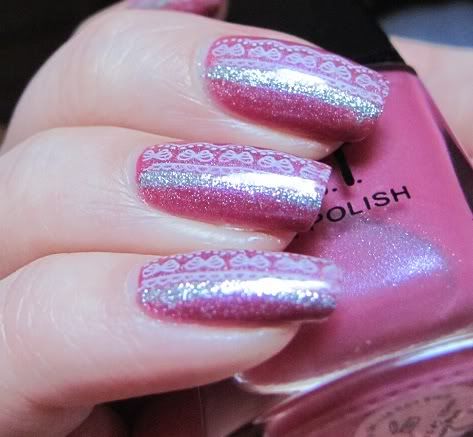 Elf's Berry Pink is a pretty, dark and very berry pink with silver shimmer. The quality was the better elf -quality - easy to apply, nice and even colour, nice brush and opaque with 2-3 coats. 3 thin coats give you more even and properly opaque result but if you prefer using a bit thicker coats you can most likely survive with just 2.
On the pictures I have 3 coats of Berry Pink. On the swatch picture the first one is without top coat and second and third one are with Dior Top Coat - second one with less light and third one on direct sunlight. I like BP more with top coat, because the colour looks better and the shiny finish makes the silver shimmer more visible.
I also did some decorating and decided to go with Konad's this time. I added Lumene's Make Impact on half of the nail and stamped laces from plate m71 with Konad's White Pearl. Finally I added some silver glitter nail art polish.