Sadetta riittää vaikka muille jakaa, eikä loppua tunnu tulevan millään. Kynnetkin saivat ulkoilmaa vastaavan värityksen, kun käyttöön pääsi ihan unohduksiin jäänyt SnowCrystal 448.
SnowCrystal 448
448 on kaunis hitusen sinertävään taittuva harmaa jossa on hyvin vähän hyvin pientä hopeista shimmeriä (ei juurikaan näy kynnellä). Ja varmaa SnowCrystal laatua levittyvyyden ja peittävyyden puolesta - toimii. Koristelussa käytin Miss Julien lakkoja 47 ja 21, ja vaaleanvihreitä strasseja.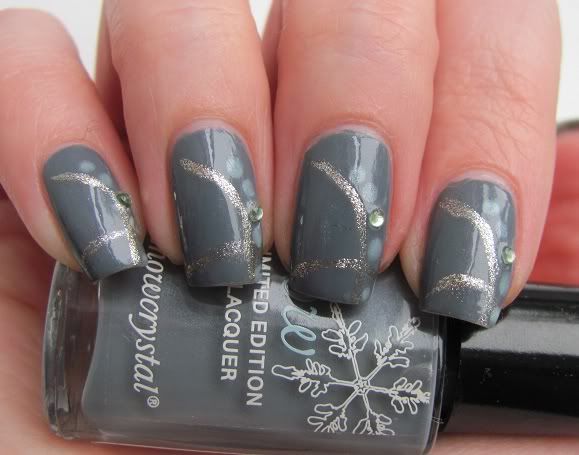 Miss Julien lakat ovat peräisin ihanasta paketista, joka saapui alkuviikosta! Sattui siis joku ihmeen tuuri mulle (..ja normaalisti olen siis ehkä huono onnisin ihminen, jonka tiedän) ja voitin paketin Celin arvonnasta! Paketissa tuli useampi kiva kynsilakka, ja niitä olen nyt innoissani testaillut :)
Celin blogissa on tällä hetkellä muuten käynnissä
iso arvonta
blogin synttärin kunniaksi, eli kannattaa käydä kurkkaamassa ja osallistumassa!
It's just raining and raining and raining.... and it's so gray outside that my nails changed colour to that too! This lovely gray polish is SnowCrystal 448 - pretty gray with a hint of tinytiny silver shimmer (barely visible on nails). Decorations are done with Miss Julie nailpolishes 47 and 21. And for some colour I added light green rhinestones.
Those Miss Julie polishes were part of a package I received earlier this week. It was sent by lovely Cel whose giveaway I won! (And I'm usually so unlucky, yay!) I received quite a few nice nailpolishes and I've been so excited about getting to test all of them!
Cel is celebrating her blogs birthday now and she's having
an amazing giveaway
again - you should go check it out!
Nämä ihanuudet minä voitin! // These are the beauties I won!