Oivoi, aika hurjaa, että nyt tulee jo sadas postaus tähän pieneen blogiin :3
Kuten jo sadan lukijan rajan täytyttyä ihmettelin, että miten mun blogi onkaan saanut niin paljon lukijoita, ihmettelen nyt, että miten mulla onkin noin monen postauksen verran riittänyt juttua!
Edelleenkään en kyllä koe tarvetta potkia itseäni jokapäiväiseen postaustahtiin, sillä tiedän, että se ei minulta tule pidemmän päälle millään onnistumaan, enkä halua sitten stressata moista asiaa. Olen kuitenkin ottanut nyt tavoitteeksi sen, että kuun lopussa postausten määrä olisi edes puolet kuukauden päivien määrästä. Toisinaan postauksia meinaa tulla ihan itsestään parikin yhden päivän aikana, mutta välillä ei vaan sitten saa mitään tekstiä aikaiseksi moneen päivään, vaikka miten yrittäisi hakata päätään näppäimistöön monta kertaa päivässä.. Olen vaan aina ollut tosi inspiraatiopohjainen ihminen ihan kaiken luovan työn osalta, ja jos inspis on lomalla, en saa yleensä yhtään mitään aikaiseksi. Voin kertoa, että oli muuten kivaa kouluaikoina kuviksen ja äidinkielen kanssa! Blogin kanssa se on enemmän ongelma tekstin tuottamisen kanssa - kuvia kynsistä on aina parit ylimääräiset varastossa, mutta kirjoittamisen suhteen ei vaan tule yhtään mitään!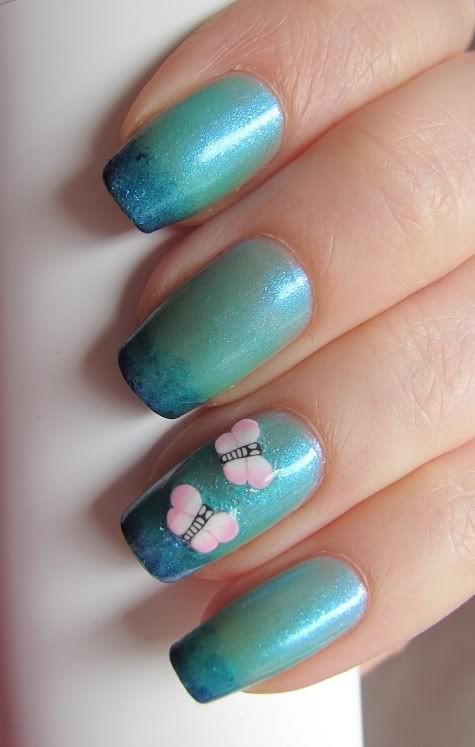 Viva la Diva - 128 (Amnesia)
Koen olevani hyvinkin etäinen ilmiö lukijoilleni näin blogaajana, eli en kovin paljoa itsestäni ja elämästäni kynsien ulkopuolella ole täällä blogissa tarinoinut. Joten nyt sadannen postauksen kunniaksi ajattelin antaa teille lukijoille mahdollisuuden kysyä kaikkea mahdollista, mitä nyt on tämän blogin ja itse blogaajan osalta, tai ihan muuten vaan joskus ehkä tehnyt mieli kysyä. Ja minä sitten yritän parhaani mukaan vastailla! Aikaa kysymyksien jättämiselle riittää varmasti pari viikkoa, eli 8.6. asti, ja sitten kokoan kysymykset vastauksineen postaukseksi.
Mulla on kyllä tähän asti ollut ihan tavattoman fiksuja lukijoita/kommentoijia, mutta mainitsen tässä kohtaa silti, että otan täyden vapauden jättää vastaamatta asiattomiin kysymyksiin (..tai kysymyksiin, jotka eivät muuten vaan sovi mun mukavuusalueelle).
Ja tämän postauksen kuvituksena keijukaiskynnet - Cubuksessa tuli vastaan ihana Viva la Diva 128, jota piti päästä kokeilemaan. Alizarine Claws -blogista selvisi, että tämä on VlD:n uudesta kesäkokoelmasta, ja lakan nimi on Amnesia. Jostain syystä VlD:n lakoilla on nimet, mutta niitä ei merkitä pulloihin (mikä on mun mielestä ihan tyhmää).
Amnesia on tosi läpikuultava, ja vaikka en tarkkaa kerroslukua muista, niin jokunen niitä tässä kynsillä on. Kärjissä erittäin epäonnistunut töpöttely We Care Iconin Magic Sapphirella ja nimettömässä pari ihanan söpöä perhosfimoa.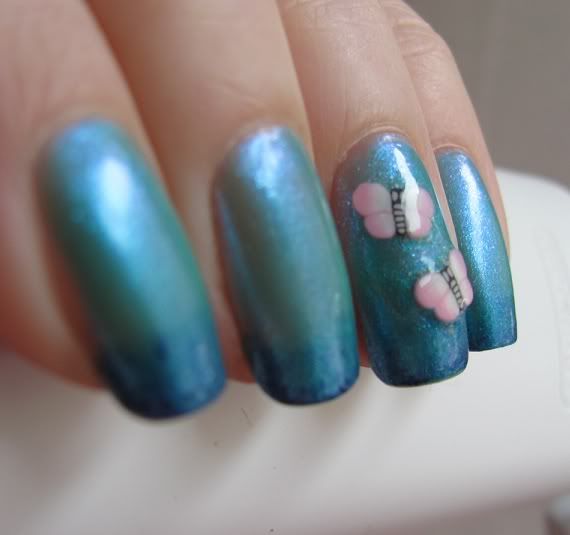 I can't believe it's my 100th post already! I was really surprised once I hit 100 readers since I didn't imagine so many people would be interested about my blog and now I'm equally surprised that I've actually managed to write so many posts! I'm still not even trying to post every day since I know I just can't keep it that way for very long and that would just stress me. I've always needed certain type of inspiration when it comes to any kind of creative work and if I don't have it I can't force anything out of myself.
Anyways. I feel like I'm a bit distant to my readers since I haven't really posted much about myself or my life besides the nails here. So I thought that for my 100th post I'll give you the chance to ask me anything you might want to know about me or my blog, or just in general. And I'll do my best to answer! You have 2 weeks to ask (till 8.6.) and after that I'll gather the questions and my answers to a post.
I have had really awesome and smart readers/commenters so far but I still mention here that I have every right to not answer any question I feel inappropriate or I'm not comfortable with answering.
The pictures in this post are my fairy nails. The base is Viva la Diva's 128. Alizarine Claws knew that this is from VlD's new summer collection and the polish is called Amnesia. For some reason VlD polishes have names but they are not shown on the bottles! o.O
I did some failed sponging to the tips and added super cute butterfly fimos to the ring finger.