Lakkalaatikkoa tutkiessa käteen osui Models Ownin Magenta Divine. MD on hurjan kivan näköinen lakka, mutta jostain syystä sitä ei ole paljoa tullut käytettyä. Ajattelinkin sitten laittaa kynsille kunnollisen glitterpommin.
Models Own - Magenta Divine
Kynsillä kolme kerrosta Magenta Divinea (mun mielestä hurjan hyvä peittävyys glitterlakalle!). Koristeena pinkkireunaisia omenafimoja ja pinkkejä strasseja. Nämä kynnet voisin kuvitella aurinkoisen ilman rantakynsiksi - auringonpaisteessa kimallusta riittää vaikka muille jakaa!
..Ja oli muuten hurjan kivaa tätä poistaessa - foliokikoista huolimatta.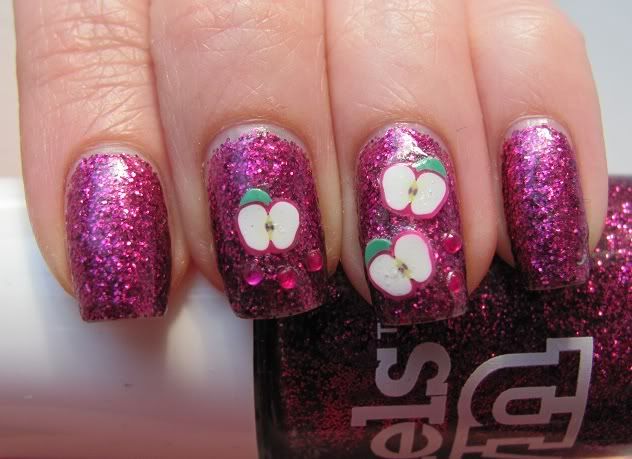 This glitterbeauty is Models Own Magenta Divine. I'm wearing only 3 coats here and it's opaque - really great for a glitter polish! For decorations I added some pink apple fimos and pink rhinestones. This mani would work nicely for a sunny day at beach - the glitter looks super shiny on sunlight!