Kynsistä kyllä huomaa, mikä vuodenaika on meneillään. Lakkauksissa käytetty värivalikoima kääntyy täysin ympäri ja kuvioinnit vaihtuvat lumihiutaleista kukkasiin. Tämä lakkaus on itse asiassa jo parin viikon takaa, ja kuvatessa tuli vähän innostuttua (eli kuvia tuli napsittua aika monta) superkirkkaasta auringonpaisteesta. Mun mielestä tämä on vaan ihan superkesäinen lakkaus. Tuskin tulisi tällaista ikinä taiteiltua talviaikaan!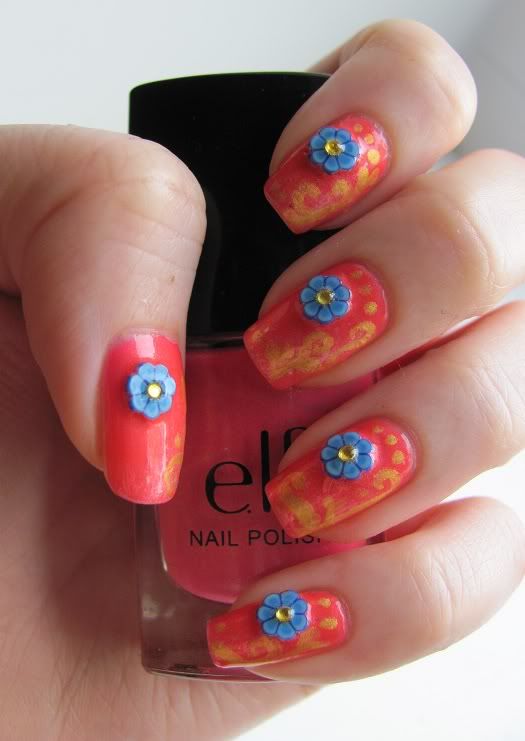 Pohjalla elfin Passion Pink, jonka päälle lisäsin kärkiin vähän MNY:n helmiäisvalkoista 145:ta (joka tosin ei paljoa kuvissa näy). Kultaiset koristeet syntyivät Dependin Art Linerilla ja dotting toolilla. Lisäksi kukkafimot, joiden keskelle laitoin kultaiset strassit. Lopputulos oli hieman yllätys väripohjansa puolesta, sillä Passio Pink on hyvin kirkas, melkeinpä neon sävyinen pinkki (näkyy hyvin
tässä
lakkauksessa), mutta yhdistettynä kultaisiin koristeluihin se näyttää hyvinkin koralliselta. Mutta hyvin tämä kokonaisuus silti toimi!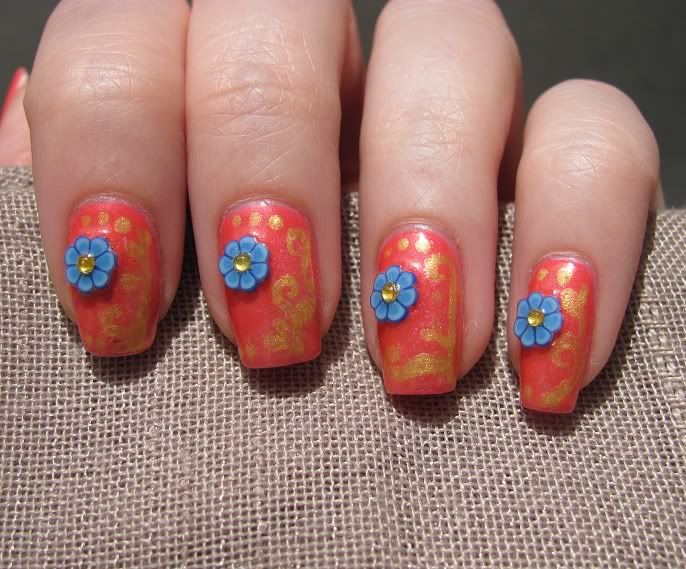 I think this mani just screams SUMMER! In general I can easily see the change of seasons on my nails when the colours get brighter and lighter and the decorations change from snowflakes to flowers. I could never imagine doing something like this during the winter time!
The base is elf's Passion Pink with some MNY's pearl white 145 on the tips (can't be seen much on the pictures). The golden decorations are made with Depend Art Liner and dotting tool. And of course some flower fimos with golden rhinestones in the middle. I was very surprised about how the colours ended up looking on this mani when I was done. Passion Pink is really bright pink, almost neon (as seen on this mani) but on this one it looks very coral! Though it still works so I'm happy!