Piti sitten tämänkin mörököllin hankkia vähän joulumieltä ja taiteilla kynnet sen kunniaksi.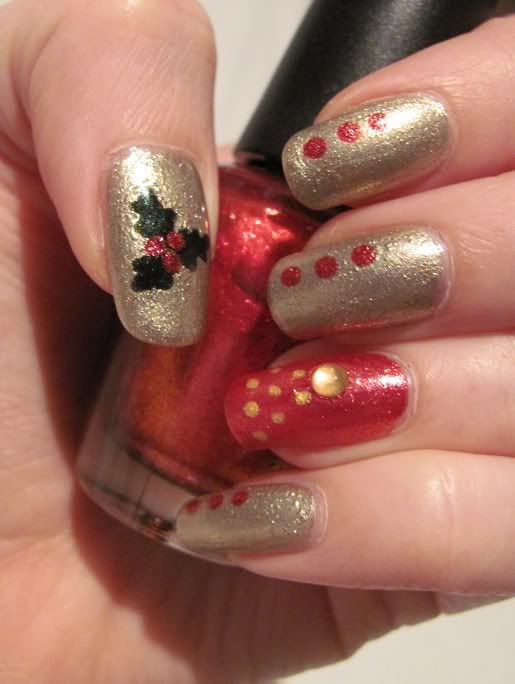 MNY 445 + OPI The Show Must Go On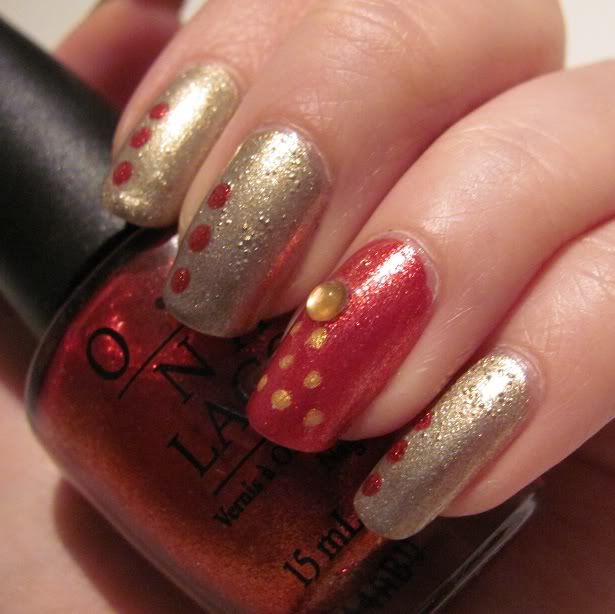 En ole mikään kummoinen perus "jouluvärien" ystävä, mutta kun tuo uusi ja ihana The Show Must Go On poltteli sormia, piti keksiä jotain kivaa siihen yhdistettäväksi. Vahvassa suosiossa oleva MNY 445 sattui taas jotenkin kummasti olemaan "se yksi ja ainoa", joka TSMGO:n kaveriksi sopi..
(tuntuu, että 445 on löytynyt suunnilleen jokaisesta lakkauksestani viimeaikoina.)
Neljässä sormessa siis kaksi kerrosta 445:ta, nimettömässä kaksi kerrosta TSMGO:nia. Punaisen päälle tein pisteitä Dependin kultaisella nail art lakalla (nr. 1061), viimeistellen yhdellä kulta/kellertävällä strassilla. Kultaisella pohjalla kolmessa kynnessä TSMGO pisteet. Peukaloon taiteilin
(hampaita kiristellen - ei oikein meinannut onnistua)
jouluisen kasvintekeleen (piikkipaatsama taitaa tuon suomenkielinen nimi olla) MNY:n 761:lla. Marjat taas TSMGO:ta.