Edellisessä postauksessa mainitsinkin saaneeni innostuksen tietyntyyppisiin lakkauksiin taas. Vielä kun oli pakko päästä kokeilemaan edes jotakin uusista Diorin lakoista, piti heti "joulukynsien" jälkeen kokeilla jotain samalla muotilla..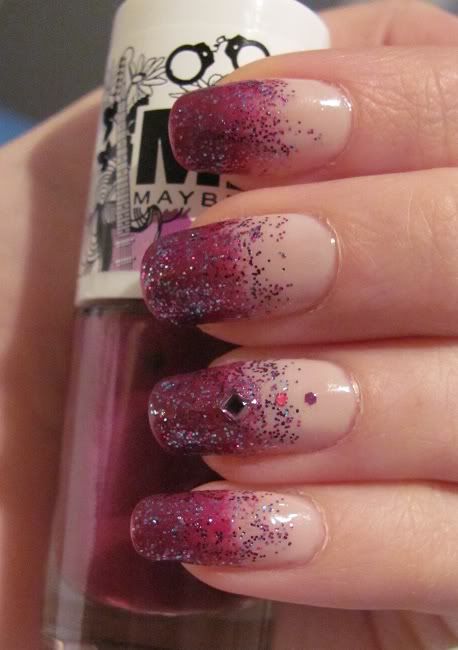 Dior Coconut + MNY 553 + Wild and Crazy Purple Glitter
Alla kaksi kerrosta Diorin ranskispohjaa, vaaleanpunaista Coconutia (nro. 108). Kärkiin töpötelty MNY 553 ja päälle Wild and Crazyn Purple Glitter (jolle olen muuten yrittänyt keksiä sopivaa käyttöä kohtalaisen usein, mutta ei vaan ole mikään suurin suosikkini tämä glitterlakka). Nimettömään lisukkeeksi muutamat glitterhippuset ja yksi neliön muotoinen strassi.
Nyt pitäisi alkaa keksimään ideoita kynsille uudenvuoden juhlintaa varten. Pää lyö ihan tyhjää, mutta ehkä tästä vielä jotain keksii! Anoppi sanoi haluavansa kynsiinsä jotain kultaa, itse taidan päätyä johonkin tummaan.. ja Viva la Divan hologlitterikin houkuttelisi!