Kun laatikosta ei löydy mieleisiä lakkoja eikä mistään pääse juuri sillä hetkellä uusia ostamaan, pitää mieleistä yrittää tehdä siitä, mitä laatikosta löytyy! Olen jo pitkään haaveillut violetista hololakasta, joten piti sitten testata, onnistuisinko sellaista itse sotkemaan.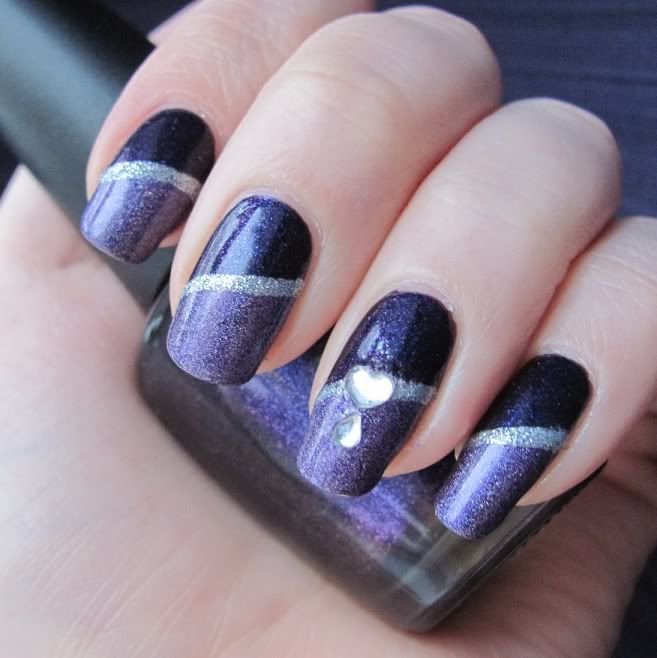 OPI Ink + Purple Mist (franken) + Kiss Nail Art Silver Glitter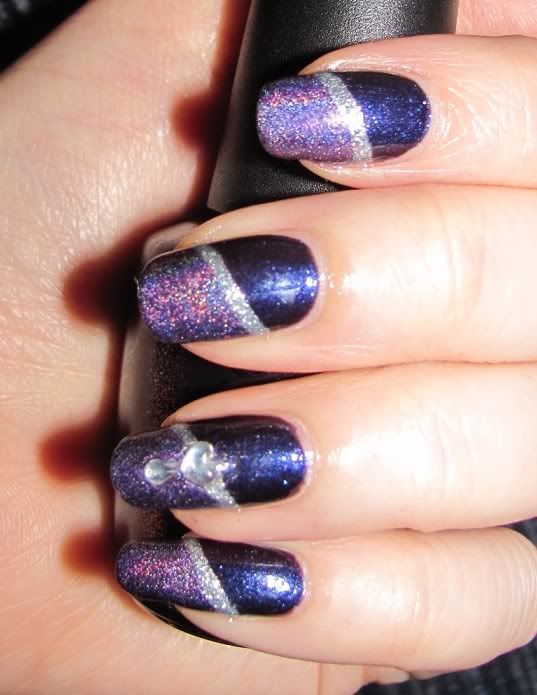 ..and the same with flash to make the holo show better~
Minä niin kovin tykkääntykkääntykkään siitä, mitä onnistuin saamaan aikaan! Yksinkertainen yhdistelmä: Make Up Store Siw ja MNY 557. Kynsillä kaksi kerrosta OPI Inkiä ja kärkiin vinosti frankeniani (jonka nimesin Purple Mistiksi). Rajaan Kiss Nail Artin hopeista glitterlakkaa ja nimettömässä sydämen ja pisaran muotoiset, hopeiset strassit.
I've been wanting a purple holo polish for a long time and since my nailpolishcollection didn't have anything I would've wanted to use this time I decided to try to make my own purple holo! And I really like the result! It's a combination of Make Up Store's Siw and MNY 557. On my nails I have 2 coats of OPI Ink and two coats of my franken (which I named Purple Mist) on the tips. The line is made with Kiss Nail Art's Silver Glitter polish.