On ollut jotenkin hassua kirjautua sisään blogiinsa, kun viimepäivinä on tipahdellut isompia numeroita lukijamäärän kohdalle päivittäin. Kiitos siis kaikille pienille ihmisille, jotka minun höpinäitäni jaksavat seurata! En olisi osannut odottaa näkeväni kolmekymmentä seuraajaa tällä pienellä blogillani~
Viime päivinä olen ollut tosi saamaton kynsien suhteen. Olen kasannut IKEA -palapelejä ja katkonut lisää kynsiä. Ja lakkausinspiraatio on loistanut poissaolollaan... Nyt olisi kaikki kalusteet koossa, joten josko kynsien katkeilu jäisi vihdoinkin vähän vähemmälle ja saisi vähän inspistä tähän kynsien laittoon!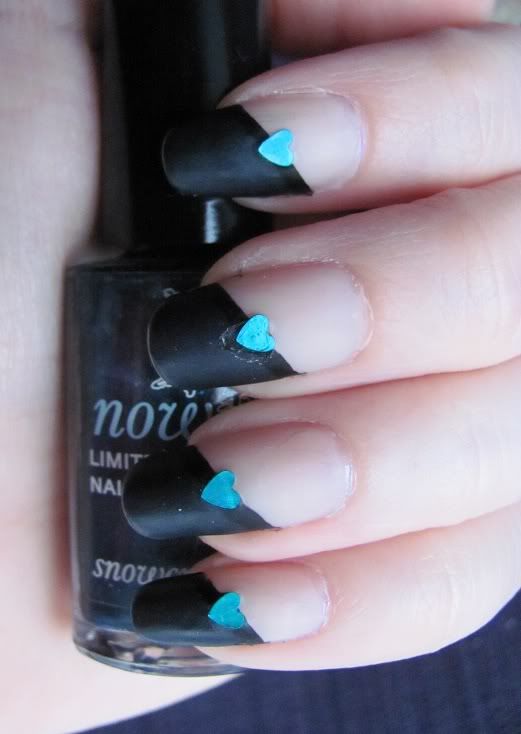 Snowcrystal 441 + Yves Rocher Pastel Rose + Kiss Nail Art Black + Mavala Matte Top Coat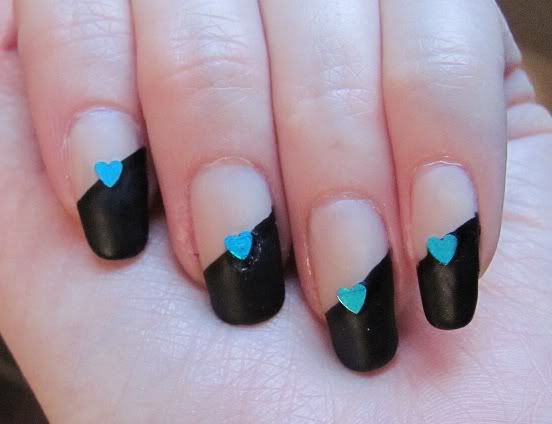 Viimeisimmäksi halusin kuitenkin leikkiä pitkästä aikaa mattalakalla. Jotain simppeliä ja nopeaa, eli päädyin vinomanikkyriin. Pohjana Yves Rocherin Pastel Rose, tipit Snowcrystalin 441 ja rajat mustalla nail art lakalla. Päälle sydämenmuotoiset koristeet ja mattalakka. Kivan pehmeä lopputulos, joskin tuo Snowcrystalin lakka meni aika mustaksi mattalakan kanssa. Keskisormessa tosi sievät suhrut, kun tuo sydän onnistui irtoamaan jo kertaalleen ennen kuin ehdin kuvan ottamaan, pahoittelut siitä...
--------------------------------------------------------------
I've been really surprised to see new followers on my blog pretty much every day lately! And so many international followers, even if most of you probably don't even understand my finnish blabbering! I really want to thank all of my followers, wouldn't have imagined that I can get 30 followers this fast! (even if 30 probably doesn't sound that much for many bloggers!)


So. Would you guys prefer me making a short summary of my posts in English too? I most likely won't change to blogging only in English and making full lenght post in both Finnish and English sounds like a little bit too much for me (though that can be done too if several people want it!). Please leave a comment telling how you feel - are you happy with just watching the pictures / using google translate or would you like to see a little bit something written in English too in my posts!