Edellisen kauhulakan jälkeen käytössä oli onneksi lakka, johon rakastuin, ja joka pääsi suosikkilistalleni kaikista vioistaan huolimatta. Tässä on minun makuuni ihan täydellinen sävy!
Lakkana Color Clubin Secret Rendezvous ja koristuksena ihanat kauniit water decalsit. Tuon lakan kanssa oli siis sellaisia pikku vikoja, eli perus cremelakkana pinnasta ei meinannut tulla tasaista. Jouduin tämän vuoksi laittamaan neljä kerrosta, mutta kolmella varmasti pärjää, ainakin jos laittaa toisen ja kolmannen kerroksen väliin kerroksen päällyslakkaa. Neljästä kerroksesta huolimatta missään vaiheessa ei ollut sellainen "no onko mun pakko laittaa vielä yksi kerros" -fiilistä, koska lakka kuivui mukavan nopsasti - eikä edes ruttaantunut kertaakaan, vaikka raidin aikaan kynsiäni lakkasinkin
(mikä siis tarkoittaa
yleensä
sitä, että vähintään kahdesta sormesta on lakat rullalla näppiksen takia)
.
Tykkäsin näistä kynsistä niin paljon, että en oikein osannut karsia postaukseen liitettäviä kuvia, joten saatte tällä kertaa nauttia hieman useammasta kuvasta.

P.S. Vähänkö hieno fiilis kun kuvat on kerrankin taas parempilaatuisia - meillä paistoi eilen ihan oikeasti aurinko, ja sain pitkästä aikaa otettua kuvia luonnonvalossa! <3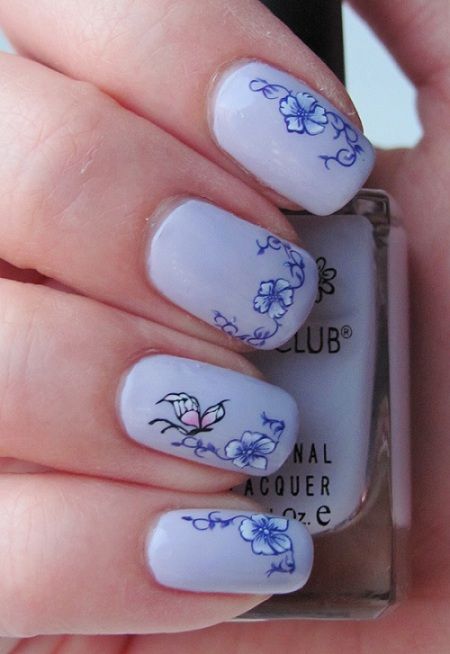 After the previous polish disappointment I got to use this gorgeous polish that instantly became one of my favourite polishes! It had some small faults but the colour is just perfect for my taste - absolutely love it!
This polish is Color Club's Secret Rendezvous and the decorations are super pretty water decals. SR is a basic creme polish so the biggest problem with it was to get it look even. I had to use 4 coats because of that but I'm pretty sure 3 is enough if you add top coat between the second and third coat. It dried really fast and I didn't get any dents even though I was doing my nails during a raid
(which usually means I get dents to atleast 2 nails because I bump them to my keyboard)
.