Pää löi ihan tyhjää, kun yritin miettiä kynsiä uudenvuodenaatolle, ja lopulta päädyin apinoimaan viimevuotista ilotuliteideaa hieman erilaisella toteutuksella.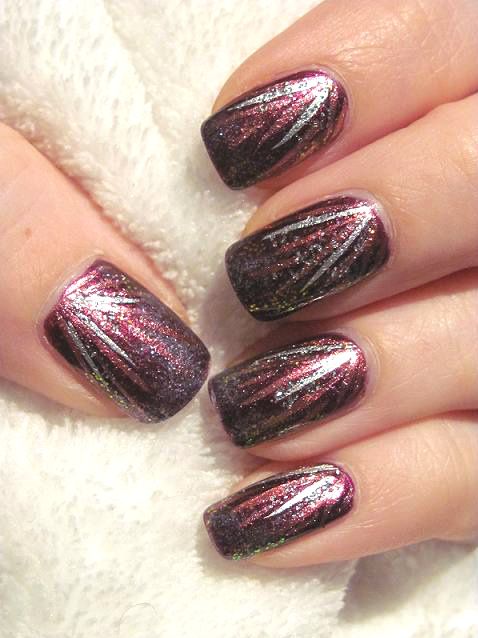 Tummien, metallisten ja glitteripitoisten lakkojen yhdistelmä näytti kyllä hienolta kynsillä, mutta mun kamera ei ollut ihan samaa mieltä, varsinkin kun valaistuksessa oli taasen puutteita. Perusidean kuvista kuitenkin saa, mutta esimerkiksi Kleancolorin Chunky Holo jää aika lailla näkymättömäksi kuvissa. Pohjalla olevan China Glazen Stellan upeus ei myöskään pääse oikeuksiinsa..
I painted fireworks on my nails for the new year's eve but my camera really hated the combination of glitter and metallic nail polishes - especially with the bad light I had to use. You can get the basic idea but atleast Kleancolor's Chunky Holo is pretty much invisible in the pictures and China Glaze's Stella doesn't look as good as it does in real life..