Kyllä osaa pientä ihmistä väsyttää. Aloitin torstaina työt yhden kaksivuotiaan pojan lapsenvahtina ja tämä pieni poika tykkää ottaa päikkärit ulkona - ja nukahtamiseen vaaditaan, että rattaat pysyy liikkeellä! Eli nyt on viimeiset kaksi päivää tullut käveltyä elämääkin enemmän ja hitusen tuntuu äkkinäisellä jaloissa.. Perusnörtti kun ei paljoa liikuntaa normaalisti harrasta! Tänään vielä satoi vettä ihan kiitettävän reilusti, ja kotiin päästyä saikin puristella sukista vettä. Taitaa olla vedenpitävien kenkien hankinta edessä...
Models Own Lilac Dream + Wild and Crazy Ticklish Toes
Tällä kertaa kynsillä Models Own Lilac Dream, jonka kuorrutin Wild and Crazyn Ticklish Toesilla. Päälle dotting toolilla pisteet Wild and Crazyn Montanalla ja pisteiden keskelle glitterhippuset. Perus "ihan ok" lakkaus, mutta joku näissä tökki niin, että ei kovin pitkään jaksanut katsella.
Joku päällyslakoistani on vielä alkanut tekemään kivoja kuplia lakkauksien päälle
(tähän mennessä pari lakkausta on käytännössä julkaisukelvottomia kuplakerrostuman takia - ei niitä aina edes huomaa livenä, mutta kuvissa se on jotain ihan kamalaa)
, ja nyt yritän tässä selvittää, että mikä niistä sen tekee (kun joskus on useampikin eri päällyslakka käytössä samassa lakkauksessa).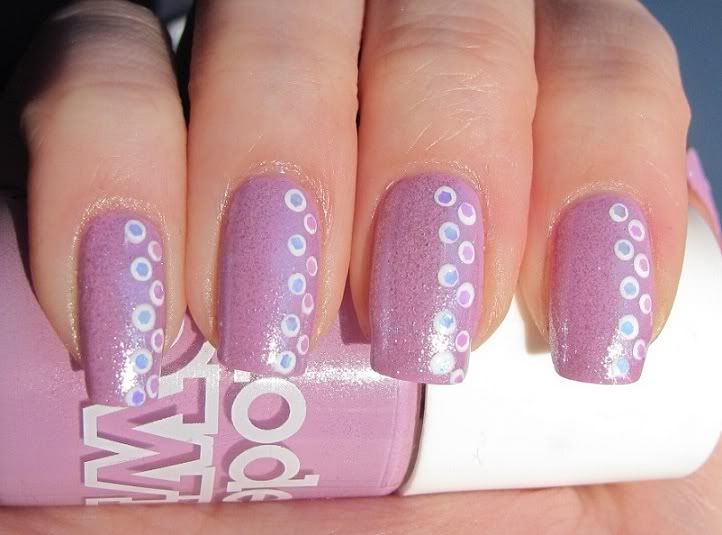 This is Models Own Lilac Dream covered with Wild and Crazy Ticklish Toes. I used dotting tool and Wild and Crazy Montana for the dots and added some some glitter pieces in the middle of the dots. This mani was "quite ok" but for some reason I just didn't feel like wearing it for very long.