Töiden takia olen joutunut laittamaan päivärytmiäni vähän uusiksi ja sen takia aina välillä tuntuukin, että illalla ei tehdi mitään ennen kuin alkaa olla jo niin väsynyt, että pitää kömpiä sängyn puolelle. Siksi jouduinkin torstai-iltana tekaisemaan erittäin pikaiset kynnet - edelliset lakkaukset lohkeilivat niin pahasti, että ei niitä olisi kehdannut seuraavaan iltaan asti katsella, mutta hereillä en olisi jaksanut pitkään pysyä..
Sally Hansen - Blazing Blue
Onneksi eBaysta tilaamani kynsitarrat olivat juuri tulleet postissa, sillä tarroilla saa takuulla nopeat koristelut! Alle piti vain keksiä joku kiva ja nopeasti kuivuva lakka, ja niinpä käyttöön pääsi (taas) Sally Hansenin Blazing Blue. Tämä on ehdottomasti suosikkini omistamistani sinisistä lakoista. Peittää kahdella kerroksella, sävyltään hyvin tumma sininen, näyttää melkein mustalta heikommassa valossa. Ja nuo tarrat olivat oikein positiivinen tuttavuus - sopivan ohuita ja taipuvia, joten ne asettuivat kynnelle siististi, eikä alkaneet repsottaa mistään. Ja pysyivät hyvin - poistaessa sai ihan napakasti rapsutella näitä irti.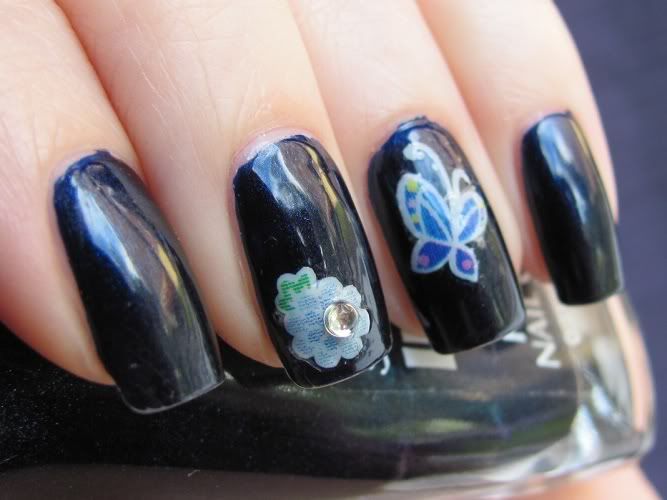 I had to make something super quick on Thursday night - my previous mani had started chipping quite badly and I was really tired and didn't want to spent a lot of time doing my nails.. I had just received some new nail stickers from eBay and thought it's a prefect time to test those - can't get much faster than decorating your nails with stickers!
I needed something fast-drying for the base and decided to go with Sally Hansen's Blazing Blue (again). It's my favourite blue from the ones I own!
And these stickers were great - think and flexible so that they settled on the nail easily and stayed really well.