Sain juuri sähköpostia
My Dream Nails
-blogin Meetteltä, että hänen bloginsa lakkauskisassa on nyt suoritettu alkukarsinta
(ja itseasiassa äänestyskin ehdittiin avata sinä aikana, kun tätä postausta viimeistelin)
- eli uskaltaudun julkaisemaan kisaan lähettämäni lakkaukset! Ensimmäisenä esittelyssä lakkaukseni teemaan "Ranskisvariaatio", koska se oli kolmesta lakkauksestani ainoa, joka ei päässyt äänestykseen asti. *nyyh*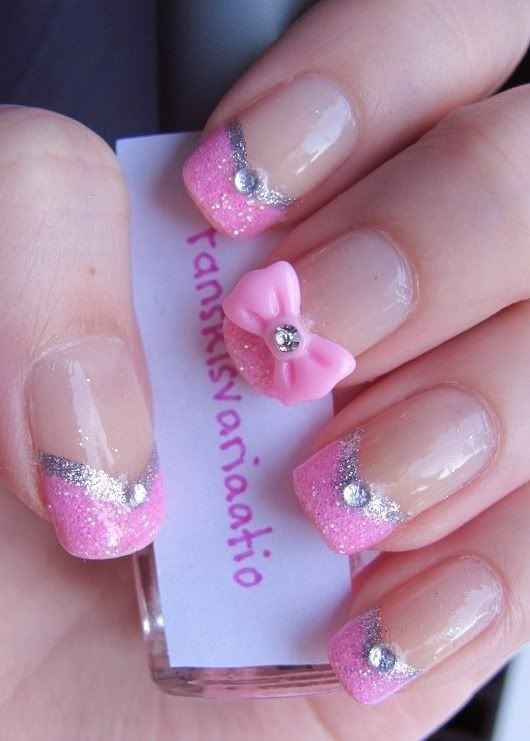 Itse tykkäsin tästä pinkin yliannostusesta kovasti, enkä olisi millään malttanut poistaa, mutta "onneksi" tällaisen glitterkerrostuksen kanssa kärkiin alkaa tulla näkyvää kulumista aika helposti. Mulle oli suuri yllätys, että nuo rusettikoristeet pysyivät paikallaan hyvin useamman päivän! Toisesta kädestä rusetti tipahti kertaalleen kun erehdyin sukimaan hiuksiani niin, että koriste tarttui johonkin takkuun, mutta sen sai takaisin paikalleen nopeasti, ja sitten se pysyi hyvin kiinni siihen asti, kunnes poistin lakkauksen kokonaan.
Pohjalla siis Yves Rocherin Pastel Rose ja v-ranskis vapaalla kädellä tehtynä Wet n Wildin Tickled Pinkillä. Päälle saman sävyistä glitterdustia, rajaus Kiss Nail Art Silver Glitterillä, hopeiset strassit ja monta kerrosta päällyslakkaa. Akryyliset rusettikoristeet on kiinnitetty ihan vain päällyslakalla. Viilasin toisen käden koristeen pohjaa hieman kaarevaksi, ja se saikin koristeen asettumaan paikalleen paljon paremmin. Perus hiekkapaperiviilalla tuo oli vaan aika kova homma, mutta taidan paremman tekemisen puutteessa kyllä viilailla noita jatkossakin.
Käykääs kaikki äänestämässä
täällä
- siellä on monia hienoja lakkauksia, eli hopihopi suosikkeja valikoimaan! Omat, äänestykseen asti päässeet lakkaukseni löytyvät molemmissa kategorioissa (käsinmaalatut ja kesä) numerolla
6
. Laitan niistäkin kyllä omat postauksensa tulemaan kunhan ehdin!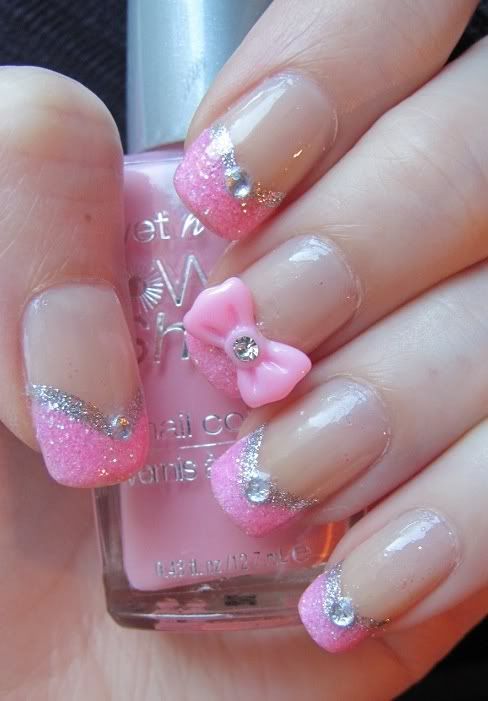 This is one of the 3 manicures I made for My Dream Nails -blogs nail art competition. The theme for this one was "Variation of french mani"

(or something, that's direct translation from finnish)

and even though I really loved this one it didn't get through to the voting :( But atleast my manis for the other 2 categories got through to the voting stage.
The base is Yves Rocher Pastel Rose and the v-line is painted freehand with Wet n Wild Tickled Pink and lined with Kiss Nail Art Silver Glitter. Added pink glitterdust, some silver rhinestones and tons of top coat and finished with acrylic bows in matching colour. I was surprised how well the bows lasted - one of them fell off once but I was able to put it back to place easily. Other than that they lasted till I removed the mani (= a few days).