Eilen pomppasi mieleen ajatus - "Milloinkas mä oikeastaan aloin pitämään tätä blogia?". Klikkailin itseni blogin ensimmäiseen postaukseen ja se olikin päivätty 7.8.2010! Nyt olisi siis takana täysi vuosi tämän blogin parissa, ja toivottavasti vielä monta edessä!
Omasta mielestäni olen ainakin vähän kehittynyt niin lakkauksien kuin kuvienkin suhteen - ikinä en onneksi ole mitään kamalan suttuisia kynsinauhoja esitteleviä kuvia julkaissut ja lähes kaikki blogissa esitellyt lakkaukset ovat kyllä vielä nykyäänkin mielestäni ihan kivan näköisiä. Helpottavaa, kun voi sanoa noin - kun lähdin selaamaan vanhempia postauksiani, niin vähän hirvitti, että mitähän mörkölakkauksia sieltä tuleekaan vastaan! :D Eniten kauhistusta itselle aiheutti kuvien kehnot rajaukset - nykyään onneksi (ainakin omasta mielestäni!) olen hitusen parempi tässä...
Liitin tähän postaukseen kuvia noista vanhimmista blogissani esiintyvistä lakkauksista, katsokaa ja kauhistelkaa!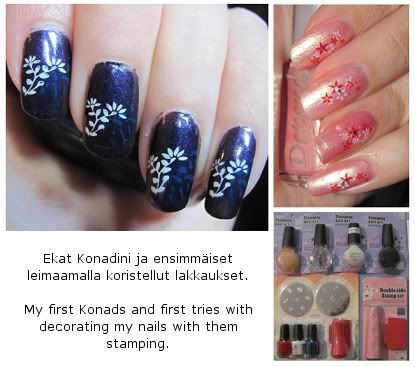 The very first post on this blog was written 7.8.2010 so it has been a full year of blogging now - and I hope there's still many years to come!
I feel like I have gotten atleast a little better with my manis and pictures. I'm happy to tell you that I haven't posted any pictures with super messy cuticles and atleast for me most of my past manis still look fairly nice! I think my biggest problem used to be the bad cropping of the pictures but I've gotten a lot better at it!
I added pictures of some of the first manis presented in this blog - hope they're not too terrifying! :D