Mietin kovasti, että miten kuvaisin kynsillä kesän, ja lopuksi käteen jäi kaksi ideaa. Toiseen en löytänyt mieleisen sävyisiä lakkoja (enkä reilun vuorokauden valvomisella jaksanut alkaa itse sekoittamaan sopivia värejä), joten päädyin sitten tähän - kesä = mansikat! Ei oikeasti voi olla kesää ilman tuoreita mansikoita, ja minä sokerihiiri napsin mansikkani aina sokerin kanssa, nam!
Tämä lakkaus oli kolmesta kilpailulakkauksestani se vähiten suosikki, joskin siihen vaikutti aika paljon se, että jouduin kuvaamaan näitä mörkösäässä, eikä lakkaus päässyt kuvissa oikein oikeuksiinsa. Luonnossa tämä oli ihan oikeasti paljon kivempi!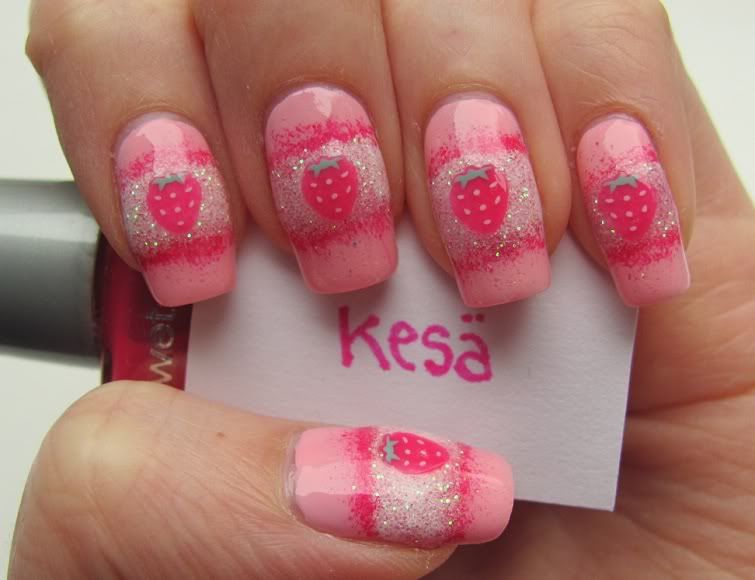 This is my second mani for My Dream Nails -blogs nail art contest. The theme was "summer" and I thought strawberries are something that really connects to summer. This one was probably my least favourite of the 3 manis I sent to the contest but that was partly because of the bad weather we had here when I had to take the pictures.. This one really looked a lot better in real life that how it looks in the pictures!
Käytetyt lakat ja tarvikkeet // What I used...
Wet n Wild - Tickled Pink
glitter dust, mansikkafimoja //

glitter dust, strawberry fimos