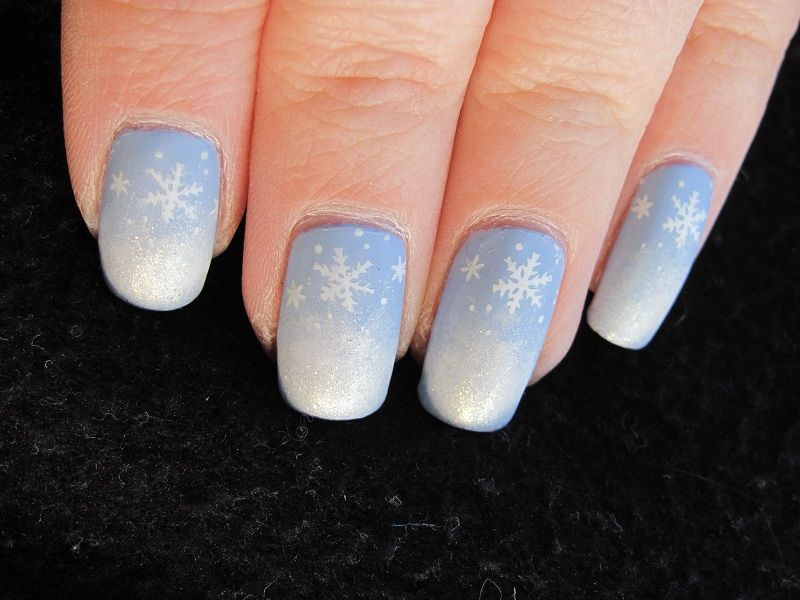 Toissailtana päätin vihdoin laittaa talvikynnet. Ei täällä ole ollut tietoakaan lumesta, mutta ajattelin, että jos sitä ei muuten näy niin edes kynsillä sitten. Eilinen olikin sitten "ihan hurjan kylmä" päivä, eli päästiin kerrankin nollaan täällä, ja yöllä oli varmasti ollut pakkasta, koska leikkipuistossa oli maa jo ihan jäässä (eli ei hiekkaleikeistä tullut juuri mitään). Töistä lähtiessä aloin jo kirota, että nytkö täällä vielä alkaa vettä satamaan.. kunnes sitten tajusin, että jotain valkoisia kokkareitahan tuossa maassa pari nököttää! Ja iltaa kohti ne epämääräiset pikku pallerot muuttuivat ihan oikeaksi lumisateeksi! Ensilumi <3 Nyt on mun viikko pelastettu! Ja lumi oli vielä tänäänkin maassa (se hassu milli tai kaksi, mitä sitä nyt tuli)! Nyt mun pitääkin alkaa tehdä lumikynsiä joka päivä, jos sillä vaikka saisin houkuteltua lumisadetta tänne vielä lisääkin!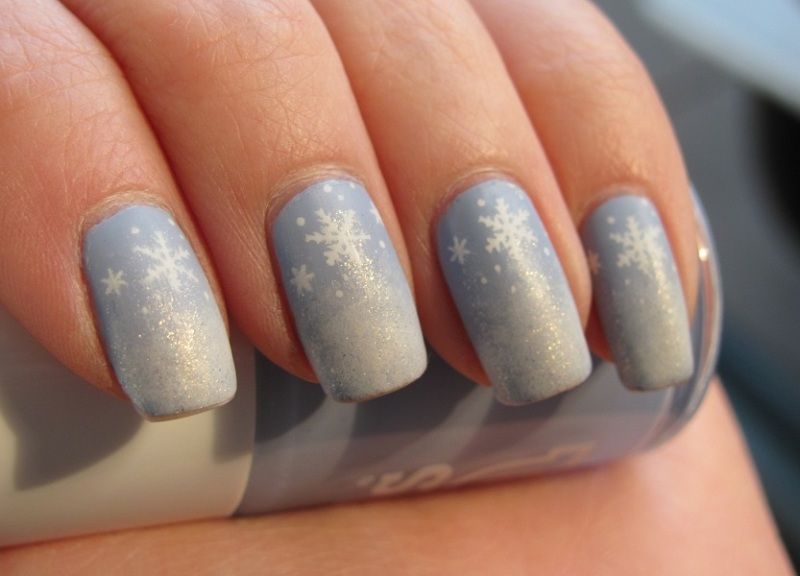 Kynsillä Models Ownin Beth's Blue
(taas)
, jonka päälle tein liukuvärjäyksen Golden Rosen valkoisella nail art lakalla
(ihan vain siksi, että se oli ensimmäinen valkoinen lakka, joka käteen osui)
. Siihen päälle töpöttelin vielä China Glazen White Capia ja leimasin Konadin valkoisella lumihiutaleita Beauties Factoryn fauxnad laatasta m52. White Capin hankin oikeastaan ihan vain
Se pikkuinen Lotta -blogissa näkemieni kynsien
takia - pastellilakan päällä matattuna WC näyttää ihan hurjan ihanalta, ja siksi viimeistelinkin tämän lakkauksen Mavalan mattapäällyslakalla. Ihanan herkkää ja talvista, ja sopi vielä itsenäisyyspäivän väreihin
(vaikka täällä nyt ei juuri itsenäisyyspäivää tullut juhlittua - normi työpäivä ja silleen)
!
Ja kuvat on otettu töissä - jostain syystä saan aina töissä aikaiseksi ihan kamalan kärkikuluman jokaiseen lakkaukseen, vaikka en omasta mielestäni mitään kynsiä kuluttavaa edes tee...
P.S. Muistakaa
kilpailu
- kivoja lakkauksia on jo tullut, mutta lisää osallistumisia otan ilomielin vastaan! n_n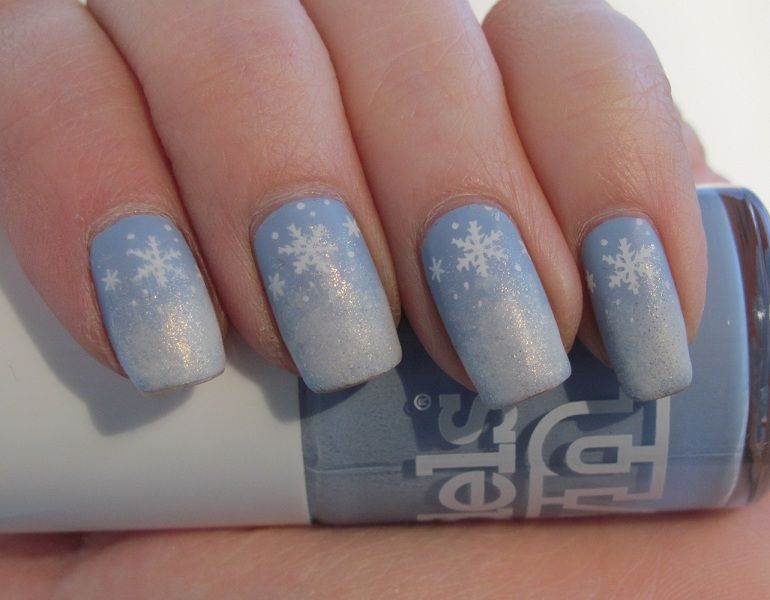 I decided to do my first winter mani two days ago, even though we hadn't gotten any snow here. And like magic - we got our first snow yesterday! And the snow even stayed on the ground, so now I have to start doing more snow manis - maybe we'll see some more snow here on the following days! :3
I used Models Own's Beth's Blue (again) and sponged Golden Rose's white nail art polish (just because it was the first white polish on my reach) on top. Then I sponged China Glaze's White Cap on my nails and stamped snowflakes from Beauties Factory's m52 fauxnad plate with Konad Special White polish. I really love how White Cap lookes with matte top coat so I finished my mani with that.