Sinisestä cracklerakkaudesta oli hyvä vaihtaa vaaleanpunaiseen crackleunelmaan.
Isadoran Pink Fame onkin kuin O.P.I:n Teenage Dream crackle -muodossa. Siniseen kaveriina verrattuna PF:ssa on jo isompaa glitteriä ja hieman värivaihtelua, eli lakasta löytyy Teenage Dreamin tavoin hieman isompia hologlittereitä. Tätä koetin levittää hieman paksumman kerroksen, jotta sain halkeamat isommiksi. Hyvin toimi näinkin, ja mielestäni näissä crackleissa on aika helppo kontrolloida tuota lakkakerroksen paksuutta. Ja minulla on ilmeisestikin niin kapeat kynnet, että tuo Isadoran leveä suti tosiaan yltää yhdellä vedolla melkein koko kynnelle.
Cracklen kaveriksi valitsin Wet n Wildin Tickled Pinkin sekä nimettömään hauskat kissat water decalseina. Oli aika ihkusöpö kokonaisuus!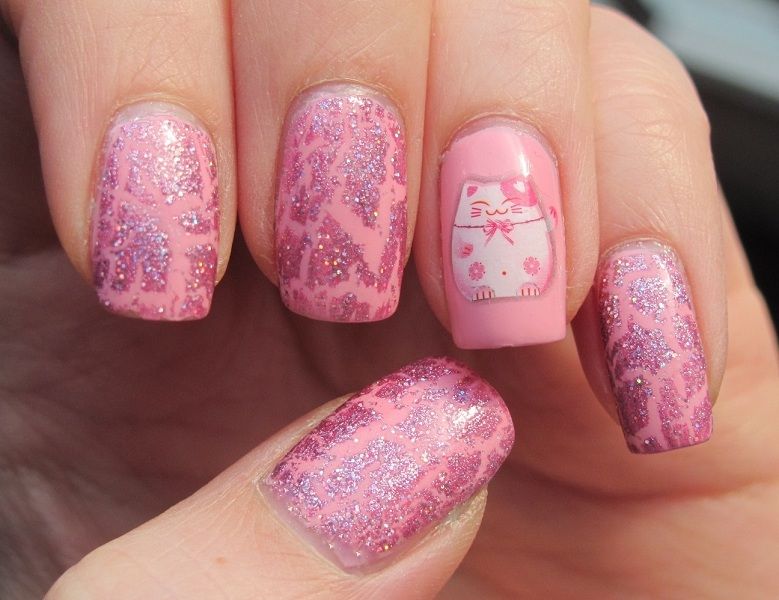 After the blue crackle love I tried the pink crackle-dream. Isadora's crackle Pink Fame really reminds me of O.P.I's Teenage Dream - pink glittery base and a bit bigger hologlitters to really make it shine! I used a bit thicker coat on this one to get the crackles bigger.
I paired the crackle with Wet n Wild's Tickled Pink and added a funny water decal cat to my ring finger. Super cute combination!