Celtic Woman - Walking in the Air
Swatchattuani Kleancolorin Holo Chromen kiekolle tuli sellainen fiilis, että tätä lakkaa on saatava kynsille nyt eikä heti. Ilman sen suurempia suunnitelmia lähdettiin taas lakkaa kynsille sutimaan.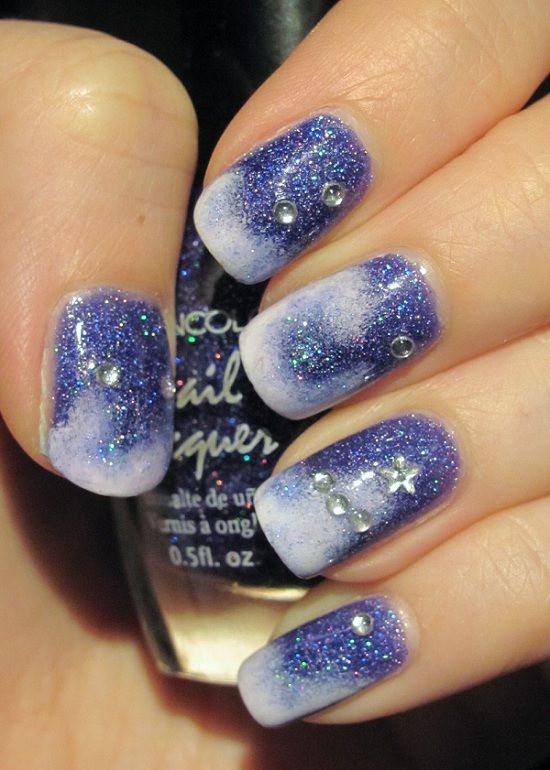 Pohjalla kolme kerrosta Holo Chromea. Hetkisen tätä ihanaa kimallusta ihasteltuani totesin sen muistuttavan kovasti talvista taivasta, joten se kaipasi kaverikseen lumihangen. Lähdin töpöttelemään Wild and Crazyn Montanaa tippeihin ja siitä jatkaen satunnaisesti erilaisia "kuvioita" hangen jatkeeksi. Tein kuvioihin vähän lisää syvyyttä töpöttelemällä Holo Chromea varjostuksiksi ja viimeistelin komeuden kirkkailla strasseilla. Heti ensimmäisen kynnen töpöteltyäni päässä alkoi soimaan tuttu Lumiukko -kappale Walking in the Air - kynsien lumihangen "pehmoisuudessa" on jotain samaa kuin tuossa klassikkopiirretyssä!
En muuten pienenä voinut sietää koko piirrettyä! Nykyisin tykkään katsoa sen ihan vain tuon kyseisen kappaleen takia, mutta joku siinä edelleen tökkii.. mietin vaan aina, että miksi sen pojan pitää olla niin pöljä...
Tänään minä sitten vihdoinkin suuntaan kohti Suomea - ensimmäinen yö vietetään Helsingissä maailman parhaan enon luona ja tiistaina herätään aikaisin ja lähdetään junailemaan kohti Kuopiota. En ihan varmaksi vielä tiedä, miten nettiyhteys tykkää toimia vanhempien luona, joten saatan joutua viettämään blogin osalta pientä jouluhiljaisuutta. Pari ajastettua postausta on kuitenkin ainakin luvassa!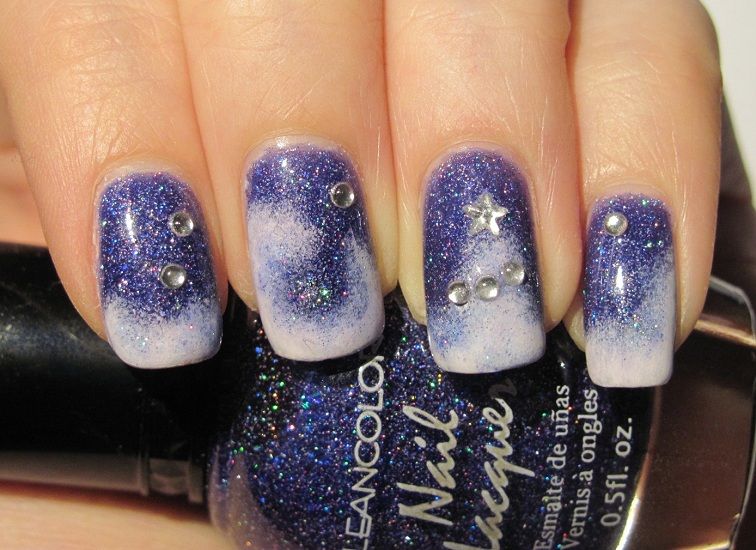 After swatching Kleancolors Holo Chrome to my swatch wheel I knew I had to get that polish on my nails immediately!
I didn't have any plans decoration-wise when I started painting my nails with HC but quite soon I realised it really looked liked the night sky in winter. That meant that I had to add some snow so I sponged Wild and Crazy's Montana to the tips and added some "forms" which ended up being trees, piles of snow and snowstorms. Then I sponged some HC to add some shadows to my snow and finished the winter scene with clear rhinestones. As soon as I had gotten the sponging on the first nail done the song Walking in the Air from the christmas cartoon The Snowman started playing in my head. The "soft" look of the snow on my nails reminded me of the drawing style of the cartoon~