Halusin kynsien olevan hieman jouluiset, olematta kuitenkaan sitä ihan täysin, joten päädyin jouluisiin väreihin - punaiseen ja kultaan ja yhdistin ne mustaan. Itse tykkäsin näistä kynsistä ihan suunnattoman paljon, mutta kilpailun tuomaristo ei ilmeisesti oikein lämmennyt näille ;P Ja kyllä, tämä on se samainen design, joka jo kerran näkyi blogissani, kun en hampaanpoiston takia pystynyt viimeistelemään koristelua - onneksi tällä kertaa sain valmiiksi, ja ihan molempiin käsiin!
Pohjana MNY 445 ja koristelut tehty akryylimaaleilla. Kukkien keskustaan lisäsin hieman kultaglitteriä e.l.f. Golden Goddessista.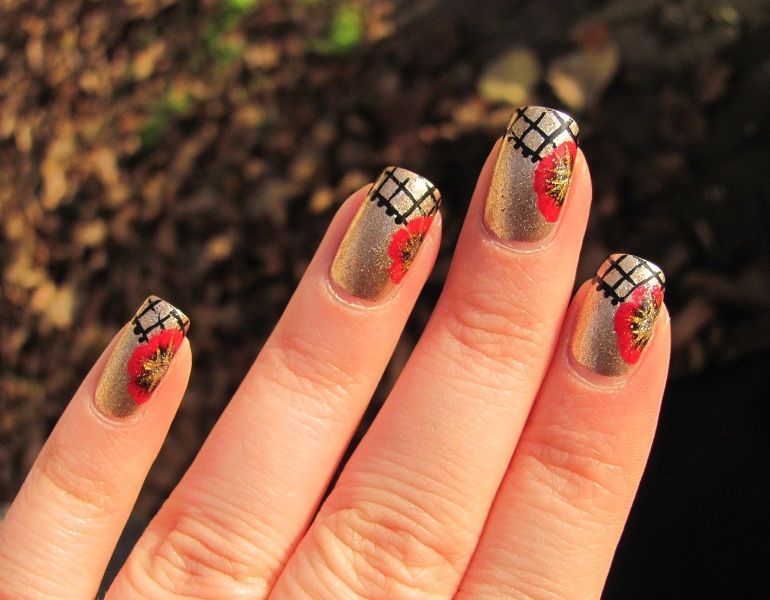 These nails were for a nail art contest a while ago. It's also the same design I tried painting to my nails when I had just had my wisdom tooth removed, and back then I had to give up after I had gotten 2 nails done (tensing my neck/shoulders didn't feel very good in my mouth :( ). Atleast I got it done this time, and I really liked the result.
The base is MNY 445 and the decorations are painted with acrylic paints. I added some golden glitter from e.l.f. Golden Goddess to the flowers.