Kynsiksi meni -blogissa oli lakkauskilpailu teemalla karkkikynnet. Sain kilpailun innoittamana useammankin idean, mutta töiden vuoksi aikaa kilpailukynsien toteuttamiseen ei oikein meinannut irrota. Ajattelin, että kilpailuun tulee varmasti paljon ällömakeita tikkarikynsiä, ja yritin itse sitten ajatella vähän "out of the box". Lopulta päädyinkin toteuttamaan ideani Ässä Mix -kynsistä.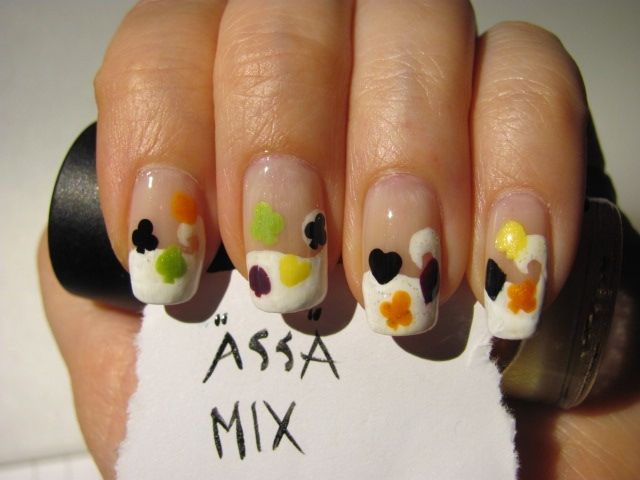 Idea oli ehkä taas vähän parempi, kuin mitä vähissä olevan ajan ja väsymyksen puitteissa onnistuin toteuttamaan.. meinasin jättää nämä jo lähettämättä, mutta siinä sitten illan mittaan kynsiä katseltuani päädyin kaivamaan kameran esiin ja napsimaan parit kuvat pari tuntia ennen kilpailun deadlinea.
Kannattaa käydä katsomassa kilpailuun osallistuneet lakkaukset - ja samalla äänestää suosikkiaan
täällä
!
Välihuomiona voin vielä ilmoittaa, että ensi viikosta alkaen palaan taas "normaaliin" rytmiin töiden suhteen, eli sitten toivottavasti ehdin ja jaksan taas päivitellä blogia ahkerammin - ja ennen kaikkea panostaa taas kynsiinkin, niin on jotain mitä blogiin päivitellä (nimim. taas menty viikko samalla yksivärisellä lakkauksella, joka alkaa olla jo ihan kamalan kulahtanut.. :<).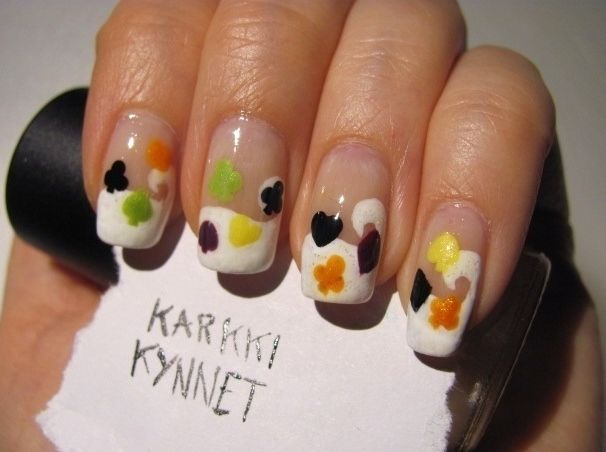 This mani was done for Kynsiksi meni -blogs nail art contest. The theme was "candy nails" and I had many ideas for it.. I ended up doing this mani inspired by a Finnish candy-mix called Ässä Mix (Ace Mix, picture of the candies below). I wasn't 100% satisfied with the mani but I was really tired and didn't have more time to put in to it. I wasn't even going to send it to the contest at first but after looking at this mani for one evening I realised I kinda liked it after all - and I still feel like that when I see these pictures :)