Huomenna olisi ilmeisesti edessä viisaudenhampaan poisto, ja pikkasen on meinannut alkaa jo ahdistamaan tänään. Mulla ei ole ikinä mitään suurempia operaatioita hammaslääkärissä tehty
(no raudat joo, mutta se on aika eri juttu, ja jotain maitohampaita revitty useampi kerralla)
ja mulla ei ole ikinä ollut reikiä
(siis ennen tätä, nyt tuo viisuri on yhtä isoa reikää vaan)
, eli tietysti pitää heti käydä läpi kaikki "worst-case-scenariot", varsinkin kun kyseessä on alaviisuri. Voi olla, että huomenna ei ainakaan postausta tule, kun istun buranapurkki kourassa koko illan
(vaikka täältä ei saakaan Buranaa, mutta jotain ibuprofeiinia anyway)
...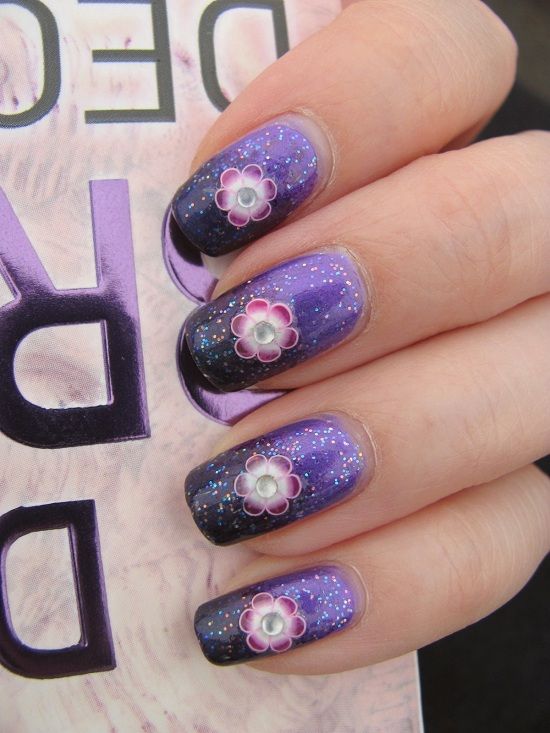 Tänään kuitenkin esittelen lakkauksen parin viikon takaa. Kynsillä on edelleen tuo edellisessä postauksessa esitelty lakkaus, joka onkin pysynyt varsin hyvänä - yleensä kun mulla nuo akryylimaalein koristellut lakkaukset lähtee kärjistä aika nopeasti (jos siis koristelu on sellainen, että maalaus yltää ihan kärkeen asti). Kyllä näillä vielä ainakin yksi päivä lisää menee, kun tykkään niin kovasti
(ja ehkä sitten kauemminkin, jos en tuon hampaanpoiston jälkeen kykene kynsien lakkausta ajattelemaan)
.
Tämä lakkaus on kyllä taas oikein malliesimerkki siitä, miksi mun rakkaussuhde Seche Viteen loppui lyhyeen. Kärjistä kuluneet
(taitaa olla eka päivä lakkauksen jälkeen kuvissa)
, kynnen juuresta vetäytyneestä lakasta puhumattakaan.
Lakkauksessa kuitenkin käytössä elfin Purple Dream, jonka päällä liukuvärjäys Wet n Wildin Eggplant Frostilla ja jollain-tummalla-lakalla-jota-en-muista - saattoi olla jopa ihan musta. Päälle kerros elfin Twinklea ja fimokukat strasseilla.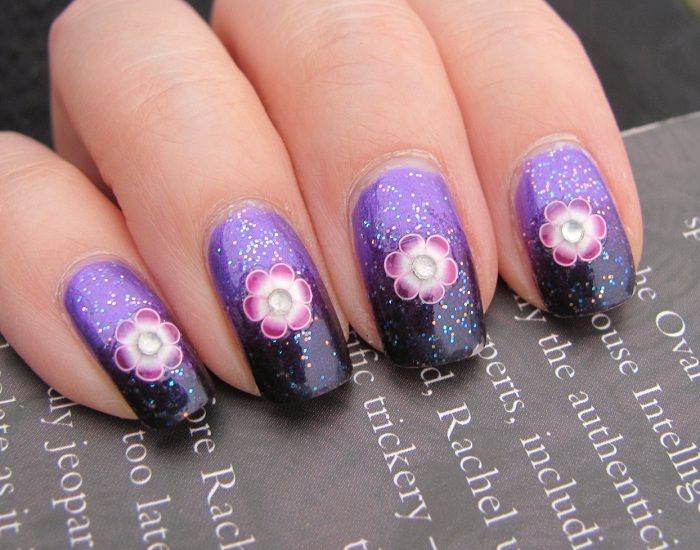 I'm going to get my wisdom tooth removed tomorrow and I'm a bit scared :( I haven't really had any big operations done at the dentist

(if you don't count braces and some removed milk teeth)

- I haven't even had any holes in my teeth before, so of course I have to think about all the worst case scenarios now! Anyway, there might not be a post tomorrow atleast since I'll most likely be lying somewhere hugging my painkiller-box!
This mani is from few weeks back. It's a good example of why I don't like Seche Vite too much - I think the pictures are from the first day after I did the mani and the tips look bad already - not to even mention how the nailpolish has pulled back from the cuticle-end.
I used elf's Purple Dream and sponged Wet n Wild's Eggplant Frost and some don't-remember-what -dark nailpolish on top (might've been even black). One coat of elf Twinkle and fimo flowers with rhinestones to add a little something to it!