Edellisessä postauksessa mainitsin, että viimeisin yritys kynsien koristelun suhteen jäi pahasti kesken leuassa riemuitsevan jomotuksen vuoksi. Pohjalakkauksen jälkeen onnistuin koristeleemaan kaksi kynttä, ennen kuin oli pakko luovuttaa. Tykkäsin kuitenkin kovasti siitä koristelusta, mitä niille kahdelle kynnelle sain aikaiseksi, joten ajattelin senkin nyt postata.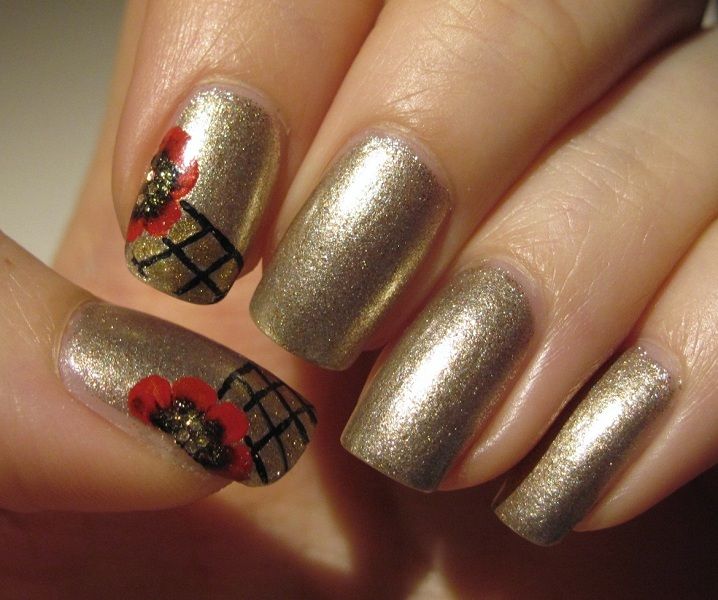 Pohjalta löytyy MNY 445, jota muuten tarvitsen uuden pullon, kun oli jo tämän lakkauksen kanssa tiukkaa saada pullon pohjalta lakkaa ulos - ja vielä joulukin tulossa, niin pitäähän sitä kultainen lakka olla kunnossa!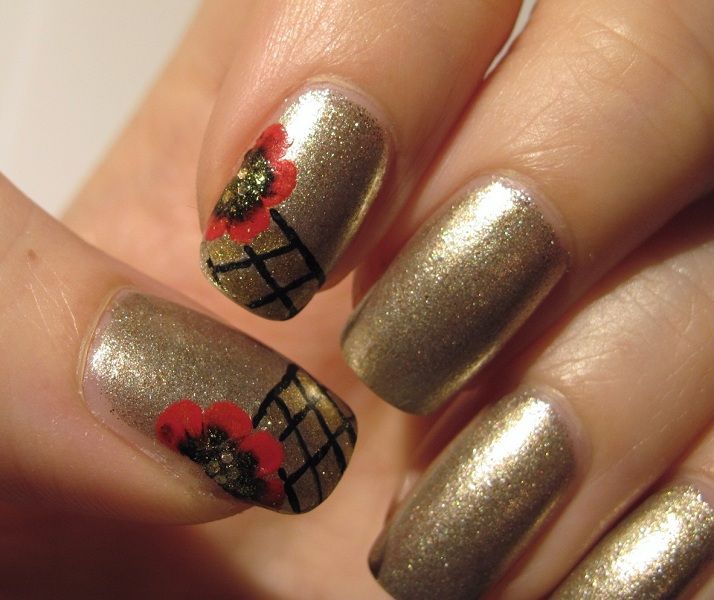 Koristelut tein akryylimaaleilla. Kokeilin ensimmäistä kertaa one-stroke kukkasia, ja kuten kuvasta näkyy, vaatii se vielä vähän harjoittelua. L'ähinnä ongelmana oli, että mikään siveltimistäni ei oikein tuntunut sopivalta. Lattapääsiveltimeni olivat liian kapeita tai liian pehmeitä. Mutta kyllä minä tämän vielä opettelen!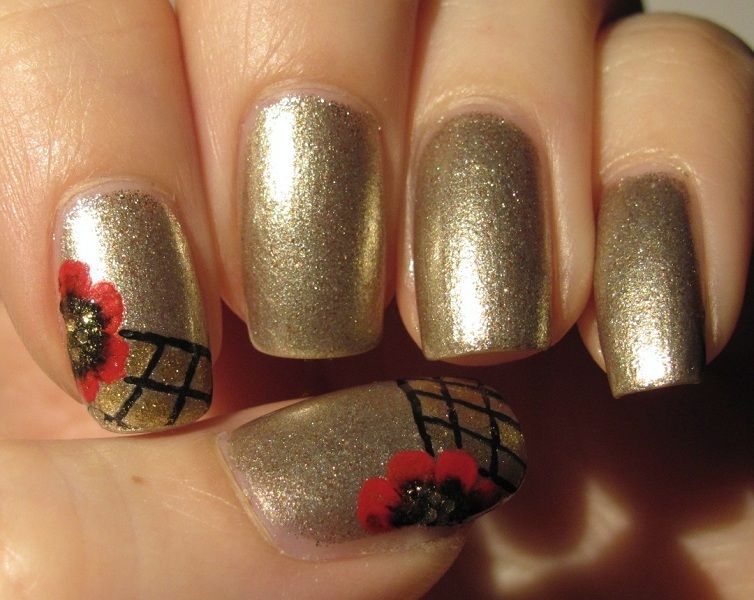 I tried painting my nails again but I had to give up after I had gotten 2 nails done.. my jaw and mouth still hurt if I tense my neck/shoulders :( I liked the decorations on those 2 nails so I thought I'd post this anyway.
The golden polish is MNY 445. For decorations I tried one-stroke flowers for the first time and as you can see I still need some practise! I noticed that I don't have any brushes that would be perfect for it since my flat brushes were too small or too soft but I'm sure it'll get better even with the brushes I own once I get more used to this.