Koska glitterlakkoja ei voi koskaan olla liikaa, on sellaisia ihan huomaamatta alkanut hiipiä postilaatikon kautta lakkalaatikkooni. Ajattelin, että nyt voisi olla hyvä sauma esitellä muutamat, ennen kuin niitä ilmestyy taas lisää!
Ensimmäinen erä glitterisiä ihanuuksia saapui neljän lakan voimin Born Pretty Storelta. BPS:n lakoilla ei ole oikein mitään nimi/numerosysteemiä, joten joudun soveltamaan tuolta nettisivuilta löytyviä termejä lakoille, ja laitan linkin oikeaan lakkaan, niin että sitä kautta löytyy jos joku näistä kiinnostuu.
Tämä lakka saapui "hieman" kuivahtaneena, eli pullon sisältö oli glitteriliisteriä, mutta "syteen tai saveen" periaatteella hujautin pulloon kynsilakanpoistoainetta, ja sain tämän virkoamaan. Ja lakkojahan ei ole suositeltavaa ohentaa kynsilakanpoistoaineella. Mutta toimi silti.
LUCIDarling Ruby Purplessa on pientä pinkkiä (vai onko tämä väri nyt se magenta?) glitterhippusta, kahden kokoisia hopeisia glittereitä, sekä hopeisia tähtiä, joita tosin ei ole kovin montaa, eli niitä ei aina siveltimeen tartu. "Kynnellä" muistaakseni kaksi kerrosta, kolmannella varmasti saisi jo aika hyvin peittävän.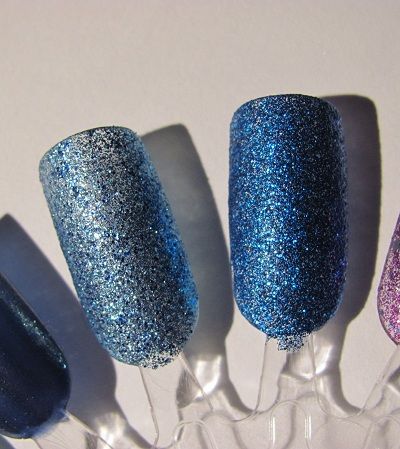 The "old" Blue Glitter vs. The "new" Blue Glitter
BarryM Blue Glitter minulta löytyi jo ennestään, ja tämä olikin alunperin hankittukin ihan muuhun tarkoitukseen. Oli kuitenkin pieni "WTF" kun tämän sain paketista ulos. Koska tämä on täysin eri näköinen kuin se Blue Glitter, jonka omistan. Piti ihan laittaa kiekolle vierekkäin, että sain tätä ihmetystä ihastella. Melko varmaksi sanoisin, että molemmat ovat kyllä aitoja, ja mun "alkuperäinen" Barry on vain vanhus. Sehän alkujaankin löytyi kaupassa ihan yksin standin alimman hyllyn pimeästä nurkasta, eli ihan lattianrajasta, pullon kyljessä hieman kuivunutta lakkaa. Veikkaisin, että se on vain ottanut vähän aurinkoa, mikä on sitten aiheuttanut värien haalistumisen. Mutta tämä haalistunut versio on ihan älyttömän hienon näköinen, joten ei mua haittaa yhtään!