Kovasti minä toivoin, että tämä olo alkaisi olla kohenemaan päin. Eilen kävin tikkien poistossa ja kas kummaa - nyt on suu ja leuka entistä kipeämpi ja v-käyrä jatkaa nousuaan. Tällä kertaa sain sentään pätevämpiä kipulääkkeitä
(eli mies totesi reseptin nähtyään, että "ai sait sitten vahvinta mitä täällä lailillesti saa" o_O)
, jotka siltikään eivät tunnu tehoavan kolmea tuntia kauempaa.Ja sen vaikutusajan olenkin sitten aina vähän pihalla.. Ja mikä parasta, sain taas uuden ajan perjantaille, eli katsellaan miten kipeänä tässä viikonloppua vielä lähdetään viettämään...
Tällaisen esipuheen kera siis totean taas, että ei ole uusia lakkauksia paljoa taiteiltu, että ehkä sitten ensi viikolla.. Viikonlopuksi lähden vielä anoppilaan, ja silloin tulee varmaan ainakin lauantai pidettyä kokonaan tietokonevaapaata aikaa. Minulla oli - ja on edelleen yksi isompi juttu lukijoitani ajatellen tulossa, mutta koska olin sitä suunnitellut tämän viikon lopulle, joudun sen siirtämään ensiviikkoon, jotta saan tämän viikon stressitasoa hieman vähennettyä.
Tässä kuitenkin lakkaus jostain parin viikon takaa. Laatikossa on jo aika kauan pyörinyt käyttämättömänä GOSH Golden Brown -lakka, jonka ostin joskus kun alennuksesta löysin. Pullossa se ei kuitenkaan näytä kovin houkuttelevalta, ja aina on tullut valittua kynsille joku muu lakka. Tällä kertaa otin sitten itseäni niskasta kiinni ja lähdin kokeilemaan.. GB näyttikin kynsillä tosi kivalta, eikä laadussakaan ole valittamista. Kuvat eivät ikävä kyllä ole laadultaan yhtä hyviä kuin tämä lakka, mutta josko näiden kanssa selvittäisiin.
Koristelut Golden Rosen valkoisella, sekä Color Clubin Titania Gold (Art Club) nail art lakoilla. Summamutikassa aloitettu taiteilu synnytti hassuja kukkasia, jotka mielestäni muistuttavat Lumikello -nimistä kukkaa (Snowdrop). Ruskeasta pohjasta huolimatta tässä oli jotain aika talvista, ja tykkäsin tästä yksinkertaisesta koristelusta kovasti.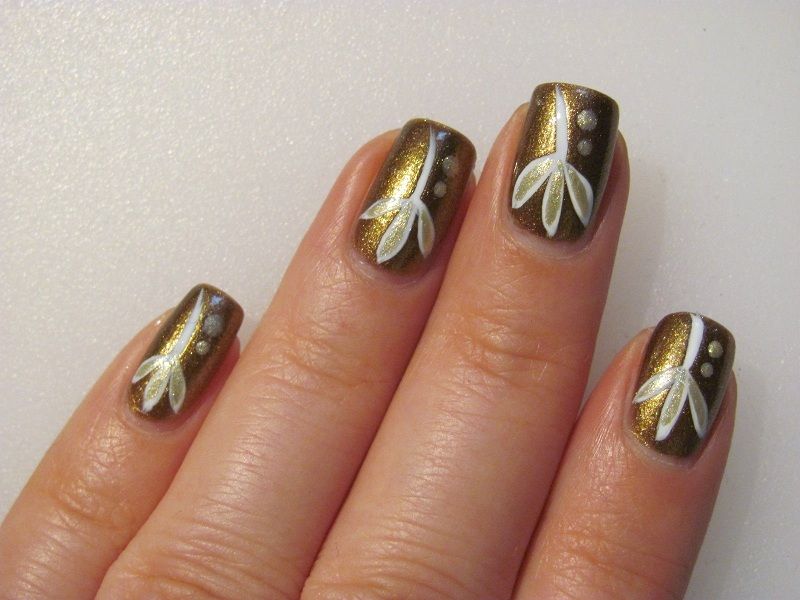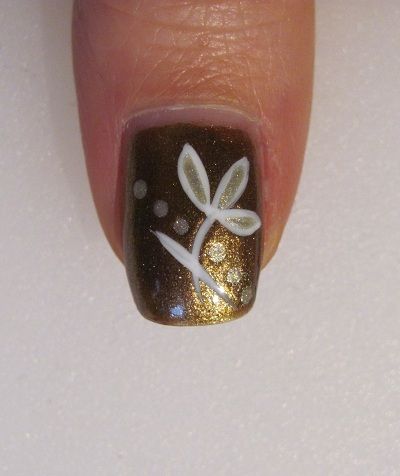 peukku /

/ thumb
I did this mani few weeks ago - I have had GOSH Golden Brown lying around unused for ages but the colour looks kinda eww'y in the bottle (I bought it from some sale :P). This time I "forced" myself to finally try it and it actually looked really nice on my nails!