Pandakarhut otti vähän osumaa jonkun purkin kanssa tapellessa, ja jouduin ne sitten jo poistamaan :( Päästiinkin lakkalaatikkoa tutkaillessa siihen lopputulokseen, että uusia lakkoja kaivattaisiin, kun ei mikään taas miellyttänyt silmää. Ei ollut kivoja, raikkaita ja vaaleita kevätvärejä.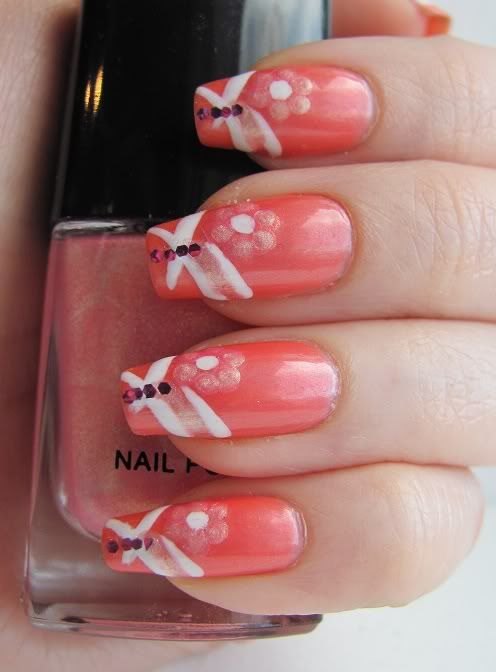 Käteen tarttui sitten kolme pulloa oranssipinkkikoralli-mikälie sävyisiä lakkoja. Olen tykästynyt koralliin kovasti, ja kiva keväinen värihän se sinällään on, mutta ei nämä kynnet sitten kuitenkaan tuntunut oikein omilta. Tuo pohjaväri on vähän liian oranssi. Ja sitten kuitenkaan tämä ei ole sellainen raikas, aurinkoinen ja mieltä piristävä lakkaus, jollaista nyt kaipaisin.
(..niinkuin mun pandat oli Q_Q)
Kyllähän näillä yhden päivän menee (ja tänään nämä itseasiassa miellytti silmää jo hitusen enemmän, kuin eilen illalla), mutta tänään taidetaan taas päätyä lakkalaatikolle tuskastelemaan, miten noista melkein sadasta värilakasta ei sitten millään löydy mitään mieleistä...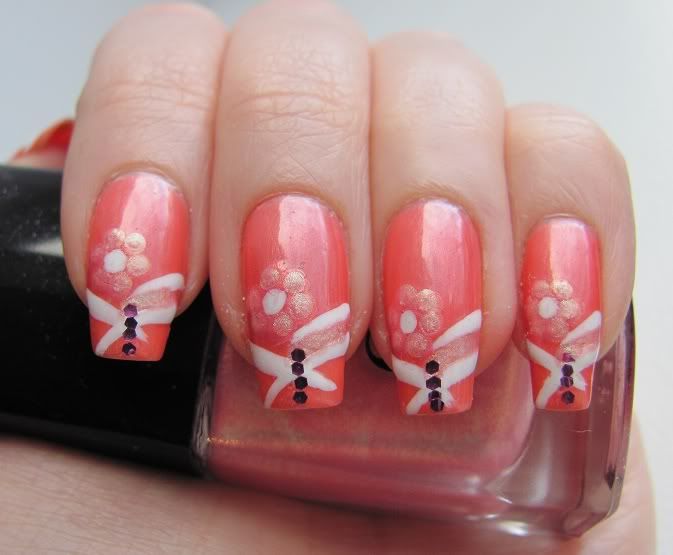 With heavy heart I had to remove my panda nails after they had taken some damage :( While pondering what to do to my nails next I ended up with the oh-so-annoying problem - not a single one of my almost 100 nail polishes felt "just right" for my current mood! At the end I had three bottles of orangepinkishcoral -something nail polishes. I really like coral but for some reason these nails just didn't feel like "my thing" - not for my current mood that demands bright, funny and sunny colours! This was still quite pretty and I will survive one day with it (and it actually feels like this looks better today than what it did last night)!
Käytetyt lakat // Used nailpolishes: