Tämä desing on ollut mielessäni jo jokusen aikaa, mutta olen yrittänyt vältellä sen toteuttamista varsin tehokkaasti. Tiesin, että se ottaa taas vähän enemmän aikaa ja ajatustyötä, ja riski koko homman epäonnistumiseen olisi aika iso. Ja tämän palopuheen jälkeen moni odottaa sitten jotain suurta ja mahtavaa, mutta joutuu pettymään, kun tarjoilen vain jotain tylsää konadointia!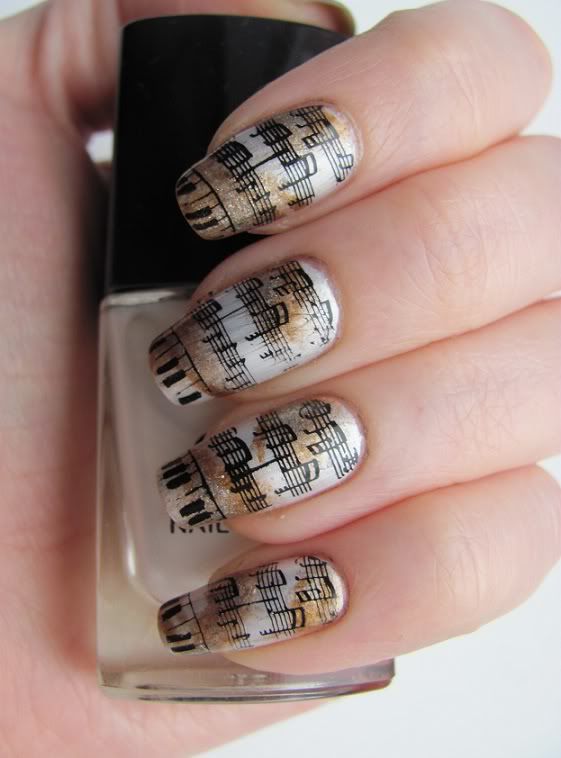 ELF Pearl + WaC Lollipop + MNY 445
Kuitenkin. Melko hyvän aikaa tämän kanssa sai tuhertaa ja ei se tietenkään mennyt taasniinkuin elokuvissa. Jostain syystä tuo m73 laatta ei ole halunnut olla kovin yhteistyökykyinen muidenkaan laatan kuvioiden osalta. En saa niitä onnistumaan edes tasaisella alustalla paperille testatessa, joten tiesin jo ennakoon, että minun ylikaareville kynsilleni toteutettuna tämä on varsin tuhoontuomittu ajatus. Mutta tulipahan kokeiltua (..ja uusittua konadoinnit kolmeen kertaan - mikä on tosi kivaa tuon mustan Konad -lakan kanssa)!
Ideana tykkäsin kyllä tästä tosi paljon, ja epäonnistuneista konadoinneista huolimatta näyttivätkin ihan kivalta.
Ja kun konadien kanssa ei muuten vielä ollut tarpeeksi ongelmia, jouduin toteamaan uuden konad päällyslakkani olevan joku maanantaikappale - se suttaa leimaukset! Edellisen pullon kanssa ei ikinä ollut mitään tämänsuuntaista ongelmaa, vaikka leimauksien kuivumistakaan ei olisi pahemmin odotellut. Tämä uusi pullo levittää ainakin Konadin omat leimauslakat (musta ja valkoinen testattuna), vaikka niiden antaisi olla pidemmänkin aikaa ennen päällyslakan levitystä. Kellään muulla kokemusta tällaisista Konad -ongelmista?!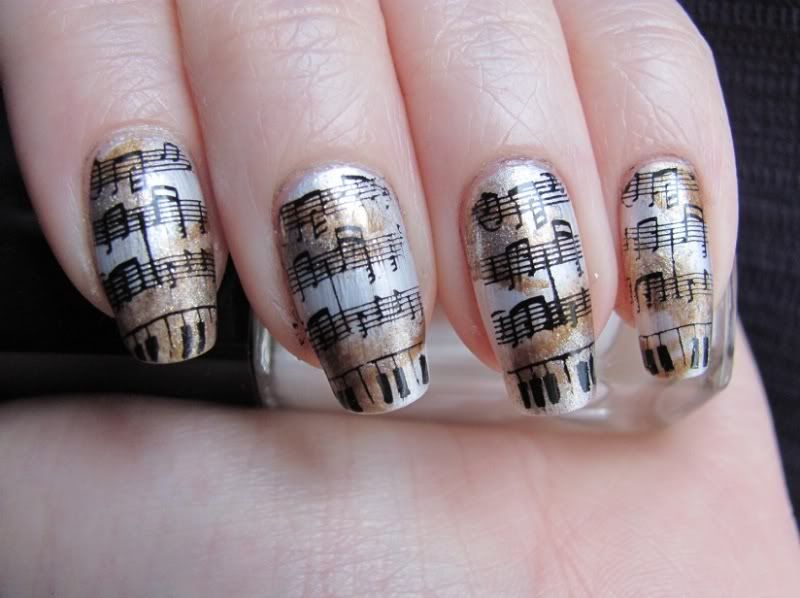 I had had this design on my mind for a while. Unfortunately I had loads of problems with my Konads this time and the result is not as good as I'd wanted it to be. Most of the images on my m73 plate aren't quite working even if I try them on paper so I knew it would be a pain to try to get this lovely musical image stamped on my curvy nails - and it was! I had to take the stampings off and re-do them 3 times and still couldn't get it any better (and what a joy that was with the black Konad polish - it's so annoying to remove!). Also my new Konad top coat smudged the stampings - which has never happened with the old bottle! Oh well. I still liked the idea and in real life they didn't look
too
bad!
P.S. Laitoin pienen kyselyn tuonne sivupalkkiin. Käykää klikkailemassa ja jättäkää kommentteja ja ideoita!
P.S. I made a small poll on the sidebar. Go check it out and leave comments and ideas!