Sen lisäksi, että olen armoton kynsilakka-addikti, olen melkoinen hamsteri myös T-paitojen kanssa. Kivat värit ja kuvat vetävät puoleensa :3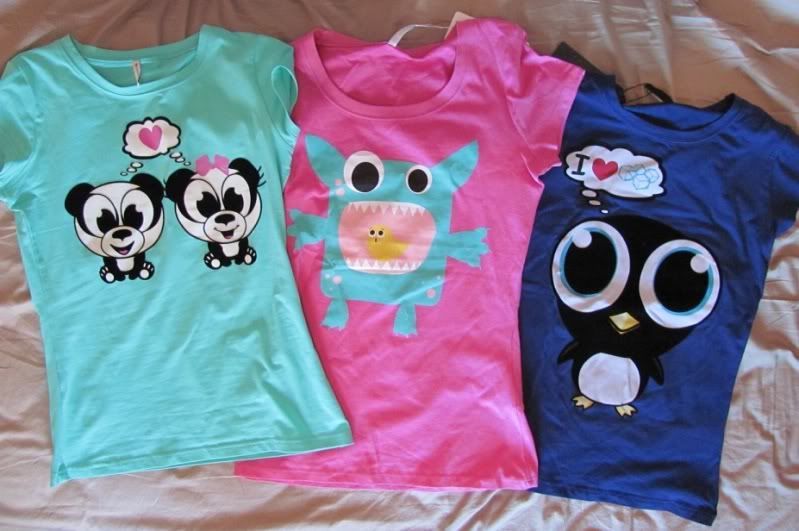 How could anyone resist them?!
Viikonloppuna kävimme "shoppailureissulla" (eli lähinnä ruokaostoksilla) Ruotsin puolella, ja niinpä sattui taas eräässä liikkeessä vastaan ihan hurjan kivoja paitoja. Matkaan lähti kolme paitaa, kun en osannut päättää näiden väliltä - ja mies taas tyylilleen uskollisena totesi, että "ota kaikki", kun kysyin hänen mielipidettään valintaa helpottamaan..
Heti kotiin päästyä iski hirmuinen inspiraatio kynsille - inspiraation lähteenä yksi uusista paidoistani!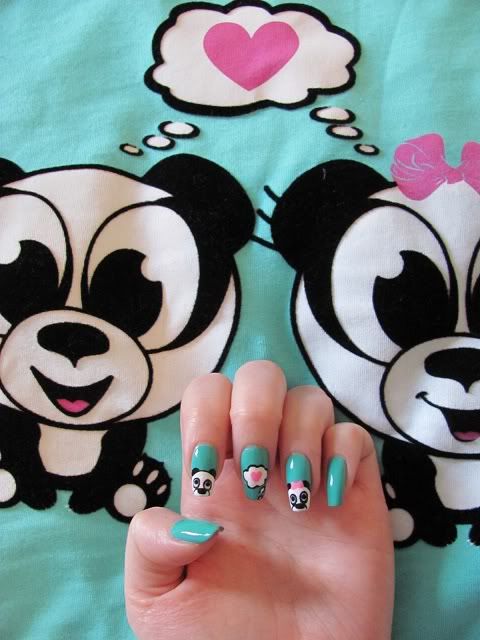 Tämä lakkaus onnistui paremmin kuin osasin odottaa. Ja pakko myöntää, että tähän astisista lakkauksistani ihan ykkössuosikkini! On se vaan niin hurjan söpö! :3 Mies on saanut nauraa itsensä ihan tärviölle, kun olen ihastellut kynsiäni koko ajan ja tunkenut niitä hänenkin naamalleen ihasteltaviksi!
Saatteko te inspiraatiota kynsille vaatteista / asusteista? Löytyykö muilta hassuja "vaateaddiktioita"?
Besides being a nailpolishaddict I'm also a big T-shirt addict. I love nice and bright colours and pictures on my shirts!
Last weekend I got 3 new shirts (was impossible to decide between them so I
had to
take all of them!) and my current mani is inspired by one of them. And this is my favourite of all the nail art I have done so far! It's just so cute and adorable! :3
Does anyone else get inspiration for manis from clothes or accessories? Anyone else with funny "clothing-addictions"?
Käytetyt lakat // Used nailpolishes
:
ELF - Passion Pink (mixed with Montana)