Ei taas mene tasan nallekarkit. Kynsien pituus alkoi olla ihan täydellinen ja sitten vielä onnistuin vihdoinkin saamaan aikaiseksi lakkauksen, joka miellytti kivasti omaa silmää - ja sitten yhden kynnen kärjestä vain napsahti pala lakkausta pois, vieden mukanaan osan kynttä, suunnileen puolet kynnen paksuudesta. En edes kolhaissut kynttä mihinkään tms, mutta se vaan päätti, että nyt on hyvä päivä hajota.. =.=
Talven jäljiltä kynnet ovat muutenkin olleet tosi kuivat ja kippurat, joten ajattelin sitten pätkäistä kaikista kynsistä pari milliä pois. Kasvavat aika nopeasti takaisin kuitenkin! (..toivottavasti..)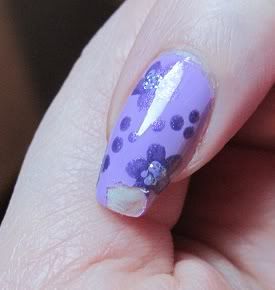 Q_Q
Ja eniten ketutti kyllä se, että en ollut vielä saanut lakkausta kuvatuksi. Iskin palasen sitten paikalleen päällyslakalla ja nappasin pari kuvaa. Hajotuskynsi löytyy siis etusormesta, kuten haukankatseiset voivat kuvista huomata.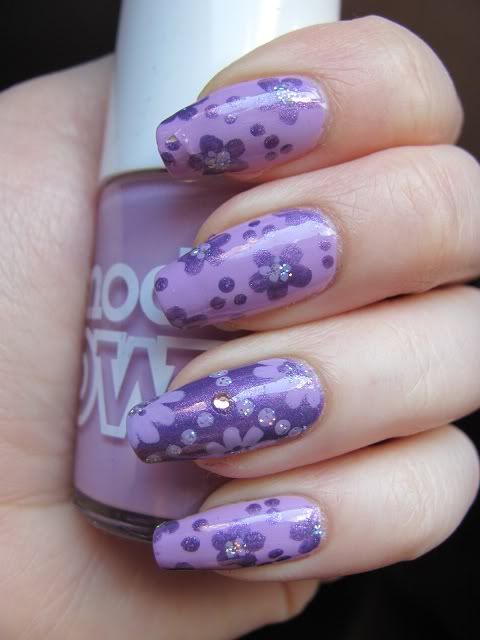 Models Own Lilac Dream + Isadora Sweet Violet
Ja kyllä, lakkayhdistelmä on sama, kuin
muutama postaus taaksepäin
- Models Own Lilac Dream ja Isadora Sweet Violet. Mutta kun ne vaan toimii niin kivasti yhdessä! Kukkaset maalailin siveltimellä ja ympärille innostuin tiputtelemaan palleroita dotting toolilla. Viimeistelyssä Viva la Divan 72, niin saatiin vähän blingiä tähänkin lakkaukseen (ja tuo hopeinen hologlitteri kyllä sopi hurjan hyvin näiden violettien kaveriksi)!
I had finally gotten my nails to perfect lenght and had a mani I really liked - and then one of my nails decided that it's a good day to break! A piece of nailpolish just snapped off from my nail and took half of the thickness of my nail with it. I didn't even hit my nail on anything - it just snapped with no reason! =.=
My nails have been really dry and curved anyway so I decided to cut few millimeters off from all of my nails. They grow quite fast anyway! (..I hope..)
The biggest annoyance with this was that I hadn't gotten a picture of my mani yet! So I slapped the broken part to its place with some top coat and took a few pictures.
Yes - It's the same combination that I used just
a few posts back
- Models Own Lilac Dream and Isadora Sweet Violet. But those purples just look so nice together! The flowers are painter with a small brush and the dots around them with a dotting tool. To get some "bling" I added some Viva la Diva's 72.