Mistä tietää, että on löytänyt juuri "sen oikean" kumppanin itselleen?
- Esimerkiksi siitä, että se osaa antaa juuri oikeita lahjoja!
Oma mies on ihana ja tukee minua kaikenmaailman kynsihömpötyksissä. Silti herran viimeisin tempaus oli ehkä paras tähän mennessä. Herra oli siis mukana, kun kävin Kicksissä metsästämässä OPIn Katy Perryjä, ja satuin silloin sanomaan, että haluaisin tuosta kokoelmasta vain kaksi lakkaa, ja niistä toista ei ollut enää Kicksissä(kään) tarjolla. Iltasella herra sitten tonki verkkokauppoja, ja harmitteli, kun ei sitä missään ole saatavilla.
Pikkupikku paketti....




Pari päivää sitten se sitten kiikutti minulle virnuillen jättikokoisen paketin ja käski arvata sisällön. Ei muuten ollut hajuakaan, mitä tuollainen melkein A4 arkin kokoinen laatikko voisi sisällään pitää. Se piti tietysti heti avata miehen valvovan silmän alla, kun toinen oli suunnilleen enemmän innoissaan kuin minä...
Laatikon sisäkansi olikin aika paljastava - BEAUTYBAY.COM...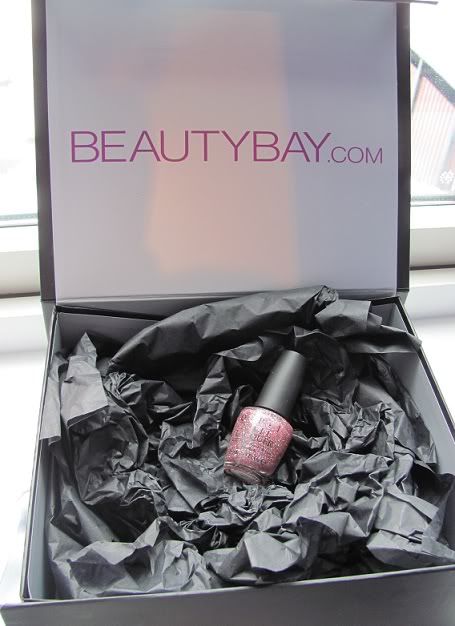 ...Paljon paperia...
Pienen ikuisuuden sai kaivella papereita, ja papereiden jälkeen kiskoa kuplamuovia auki, mutta sieltähän se lopulta paljastui! OPIn Teenage Dream <3
...Ja rakkauslakka!
Onnessaan herra sitten selitti, että se oli melkein onnistunut tämän tilaamaan, mutta juuri vahvistuksiin siirtyessä olikin tullut ilmoitus, että tuote on loppunut. Myöhemmin oli kuitenkin tullut ilmoitus, että lakka olisi kuitenkin hänelle tulossa. Ja tarjouksessa oli ollut tuollainen kiva, pieni laatikko samaan hintaan - laatikon koosta oli kyllä herrakin varsin yllättynyt! Mutta tuo laatikko on ihan täydellinen lakkalaatikko - omat rasiani olivatkin käymässä jo hieman ahtaaksi, ja tuo mahtuu täydellisesti yhden vanhan rasian viereen pöytälaatikkooni!
Illalla piti tietysti herran mieliksi testata uutta ihanaa, mutta en halunnut koko kynsien glitterkuorrutusta tällä kertaa. Lopputuloksena siis simppelit rakkauskynnet, suurella sydämellä omalle kullalle omistettuna.
My fiancé has always been supporting me with all this nail-madness but his last invention is probably the best one so far! I had told him that this one nailpolishcollection (OPI's Katy Perry, surprise) I'd really really want is not available anywhere - he searched me a store where I knew they might have those polishes and went there with me. I managed to get one of the 2 polishes I wanted the most but the best one was sold out from there too.. Later he was searching net stores and was whining that the one polish is out of stock on every store (..which we all knew, right?).
Few days ago he brought me this big box and told me to quess what's inside it - and I had no clue what a box of that size could be hiding! My fiancé was probably more excited than me when I started opening the box, digging through tons of paper and bubblewrap. And what did I find? - OPI's Teenage Dream! <3 He had actually managed to order it from BeautyBay - and the huge box had been offered for the same price (though he was surprised about the size of the box too!). And that box is just perfect to hold some of my nailpolishes!
I didn't want to go crazy with the glitter this time and just used it as decortion on my nails. These nails are dedicated to my sweet and cute special someone!